Concours events tend to follow a general formula: rare, desirable and often unique cars, brought together onto a neatly manicured lawn for a panel of judges to get all pedantic over with an arsenal of increasingly fine-toothed combs.
If you've got non-standard tyres fitted, or your screwheads aren't all pointing the same way, chances are you'll look a right chump.
It's a big money game, with the world's motoring elite coalescing at the likes of Villa d'Este, Pebble Beach and Salon Prive to quaff Champagne and be fabulous together.
But that's not what the enthusiasts gathered at Whittlebury Park on 26 July were all about.
What they'd assembled here for is the Concours de l'Ordinaire, a 'festival of the unexceptional', designed to celebrate a variety of cars that you might have forgotten about.
These are the stalwarts of the motorways and town centres of yore, not considered sufficiently interesting to save, and as such consigned to the scrapheap; unloved, unlamented, gone.
Except that they do still exist, if you know where to look. Some enthusiasts cherish these objects of mundanity, as this concours proves.
So, here are our 10 highlights from the show…
Austin Allegro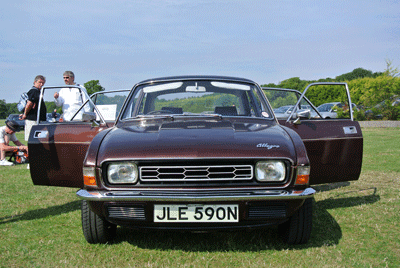 The Allegro was the most numerously represented car, with a keen handful of them on display.
They're a sort of poster boy of unloved cars, which have arguably passed the tipping point of ironic affection and moved into the territory of credibility at classic car meets.
At this event, they acted as a sort of gateway drug – ease yourself in with a few Allegros, they'll cushion your system for the harder stuff within.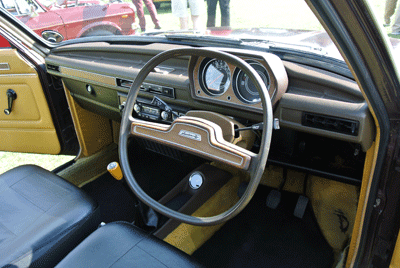 Everybody's favourite feature of the Allegro is, of course, the 'quartic' steering wheel. That's right, somebody at British Leyland thought a square steering wheel would be a good idea.
And hey, they were on to something – the 2014 Aston Martin Vanquish has a square steering wheel too. Nice crystal ball-gazing there, Austin.
Nissan Cherry Europe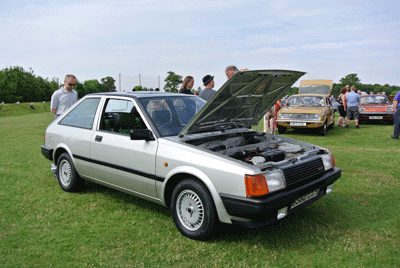 On paper, this was a great concept – combine the clinical precision of Nissan with the soul and passion of Alfa Romeo to create a truly world-beating car.
Unfortunately, however, they got it the wrong way around – a beautiful Alfa body with a trusty Nissan engine would have done the trick, but the Nissan Cherry Europe (also available as the Alfa Romeo Arna) married a dull, boxy Nissan body with a temperamental Alfa engine. Hmm.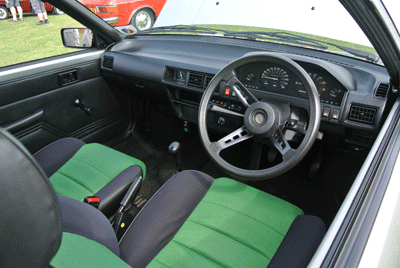 Still, this one has survived the scrapper admirably – and just check out that outrageous interior! This was picked by the judges as the winning car of the show, and rightly so.
Peel P50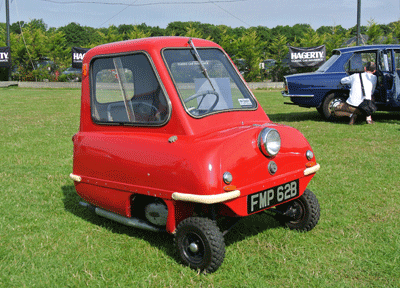 OK, so this doesn't really fit in with the theme as such, since you can't describe something as wilfully odd as the dinky P50 as 'unexceptional'.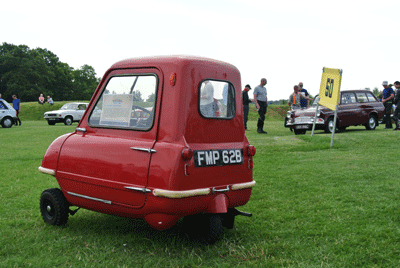 Nevertheless, it looked rather at home among the Maestros and Montegos as something which sparks your interest, but you probably wouldn't want to own. Imagine doing your daily commute in it. Shudder.
Skoda Rapid convertible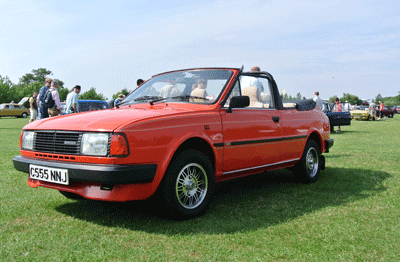 "What do you call an open-top Skoda?" joshed the wags of the 1980s. "A skip!"
Yeah, yeah, it's easy to make fun – but how many new cars are on sale today that are bright orange and rear-engined, eh?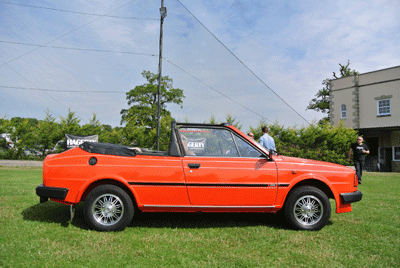 This is basically a Porsche 911 on a tight budget, and don't let anyone tell you otherwise.
Wolseley 1300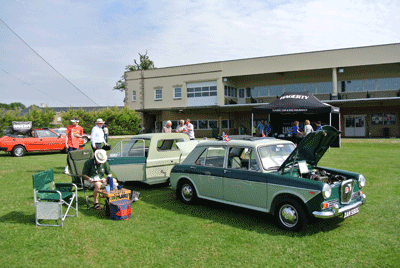 Thanks to the British Motor Corporation's generosity in sharing models among brand names, this car was variously available as a Wolseley, Austin, MG, Riley, Vanden Plas and Morris. But this chap's so keen on flying the flag for the Wolseley marque that he's decided to increase his venerable old 1300's footprint by 50%!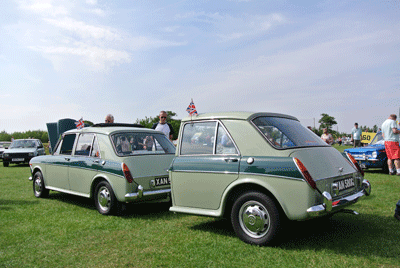 Behold the splendour of the matching trailer accessory – now there's somewhere to put his picnic basket and his crate of Watneys Red Barrel in, even if he has a full complement of passengers.
Vanden Plas Princess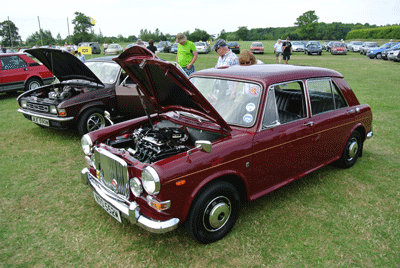 Here's the Vanden Plas version of the 1300, the swankily titled 'Princess'. And isn't it luxurious?
The lucky rear passengers are treated to polished walnut picnic tables, just like in a Rolls-Royce.
This car had the original bill of sale displayed in the windscreen, boasting such treats as 'auto seat belts - £13.30', 'heated rear window - £8.90', and 'number plates - £4.50'.
Another era of opulence, eh?
Austin Maxi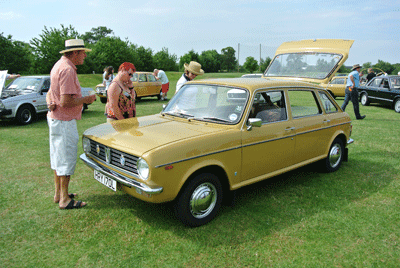 The Maxi holds the impressive title of 'Britain's first five-speed, five-door hatchback'.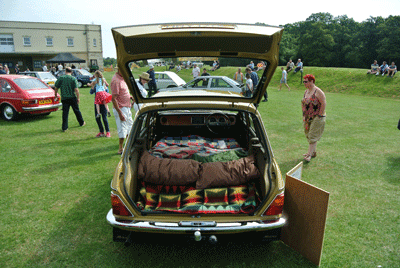 But hold on to your hats, there's more – the owners of this particular car have here seen fit to demonstrate that 'Maxi' isn't just a name: if you fold all the seats down flat and throw in a few old hippie blankets, you find yourself with a great big comfy double bed on wheels. How useful!
Daihatsu Charade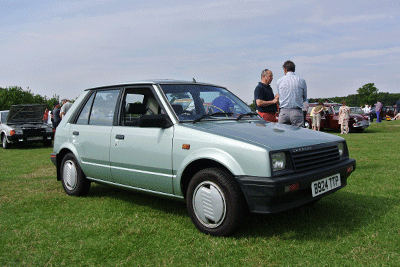 Yes, there's a dent in the side, but that's hardly something to deter the Concours judges here – with only around 70 Charade CXs left, you have to take what you can get.
This is an obscure series-one version of the Mk II Charade, and on the Japanese market you could got it with twin carburettors and even a turbo.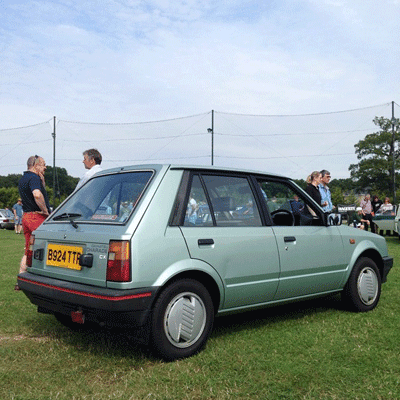 But you won't find any of that with this one. Three cylinders, steel wheels, clearly designed with a set-square. Perfect Concours de l'Ordinaire fodder!
Renault 6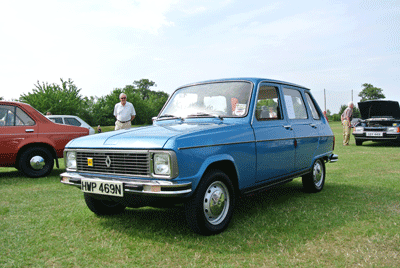 You'd be forgiven for not recognising this – only 25 Renault 6s exist on the roads of the UK, 10 of them being TLs like you see here.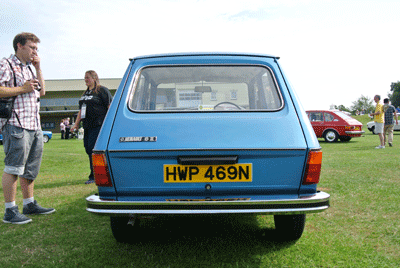 Impressively, this shiny blue 6 is all-original and has never been restored, which proves the merits of keeping your car in a garage and cleaning it occasionally.
Austin Mini Metro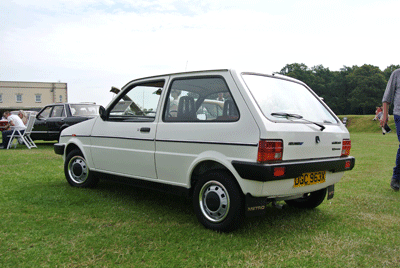 So, to round things off, the timeless charm of the Austin Metro, in this case wearing the original 1980 launch name of 'MiniMetro'.
Intended to sit in the model range alongside the old Mini – while also pinching its engines and various underpinnings – it was good enough for the likes of Lady Diana Spencer, Anne Diamond, and Peter Bowles.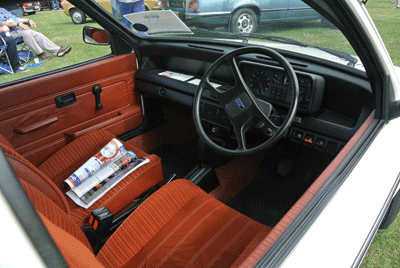 This one, thrillingly, has an automatic gearbox and a citrus-hued interior that's bright enough to strip the enamel from your teeth. And just look how clean it is!
Forget your Ferrari 250 GTOs and your spangly Delages, this is where the real action is…