The windy thrills of driving a convertible hardly need to be reiterated here – if you've done it, you'll know how cool it is. If you haven't, go and do it now. (Well, after you've read this thing, obviously).
Indeed, with this shimmering, sun-emblazoned summer we're enjoying, your life could be exponentially enriched by rocking a ragtop, so we've pinpointed half a dozen convertibles that could be sitting on your driveway for under five grand.
So, what are you waiting for? By this time tomorrow you could be gleefully picking flies out of your teeth as your hair amusingly rearranges itself into a retro 'Flock of Seagulls' style…
Porsche Boxster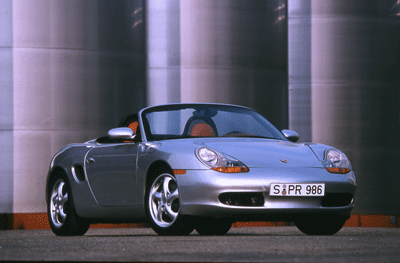 You may be excited to learn that Porsche ownership is within your grasp in the £5k budget. And pay no heed to the posturing snobs who say it's not a 'proper' Porsche – the only people who say that are ones who haven't driven one. It's a sublime, perfectly balanced thing, and an absolute hoot to hustle down a twisty B-road.
The first-generation Boxster appeared in 1996, and it's this early model that you're mainly looking at. Your money will buy you a 2.5-litre model, or maybe even the 2.7 that replaced it in 2000.
Get a specialist to look over the car if you can, as oil leaks and engine issues can lead to expensive repairs. On the whole, though, the Boxster is a heck of a lot of brilliantly engineered entertainment for the money. The market's flooded with them too, so don't be afraid to haggle.
Daihatsu Copen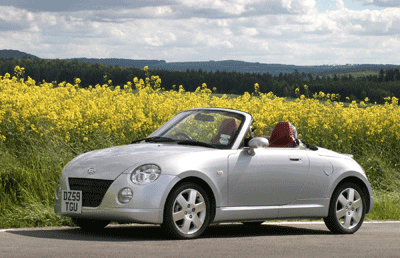 The Copen is a Marmite car – it's brown, sticky, and made of yeast. Aha! Not really. But it is a polarising piece of design. However, if those puppy-dog eyes have drawn you in, here's the skinny...
The Copen is a 'kei car' – a Japanese-market minicar, built down to specific diminutive dimensions for tax reasons.
It's really teeny-tiny, and powered by a 660cc turbocharged engine. Built since 2002, the dinky 67bhp roadster was officially available via dealers over here. It can easily crack 100mph on track and return up to 44mpg (not at the same time, presumably), and there's a really vibrant kei enthusiast scene to enjoy as well. Your funny little car could win you a lot of new friends!
Make sure the oil's been changed regularly, and check the turbo is ok – they're over a grand to replace if they go pop.
Around £5,000 will buy you a low-mileage, 2008-ish model. They did also make a 1.3-litre version, but that's not really in the kei car spirit, is it?
Saab 9-3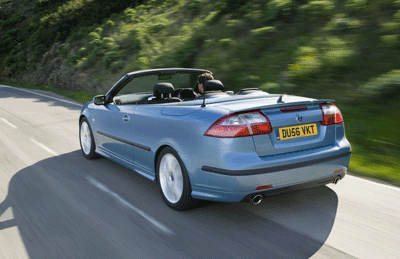 Fancy a drop-top that has more than two seats? You'll be wanting a Saab, old fruit.
The Swedish manufacturer's enthusiasm for slicing roofs off is well known, and the 9-3 is an impressively robust thing. Five grand will bag you a 2006-ish example – if you're awesome, you'll go for the 2.8-litre turbo; if you're a bit timid and don't like to put salt on your chips as it's too racy, there's always the turbo-diesel option. Y'know, if you can live with the concept of a diesel convertible…
You get space for four grown-ups, all kinds of electronic gizmos, and the kudos of driving a Saab – meaning that everyone will assume you're a doctor or an architect.
Alfa Romeo Spider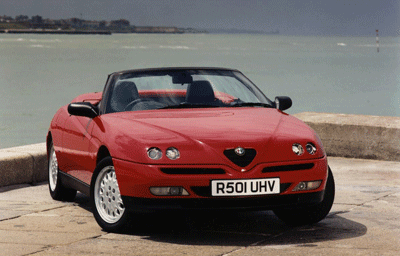 Leave the Alfa Romeo cliches at the door – the electrics probably won't catch fire. And we really can't talk about convertibles without mentioning the Alfa Spider…
Since we're talking cliches, you might have heard people saying that "you're not a true petrolhead until you've owned an Alfa Romeo". Cobblers as that may be, the Spider's hard to resist. Imagine yourself in a 2002, 2.0-litre twin-spark, the wind whistling around your ears as passers-by gaze admiringly at your slinky Italian curves. Yeah? Sounds good, right?
They're actually pretty reliable too, so don't be afraid – and ignore anyone making rust gags. The cars were galvanised from the factory so they shouldn't rot too extravagantly. And you'll feel ever so suave...
Renault Wind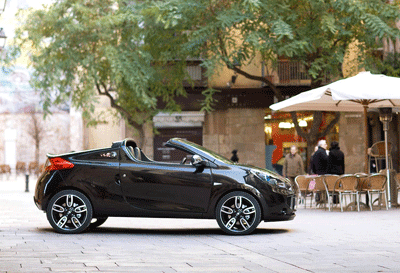 Bit of an offbeat choice, this one. According to howmanyleft.co.uk there's only a couple of thousand of them on the road – they were never really a big seller, but their scarcity (and thus perceived undesirability) means that they don't hold much value. Great news for the second-hand buyer!
Based on the Twingo supermini, the Wind was launched in 2010 with a choice of 1.2- or 1.6-litre engines. It has a one-piece metal roof that flips through 180-degrees and tucks itself away under the rear deck, which is a neat little party trick. It's cheap to run, the roof doesn't impair boot space when it's folded down, and it's also the newest car in this list. You should be able to find a 2010 1.2-litre for your £5,000.
The French are good at making small cars. If you want one that looks a bit like a fancy shoe, this is the motor for you.
MGB Roadster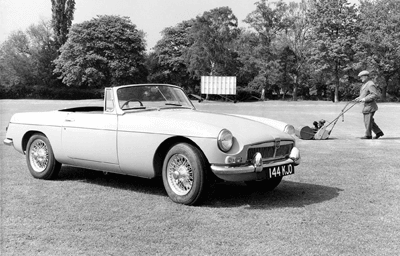 Here it is. The classic. The boss. The archetypal British roadster. Your lifestyle certainly won't suffer for owning this venerable old icon of headscarf motoring... But your wallet might.
Built from 1962-80, there are plenty out there to choose from. It was an innovative thing at launch, being one of the first cars to feature crumple zones, and it was light and strong. There are copious reasons why people love them so much – they look great; they're fun to drive; and they leave you smelling a bit like petrol, like all classic cars should.
If you fancy going a bit retro, £5,000 buys a late-1970s 1.8-litre roadster in solid, usable condition. Probably best to get it checked over by someone that knows what they're talking about, though – the older a car gets, the more secrets it can hide!
Something for everyone there – a veritable cornucopia of rooflessness. Have we missed any? Let us know onTwitterorFacebook