We couldn't stop fiddling with the Met Office app during the run-up to this year's Goodwood Festival of Speed. Every time we looked, more and more rain was predicted for the annual feast of automotive delights.
But, as it turned out, the enraged weather spirits that saw fit to dump a celestial bath upon Glastonbury had been bunged a cheeky backhander by Lord March, the founder of the Festival of Speed. The only thing that rained down over the weekend was beam after beam of glorious sunshine.
So, how to narrow the weekend down to 10 highlights? Well, try this on for size…
This really massive boomerang thing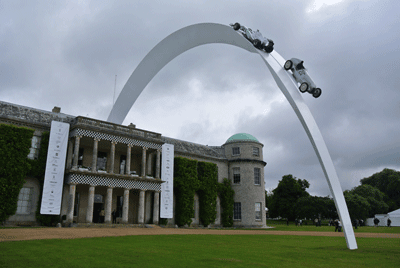 For the last 17 years, the Festival of Speed has featured a vast sculpture in front of the house to highlight the year's theme. The concept for 2014 was 'addicted to winning', and this was elegantly illustrated by an enormous arc stretching over the house, featuring two Mercedes-Benz Grand Prix racers – one from 2013, the other from 1934.
Designed by Gerry Judah, it weighed 150 tonnes and was 25m high. If you fancy installing one at your own house, bear in mind that it took three weeks and four 60m cranes to put it up…
Celebrating Surtees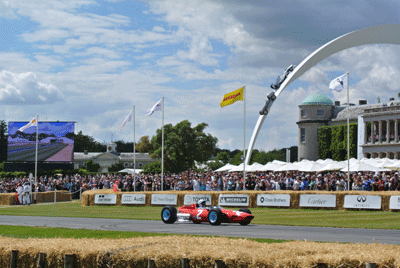 John Surtees is the only man to have been world champion on two wheels and four. He was a four-time 1950s motorcycle champ before swapping to F1 and dominating there, too. He then set up the Surtees Racing Organisation, competing as an F1 constructor throughout the 1970s – a true automotive polymath.
It's been 50 years since he won the F1 World Championship for Ferrari, so the organisers saw fit to lay on a tribute featuring the very car he won in back in '64, along with a variety of Surtees-era bikes and Team Surtees cars.
Best of all, though, was seeing John himself – now 80-years-old – driving his old Ferrari at full tilt up the hillclimb, hotly pursued by Kimi Raikkonen in his world championship-winning 2007 Ferrari. You don't see that every day.
Cars that run on elec-trickery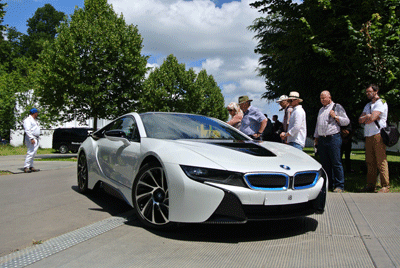 The Festival of Speed involves burning oodles of hydrocarbons, but the organisers acknowledge that it's 2014 and electric cars are a thing now.
So, among the full-electrics on display were the super-intelligent Tesla Model S (seemingly the first manufacturer to realise that the way to market an electric car is not to make a big deal of it, and just make it look like a normal car), and Renault's Formula E single-seater which will compete in the Formula E race series. Ok, the batteries don't last long and drivers have to swap cars halfway through, but hey – this is more than a token gesture.
Our favourite, though, was the BMW i8 (above). Ok, it's a petrol-electric hybrid rather than a full-electric, but just look at it – it's astonishing. And you could just run it on electricity if you wanted.
A quarter-century of the MX-5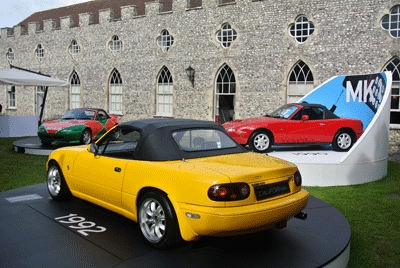 It's strange to think that Mazda's baby roadster is 25-years-old, but that's the relentless march of time for you.
Mazda celebrated by pulling together MX-5s of all ages, as well as displaying examples of cars that inspired it, such as the Lotus Elan and MG Midget.
Mazda's bean-counters were initially sceptical of the idea back in the '80s, but a few Guinness-World-Records-for-roadster-sales proved that the company must have been doing something right after all.
Maserati design everybody's dream car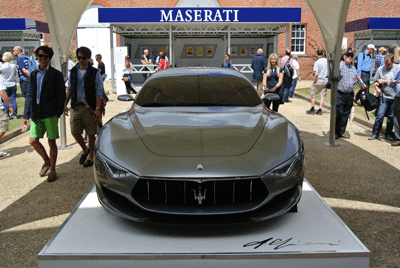 Maserati marked their centenary with a display of significant road and race models, but our favourite exhibit was the dreamy Alfieri concept. It was unveiled at the Geneva Motor Show, but its Goodwood appearance was the UK debut and it was surrounded all weekend by swooning fans who couldn't rip their gaze from its wanton slinkiness.
Maserati also confirmed that the Alfieri would be going into production in 2016, and the world rejoiced.
Koenigsegg knock it up a notch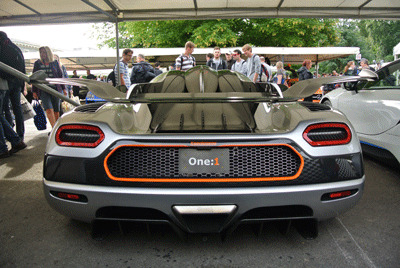 There's been a torrent of hypercars of late – McLaren P1, Porsche 918, Ferrari LaFerrari – but certifiable Swedish power-loons Koenigsegg have crafted the world's first megacar.
The Agera One:1 enjoys an engineer's dream power-to-weight ratio – one PS (the German-standard measurement of horsepower) to every one kilogram of weight.
So, that's 1,360kg and 1,360PS. It's good for 273mph flat out. That's about twice as fast as Superman can fly, and enough to slightly knock the Earth off its axis. Indeed, the power's equivalent to one megawatt, so the 'megacar' name is wholly appropriate…
Morgan's fusion of old and new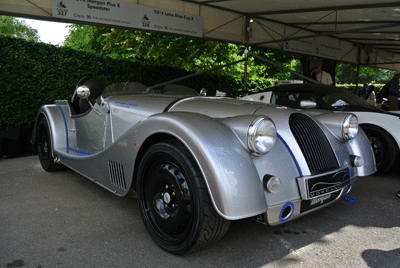 There may have been a lot of Italian swank in the supercar paddock, but the real magic isn't coming out of Modena – it's being hammered together in Malvern.
The lads have created this fresh new Speedster version of the venerable Plus 8, resplendent in cut-down Perspex screen and 18" alloys that look like steel wheels; the thudding BMW V8 remains, in this guise shouting through gaping side-pipes.
We were lucky enough to enjoy a ride up the hill in the Speedster, and can confirm that the sonorous symphony of pops and crackles is a real crowd-pleaser. It's quite a feeling to get a smile and a thumbs-up from 50,000 people at once. A heart-warmingly lovable little road-racer, this.
Crash! Bang! Wallop!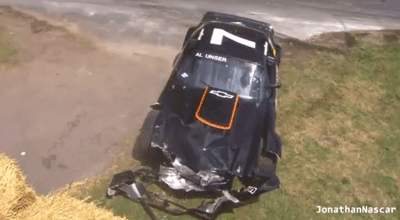 It would be very wrong to celebrate the destruction of beautiful cars as a highlight of Goodwood, so instead let's look at it as a notable happenstance. Because, for some reason, 2014's event was a real car-breaker.
Alfa's new 4C was written off early on, Chris Hoy totalled a Nissan GT-R at the notoriously tricky Molecomb corner, seasoned Goodwood veteran Anthony Reid stuffed a 1980s Aston Martin into the flint wall, Al Unser's old Camaro smashed itself to bits, a Sin R1 bounded into the hay bales and caught fire… And there were others.
Before our run up the hill, a stern marshal told us in no uncertain terms to "drive within your limits – if you crash, the race director will have your licence off you and you'll get six points". Phew.
Virtual cars, made real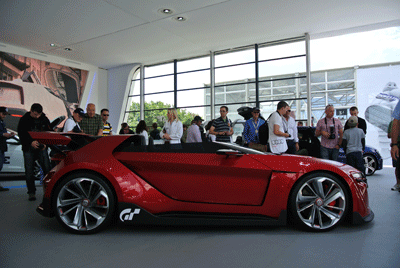 Gaming is the future of car design – tomorrow's drivers are playing Gran Turismo and Forza, and manufacturers are keenly aware of this.
So, Gran Turismo's Kazunori Yamauchi has initiated a program of car-makers designing concepts for the game… And the manufacturers have been building them for real! Volkswagen were showcasing their Golf GTI Speedster, Aston Martin unveiled their DP-100, and Mercedes-Benz and Nissan were in on the act, too. Brilliantly geeky stuff.
120 years of Silver Arrows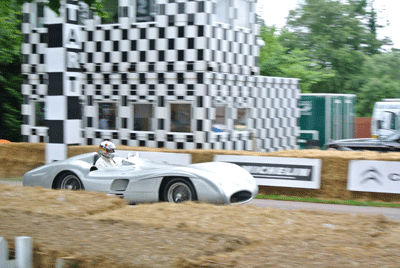 As the aforementioned sculpture celebrated, Mercedes-Benz have been racing cars for 120 years.
In 1894, French newspaper Le Petit Journal organised a race for horseless carriages from Paris to Rouen, which was won by a Merc; they've been showing rivals a clean pair of heels (or, er, exhausts) ever since.
We saw seasoned Mercedes racing veteran Sir Stirling Moss enjoying a cool drink with a smile on his face as a 1914 Merc Grand Prix car thundered up the hill - that serves as a pretty sweet metaphor for the event overall, really...
Were YOU at Goodwood Festival of Speed? What were your biggest hits and misses of the weekend? Let us know on Twitter or Facebook.