Nippy, economical two-wheelers are enjoying a massive resurgence at the moment.
The main UK bike brands usually keep a 125cc learner bike or two in their stables, but there's been a strong trend in the last two years towards intermediate motos that plug the gap between learner machines and big bikes of 600cc or more.
Perhaps this can be attributed in part to the changes to motorcycle licence laws in January 2013, which means riders under 24 are now 'scaled up' gradually to riding a bike of substantial power. With the direct access test age rising from 21 to 24 years old, the upspring of bikes under 46bhp is understandable.
It's not just the mainstream manufacturers of bread-and-butter street and city bikes jumping on this trend either. Rumours abound of a 250-350cc Triumph and sub-500cc BMWs will soon enter the fray.
Even Harley Davidson made jaws drop at the tail-end of last year with the launch of a 500cc commuter motorbike, although this remains a US-only model for now.
Economies of (smaller) scale
Cost might be part of the attraction. Small motorbikes in the 250-400cc category start at around £3,000, which can be about half the outlay needed for a larger machine.
Taxing a bike of this size is just £38 a year, less than half the annual cost of £80 for anything over 600cc.
The lower power output means that insurers see them as a lower risk so bike insurance premiums are likely to be less, too.
But it's not all about cost, and it's not just new riders who are drawn to these bikes. If quote requests on Gocompare.com are anything to go by, experienced riders have embraced the modest motorbike.
In July 2014, 58% of riders quoting for a motorbike with an engine size of 250-400cc had held their licence for three years or more, a figure that had climbed from 50.6% in July 2013.
To break those figures down further, in July 2014 a total of 49.3% of those quotes were from riders with five or more years experience - up from 43.2% the year before.
So it certainly looks like many established bikers are choosing a step down in power in exchange for lively city handling, lower fuel bills and loads of versatility.
Ben Smith, a graphic designer living in Surrey, is a fan of the smaller commuter bike. Ben is licensed to ride a larger machine, but for the last decade was instead drawn to something more compact for his commute of around 10 miles each way into the congestion of south London. For him, it was the perfect tool for the job.
"My Honda VRF400 was an amazing little bike," he said. "Great build quality and it looked gorgeous. It did me proud for 10 years."
These bikes aren't just being bought as an alternative to more powerful models though. For many existing bike owners, a smaller bike is a handy addition to their two-wheeled collection – a weekday runabout that means they can save the big bike for best.
Biker of 20 years and qualified Institute of Advanced Motorists (IAM) observer Pippa Unwin is one such rider. "I would be tempted to buy a pocket rocket, but not to trade down to one," she said.
"I would want to own it in conjunction with another bike as 250-400cc simply wouldn't tick the boxes for all the riding I do. I love them though – fun really does come in small packages."
Then there's the nostalgia factor of these bikes. They're a natural fit for a young, inexperienced biker, but older riders love them for their simplicity and styling. For some, it's a hark back to their first forays on two wheels.
Luke Edwardes-Evans is an editor from Kent with decades of motorcycling experience. He regularly pilots the photographer motorbikes at professional cycle races, including the Tour de France.
"Today's big bikes are too heavy and complicated, overpowered and often ugly," he said. "Corners, fresh air and the pleasure of riding a simple machine that's nothing like a car, that's what motorbiking is about.
"Small motorbikes are what we rode when we were getting into bikes. As you get older you kind of miss those days. The freedom and noisy fun it offered had absolutely nothing to do with the size of the machine."
Five of our favourites under 400c
The range of smaller bikes on the marketplace is as diverse as the bikers who want to ride them. Here are a few that tickle our fancy…
Suzuki Inazuma £3,408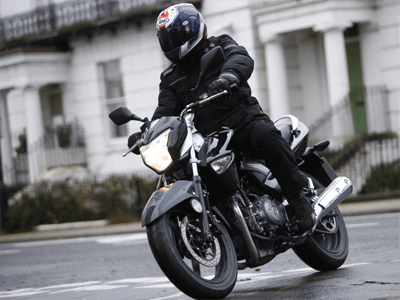 The 250cc Inazuma has the look of a far more powerful bike. Styling is classic but not showy, because this bike is all about real-life riding. It claims a whopping 85mpg and is set up for comfort.
It's just powerful enough to gun it on the motorway, but this is really a commuter bike – and there are much worse ways to traverse the daily grind, especially when this is a bike that could perhaps pay for itself in less than 18 months if the alternative is a travel card for the outer reaches of London.
Yamaha SR400 £5,199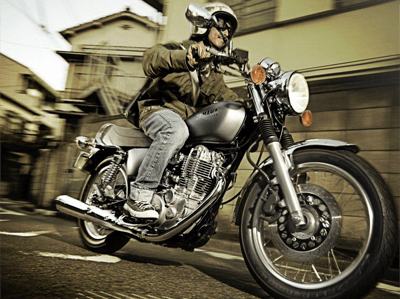 The SR400 requires a bigger initial outlay than the other bikes here, but then it offers a bit more power and a truckload of retro styling.
This simple, air-cooled single is actually touted by Yamaha itself as an "ideal base for easy customisation", inviting owners to "create your own cafe racer, bobber or scrambler".
This fun little chugger might only chuck out a modest 23bhp, but it'll fill the weekend biker with whimsy with its kickstarter, spoked wheels and laid-back charm.
Honda CRF250M £4,299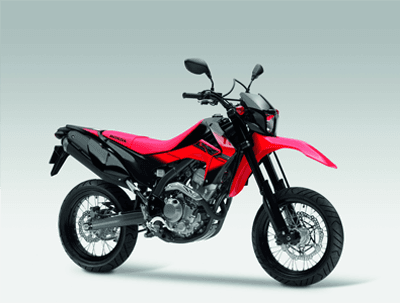 With its dirt-bike styling, the CRF250M might look like a bit of a hooligan, but it's secretly rather well set up as a fun and manoeuvrable commuter bike, complete with wide-ish road tyres.
Resist the temptation to lose your licence by sliding the back-end loose on roundabouts and this could be a bike that's all business on the office commute, and an off-road party at weekends.
KTM 390 Duke £4,499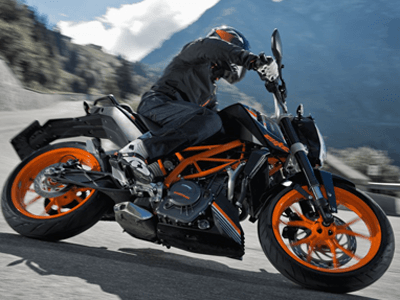 If your ride is all about the journey (albeit a short one, thanks to an 11-litre fuel tank), the 390 Duke promises to make that journey a hoot and a half.
This lithe and lively featherweight tips the scales at just 139kg dry, making it easy to accelerate and throw about, which its aggressive styling urges you to do. It's not the thriftiest bike in terms of either fuel economy or purchase price, but look at it – for pity's sake, this is the sexy beast of bikers who sneer at such pragmatic sensibilities.
Kawasaki Ninja 300 £4,799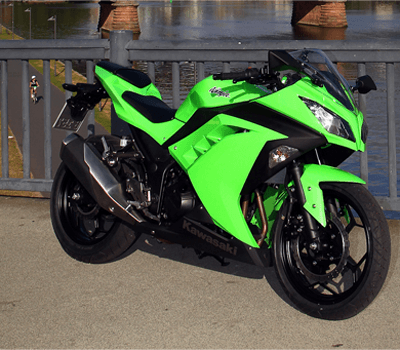 Photo: fponcet
Kawasaki's Ninja 250 has long been the entry-level bike of choice for young, new bikers just levelling up to their A2 certification.
This latest incarnation, is a more exciting prospect still, with mass appeal to bikers across the board. It's still A2 friendly for riders under 24, but it's attractive to commuters and occasional riders, too, thanks to low running costs.
 
The Ninja in 650cc guise has earned its place as a modern classic and the lean, mean, green 300 is guaranteed to keep you young… even if you're a more 'mature' rider.