Whether it's a long-distance journey to the continent or a short tour around Britain's many beauty spots, holidaymakers have long been enthralled by coach travel.
From the Lake District to the Norfolk Broads, the Yorkshire Dales to the Pembrokeshire coast, coaches travel the length and breadth of Britain all year round - and passengers spend a lot of money as they go.
UK-based and overseas tourists spent £129bn on goods and services within the UK in 2012, up from £116bn in 2008. Coach tourism is worth £2.35bn of annual tourist income according to the Confederation of Passenger Transport (CPT), which works to promote the bus and coach industry in the UK.
With less money to spend and a weak pound, more and more people have decided to holiday in Britain and coach trips seem like an affordable alternative to air travel, as well as an easy way to see more of the UK.
Little town, big name
Nowhere is the importance of coaches to local prosperity more obvious than the island of Anglesey in north Wales, and its best-known village.
Llanfairpwllgwyngyllgogerychwyrndrobwllllantysilio-
gogogoch, or Llanfair PG for short - not to be confused with another village with a long name - sees up to 50 buses stop in front of its famous sign every day, day-in, day-out.
The town may have (arguably) the longest name in the world but it has a population of just 3,040 and one main road leading straight to Holyhead, where ferries journey to and from Ireland.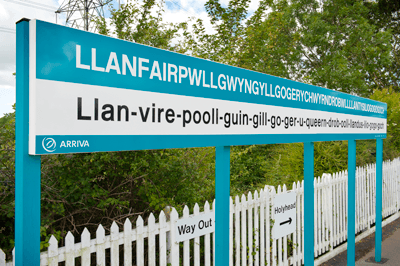 Drivers and guides drop their charges outside the town's only shop and are off again within 20 minutes, leaving enough time for a picture and a cup of tea. Like a carefully choreographed ballet, they're gone before the next bus-load of travellers arrive and the process repeats.
Local store James Pringle Weavers knows its customers and is filled with comfortable woollen wear, bottles of north Walian whiskey and souvenirs bearing the town's moniker.
An annual average of 197,000 people visited Wales on organised coach tours from 2011-13 according to the Great Britain Tourism Survey, spending £45m as they went.
Patrick Davies is manager of the town's tourist information centre, run by the North Wales Tourist Board, and says that coach trips have an enormous impact on the town and the island.
"They come from all over - you've got the holidaymakers, you've got those just passing through but they all stop to see the name," said Davies.
Impact on businesses
If tourists manage to walk further than the entrance of the shop, they choose between the welcoming smell of Sheila Jones' fish and chip shop or a tempting pint in the Penrhos Arms.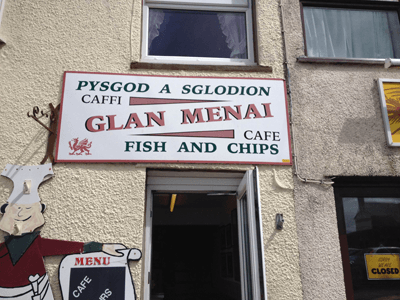 Sheila has been serving fish and chips to the people and tourists of Llanfairpwll for 24 years: "When I first came here it was very seasonal. Now tourists are here all year round," says Sheila, who employs five part-time staff.
A few doors down, pub owner Simon Andrew is preparing for lunch service: "It's a hell of a place," he laughs.
"I'd say our business is a 50/50 split between locals and tourists - and we only get about 2-3% of people off the coaches. It's people of a certain age who shop in Pringles. The girls usually come over here looking for the fellas who have tried to escape the shop."
Simon's English accent stands out in a town where 76% of the population are Welsh speakers. Originally from Cornwall, he visited the pub when passing through on his way to catch a ferry to Ireland with his wife.
"We stayed for some lunch and found that it was on the market, so we bought it."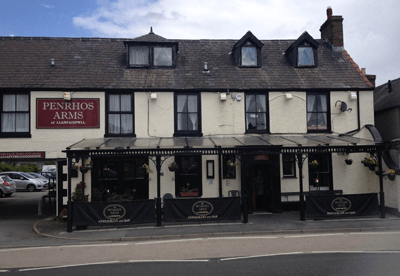 Thirteen years later, the pub is the only one left in the town and employs 25 part-time staff in peak season, just a small proportion of the 4,040 islanders working in the tourist trade.
Simon is keen to emphasise how the island's unemployed - of which there have been more and more after factory closures - can often find work in the tourist trade.
"The whole island relies on tourism," says Simon.
Future investment
As the price of rail travel continues to rise, travelling by coach could be the best option for sightseers. The Great Britain Day Visits Survey 2013 shows that coach was the chosen mode of transport for 123 million people, while 18 million visited as part of an organised coach tour.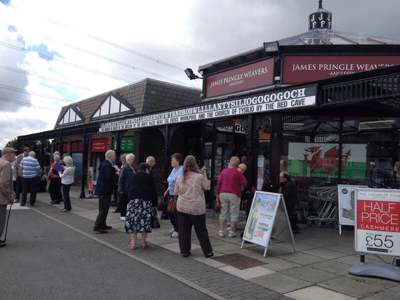 According to Anglesey Council, the island generated £256m from 1.5 million travellers in 2013, and most of those visitors were day-trippers. That figure was up by 4% on the previous year, bringing in an extra £10.8m.
Spend just a few minutes in Patrick's centre and you'll hear innumerable languages being spoken - but attracting even more visitors from abroad to complement the British day-trippers is the island's next big challenge.
"Tourism is the most important industry on Anglesey, so hopefully we'll be seen to be vital," says Patrick. 
Are you planning a coach trip this summer or holidaying in the UK? Tell us onFacebookandTwitter.