Getting a pet passport is fairly straightforward these days, but it's not cheap at around £150-250 per animal.
It also involves microchipping and rabies vaccinations, which is enough to put many people off bringing the dog along for a break in the Dordogne.
For some dedicated owners, though, it's well worth it – for Susan Hylands it's a case of pets winning prizes when she travels Europe with her team of flyball dogs.
On the fly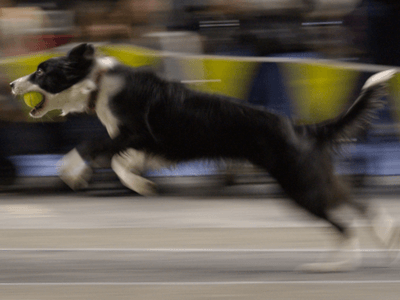 Photo: RingoCalamity
The amazing spectacle of flyball, which features at Crufts, involves sending dogs at high speed over hurdles, before reaching a triggered box at the end of the course that throws out a ball for them to catch. They then race back to their handler, with the fastest team the winner.
Susan and her dogs compete in the European Flyball Championships, so some travel has become a necessity. "Mostly the European Flyball Championships are in the UK, Belgium or Germany, but this year they were held in France for the first time," she said.
"We travel over, usually in convoy with other members of our team, in our adapted vans. Mine is insulated against both hot and cold weather and caged so each dog has their own space and the rear window is blacked out to stop the sun from heating up the inside."
Although the cost puts many off getting a passport for their pets, Susan explains how there are savings to be made if you shop around – particularly if you're buying in bulk.
"For the passports I pay £25 a dog. This covers the rabies vaccination (which is the only one compulsory to travel) and the actual passport. All my dogs are microchipped already. The rabies vaccination only has to be redone every three years so I won't need to get them done again until 2017.
"We get a very good deal through a vet who also does flyball and he does all the dogs on the same day so he usually has well over a hundred booked in."
Planning and vanning
Of course, travelling with so many animals isn't without its challenges, and it's all about organisation.
"We go by ferry," said Susan. "This year I shared the travel costs with two of my team-mates and we took five dogs between us.
"We travelled out on the overnight ferry from Portsmouth to Le Havre which took about seven hours. We are allowed to go down and visit the animals during the journey, but they're so used to traveling they just sleep!"
Susan has got European adventures with her dog squad down to a fine art, but for another pair of travellers from Europe the pet passport scheme, along with a heroic effort from several good Samaritans, came to the rescue to get a very special little pet home.
Meet Popeye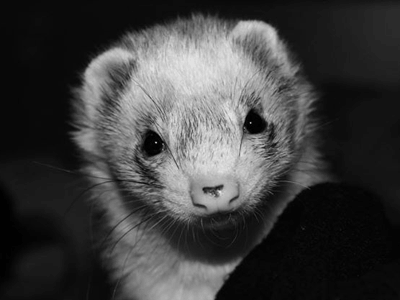 Popeye the ferret is a fluffy ball of mischief with a cute, heart-shaped mark on his nose. He's inseparable from his young owner Velichka – but without the pet passport scheme, things would have been very different.
Two years ago, Velichka came to England overland from Bulgaria to improve her English, accompanied by a friend and Popeye the ferret.
The trip was a big step for Velichka. Four years previously she'd suffered an accident that left her unable to do the things she loved, including sports, and this had led to depression.
With no idea of travel restrictions affecting Popeye, the three travelled with nothing more than a doctor's note explaining the ferret's role as a 'service animal', helping Velichka with anxiety.
But when the time came to fly home to Bulgaria, catastrophe struck. Although many other small animals can be brought into Bulgaria without documentation, just like dogs and cats, ferrets need a pet passport to travel. Velichka was distraught when the airport manager insisted she leave Popeye behind.
"It was very hard for me because I don't know English well and couldn't protect him," she recounts. "The friend who was with me tried to explain, but it was a firm no. They gave us 24 hours to find someone to take him in."
Luckily, help was at hand.
"There was a man who worked at the airport and he connected us with Dave Lewis's foundation for ferrets," said Velichka. "We told them the situation and asked for help. We had no money, only our tickets home and no way to pay for help.
"Dave Lewis told me that everything would be fine and they came to take Popeye from the airport before we got on a plane. It was very difficult because we were inseparable, and we now had to part and couldn't do anything."
The ferret rescuers
Dave runs an organisation called Ferret Help that rescues and rehomes ferrets. "I got this frantic phone call from Luton saying they had a distraught couple there," he explained.
Dave made some calls and, before long, ferret rescue volunteer Hilary Anderson had Popeye safe at home. "Luton Airport were fantastic with him," she said. "They rearranged the owner and companion's flights, arranged hotel accommodation, hunted down somewhere safe for him to come and delivered him to the door."
Popeye went to stay with Dave for over a month while documents were prepared and enquiries made about how to send him to Bulgaria. With touching generosity, Dave footed the bill for all of Popeye's medical care.
Eventually, at the beginning of January 2012, Popeye was on the move with Kit Kats, a transport company that also helps rescue dogs in Bulgaria.
Kit Kats transported Popeye back to Velichka totally free of charge.
"The driver had no previous dealings with ferrets but he totally fell in love with Popeye," recalls Dave. "It was freezing, with snow on the ground, so at night he sneaked him into the motels with him!"
"For three days they travelled with Popeye and brought him home with many gifts from Dave," says Velichka. "Dave and Hilary were my heroes - if they hadn't been there, I would never have seen him again. Every day I think how they helped me and I haven't forgotten for a second.
"Popeye is now two years old and a fluffy ball of trouble that I love very much. I am very grateful to everyone who helped - I never believed that someone can help you so much without expecting anything in return."