Routines imprison us. It's so easy to get stuck in a cycle of work-TV-sleep-work-pub-sleep-work that we forget to open our eyes and look at things.
We count down the days until our annual holidays, when we can fly somewhere warm, drink pink cocktails and sample oozy cheeses.
But wait! These snippets of colour need not come but once a year – Britain's full of interesting stuff to look at, and you don't need to use up your annual leave doing it.
So, behold, the first instalment of the Covered Guide to Britain - a series of destinations to squeeze a few rainbows into your weekends…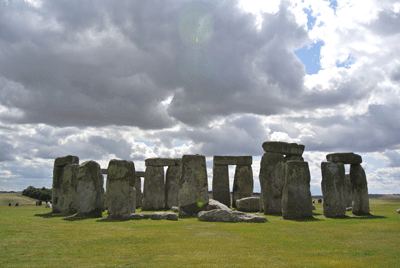 This time, we're looking at a henge. And not just any henge, but Stonehenge – that big, prehistoric one off the A303.
This year marks the 50th anniversary of the Order of Bards, Ovates and Druids, and what better way to celebrate than by taking a gander at one of their favourite sacred sights?
As Stonehenge is one of the oldest man-made things there is to look at in Britain – arguments rage over whether it dates back to 2,000BC, or even 3,100BC – we needed the oldest car we could find to get there, right? Or better, an ox and primitive cart?
Wrong. We went entirely the other way and took the cleverest, most ultra-modern motor we could get our hands on: the Toyota Auris Hybrid Touring Sports.
This gave us a wonderful spread of culture, fusing the very old with the so-new-it-hurts.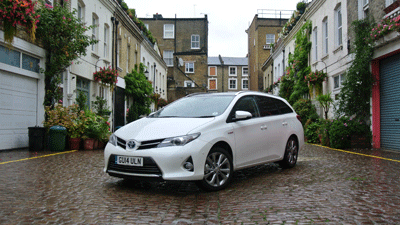 The shiny Auris wagon is jam-packed with clever stuff. It's got a normal 1.8-litre petrol engine up front, while under the rear bench hums a natty electric battery – it can run on full power, electric-only or, if you hit the 'power mode' button, a combo of the two. So it's basically a McLaren P1 with space for a wardrobe in the back, right?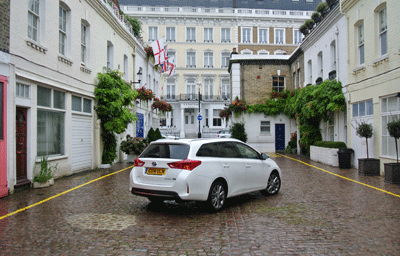 In the interests of thoroughness, we decided to set off on the Saturday morning of a bank holiday weekend, not particularly early. The A303 is a right pig at the best of times, and we were bound to get stuck in mile after mile of tedious, immobile traffic.
However, you'll be pleased to learn that it was actually fine. Well, aside from the final three miles taking about 45 minutes to get through.
Our two-year-old road tester was having a whale of a time in the back, as the Auris Tourer had the optional full-length glass roof, providing optimal cloud-spotting opportunities.
She also insisted on testing the Toyota's impressive multimedia package with quite a lot of Michael Buble – honestly, the sacrifices we make – although this did eventually descend into a riot of shrill screaming, which frankly came as something of a relief. And so the final yards edged by.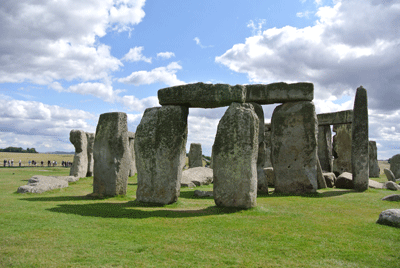 So, some important Stonehenge facts that new visitors may find useful…
The car park and visitor centre aren't that close to the stones. If you're approaching from the east, you'll need to drive past it a fair way before turning right toward the complex.
You'll also need to have five quid in cash on you just to enter the car park, for some reason. This gets refunded when you buy your entry ticket at the desk – maybe it's to squeeze a bit of revenue out of the people who turn up, baulk at the cost, and immediately leave. Oh yes, the cost – it's nearly 15 quid each to see it. Brace yourself.
You then have to catch a shuttle bus to the henge. It's a series of coaches towed by a Land Rover, which (if our experience was typical) will be full of very cheerful Australians on a European tour.
Then you get there. And you find that it's actually quite small. I mean, the site is big, but the cluster of stones… you could probably cover it all with half a dozen good-sized tarpaulins. Still impressive, though – just not cathedral-sized like you might expect.
Happily, it's easily possible to have a picnic near the henge.
We weren't sure if it was the done thing, as no-one else was doing it, but having spread our blanket and cracked out the pork pies, we noticed that seemingly everyone was shuffling sandwiches and Thermos flasks out of their sleeves. It just feels like a 'picnicky' sort of place.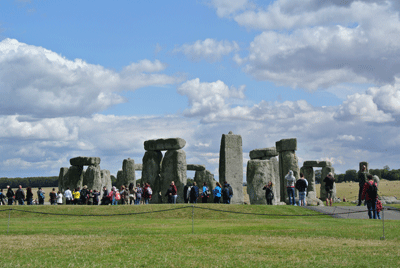 The Auris provided a wonderful counterpoint to all of this old-timey mysticism both there and back, constantly surprising with its modern tricks.
You know how cars with stop-start engines kill the power when you pull up to the lights, then kick the engine back in when you pull away? Imagine that, except without the engine turning back on when you drive off. This really befuddles passing pedestrians, it's hilarious – you ease away milk float-style, in surreal serenity, wafting along as the trees smile at you and birds twitter around the redundant exhaust pipe.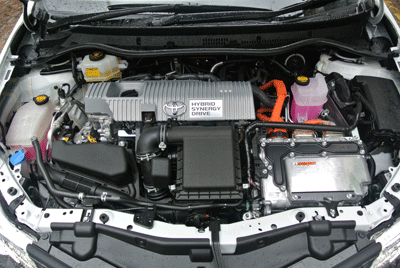 And take a look at the dial on the left. Confusing? Not a bit – the needle wavers in 'ECO' when you're driving sensibly, 'CHG' when you're braking (and thus charging the batteries), and 'POWER' when you're having some fun. The needle glows angrily red when you do this, which makes your inner teenager smile.
It's a practical beast too. Need to change your mini road-tester's nappy after a picnic? Just lay her down in the vast boot, there's plenty of room. There's even a handy lidded cubbyhole on the left to stash the nappy bag in. The load bay must surely have been designed by a parent. And look how happy she is to have all that space to thrash around in!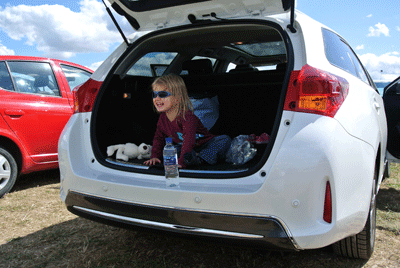 So, did anything mystical happen to us while we were getting our henge on? Er, no, not really. Although there was a famous Japanese comedian among the crowds. We know this because some very excited Japanese tourists told us.
We can conclude, then, that it's a beautiful place to go, good for picnics, dripping in history, and with a fair chance of obscure celeb spots. Here's some more info.