"There'll be bluebirds over the White Cliffs of Dover," warbled Vera Lynn back in the 1940s. What a load of nonsense. The bluebird isn't indigenous to the UK, so if you do see a bluebird in Dover it'll most likely be an escaped pet or vandalised pigeon.
No, what you'll see over Dover is a hellstorm of hungry seagulls. And lots of wind.
For this second installment of the Covered Guide to Britain, we decided to go down to the Kent coast and check out those iconic chalky cliffs. The Stonehenge adventure got us all fired up for bits of old rock (don't worry though, these won't all be geological days out), and these cliffs were the biggest ones we could think of.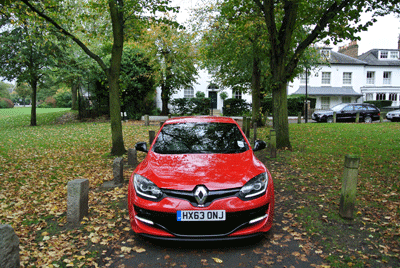 So, what to drive to such a location? Well, it's obvious, isn't it? It's got to be something from the Renaultsport stable, as they're manufactured in the old Alpine plant in Dieppe, and you can sort of see Dieppe from Dover. Well, you can't really, unless you have incredible binoculars, but no-one ever sings about the White Cliffs of Newhaven, do they?
We plumped for the racy Megane 265 Cup, which is an extraordinarily naughty thing – it pretends to be a hatchback (or coupe, as Renault insists), but it's actually a race car. Seriously. It's savage.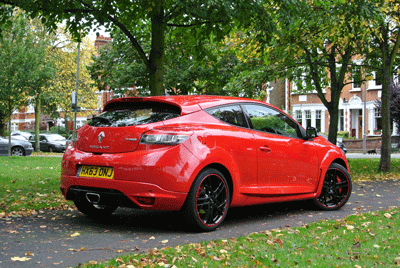 What's the deal with the cliffs, then?
Well, they're helpfully curated by English Heritage, and those of you who followed our Stonehenge advice and paid through the nose to see some old rocks will be pleased to learn that it costs just £3.50 to get into the car park and enjoy these other old rocks.
If you keep on driving upwards you'll find that the top-tier car park offers incredible views across the sea and along the coast. You'll also spot that the next hill over houses Dover Castle, although we haven't come to see that – we're interested in rocks, not stones, right?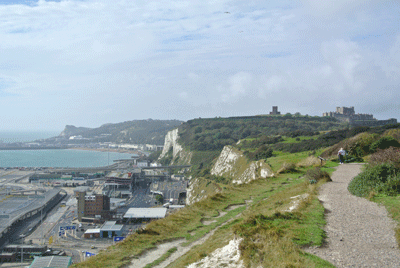 Being high up above the sea means wind. Lots and lots of wind. So you could sit in the car and crack out your Thermos, but the more intrepid traveller will heartily enjoy making use of one of the many picnic benches, to wolf down their sarnies before rapid wind erosion turns them into crumbs. The sandwiches, not the people, that is.
This is just what we did, chasing crisp packets and juice cartons about the place as Mother Nature tried to reclaim them and return them to the soil from whence they came.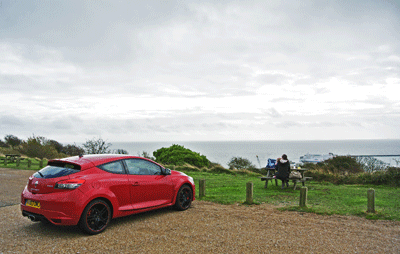 From this vantage point, you'll find that you're overlooking the harbour and ferry port. If you bookended your childhood holidays with Dover-Calais ferry crossings and vice versa, this will conjure up many happy memories of, er, waiting to get on a boat.

My phone took it upon itself to switch to French network provider Bouygues at this point, presumably to make the car feel at home. Let's take this French connection as an opportunity to look at the motor a little more then, shall we?
The 265 Cup is an astonishing thing. I may be a little biased in that I'm a card-carrying hot hatch buff, but this really is a brilliantly silly creation.
Taking the revered Megane III base and stuffing in the engine from the special-edition Trophy means that you get a nimble three-door hatch with 261bhp, which is a laugh. (2012's Trophy was, at launch, officially the fastest front wheel-drive car around the famed Nurburgring test route, with all the fun that implies.)
The 265's optional Cup chassis adds stiffer springs and dampers, 18" rims with sticky Bridgestone tyres, enormous Brembo brakes, Recaro bucket seats and a mechanical limited-slip differential – it's designed to be driven, and enthusiastically so. And it's impossible not to smile while you're at it.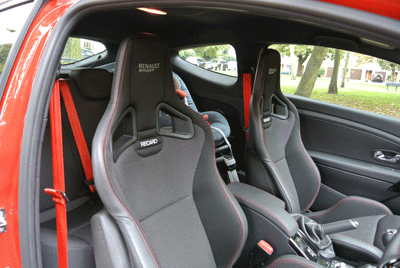 "Go on daddy, press the RS button," my two year-old co-tester seemed to say.
Actually, she said nothing of the sort, she was too busy giggling at a picture of a cartoon princess. But I imagine she wanted to say: "You'll love the way the limited slip-differential pulls the nose around corners, daddy – you'd expect a front-driver with 261bhp to scrabble like a puppy on lino, but this just pulls tightly as if it's never even heard of understeer."
I bet that's what she meant.
She had a point, too. Pressing that button switches the engine map to unleash the full 261bhp (rather than the watered-down 247bhp 'Comfort' mode), while increasing the responsiveness of the pedals and making the exhaust a lot louder – it's like getting a Mario Kart power-up. And it goes "RoooaaaAAAAAAAAR!"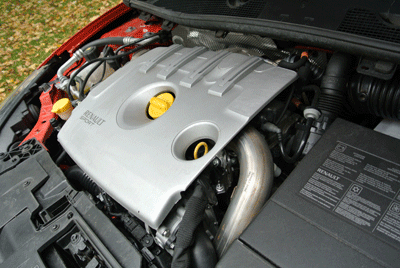 Ahem. Meanwhile, back at the cliffs…
Post-picnic, we loaded our mini-road-tester into her pushchair and set off along one of the clifftop paths. This is stupid. Do not do this. The narrow paths are very rocky indeed and will a) destroy your pushchair, b) mean the other tourists can't get past you, and c) mean you have to perform a windy, high-altitude three-point turn, take the pushchair back to the car, and resume the walk whilst carrying the nipper.
And what can you see when you get there? Well, um, some cliffs. They're pretty big. And pretty white too.
Impressively, their chalkiness turns the grey drabness of the English Channel into a sort of milky greeny-blue, so if you can mentally filter out the extraordinary cold, you could almost be looking at the Mediterranean.
Oh England, you're pretty. This is way more than £3.50-worth of beauty.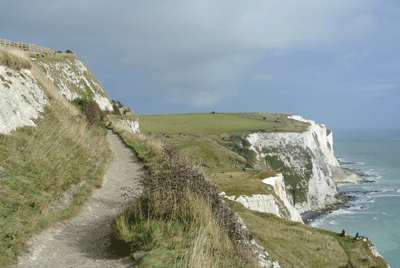 So, there aren't any bluebirds over the White Cliffs of Dover. But there was a shabby Nissan Bluebird in the car park – Vera Lynn can feel somewhat vindicated by that. Perhaps that's what she meant all along.
As I pointed the nose of the Megane back inland, a voice piped up from the back seat: "Daddy, if you navigate the touchscreen R-Link system into RS mode, you can find real-time engine power usage graphs and all sorts of other nifty graphics."
Well, I imagine that's what she meant by shouting "We all live in a yellow submarine" over and over and over (It's a complex code we have).
And, again, she was right. Plenty of toys to play with on the way home, and lots of country lanes to enjoy them on. RoooaaaAAAAAAAAR!