We had a fun old festive time frolicking around the Ideal Home Show at Christmas in Manchester. But it wasn't all fun and games.
We were also meticulously scouring the exhibition to bring you the trends you'll be clamouring to try this Yuletide…
Floral centrepieces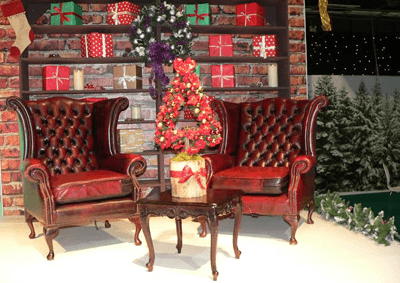 Making floral centrepieces to complement your Christmas dinner spread can be simple and takes next to no time.
The staple of every centrepiece is Oasis (the green spongy stuff, not the band) but, apart from that, anything goes. Try fresh flowers, pine cones, holly, mistletoe and baubles, all topped off with some twinkling lights.
Top tip: If you're using tulips, pop a copper coin into the vase with the water and it'll help to stop your flowers from drooping.
Blush pink decorations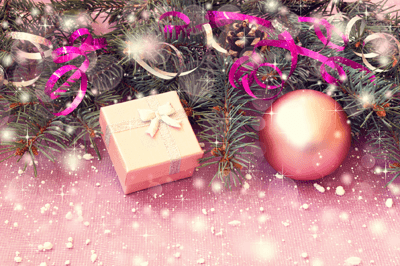 Chuck out your red and gold tinsel (or pop it in the loft for the foreseeable future), because this year it's all about blush pink.
Adorn your tree, mantelpiece and dinner table with powder pink accessories like baubles, bunting and reindeer figurines for an on-trend seasonal look.
Top tip: Christmas trends are usually adopted the year after they're announced, giving people time to get used to them. So pink decorations were announced as a trend last year but have really become popular this Christmas.
Christmas cupcakes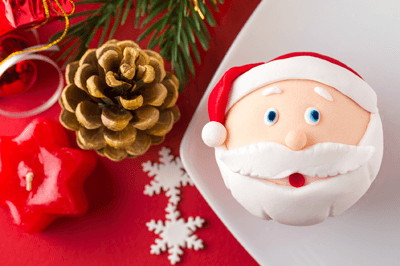 We watched many a demonstration by the Hazelnut Bakery, but our favourite was definitely the Christmas cupcakes, which just looked scrummy.
With some basic vanilla cupcakes, coloured fondant and a sprinkle of lustre dust, there's no end to the differently decorated sweet treats you can create. Give them out as Christmas presents or keep them as an alternative to a crusty old fruit cake. Remember that they'll only keep for three-to-four days, though.
Top tip: Use the bottom of a straw to create mouths in decorating fondant for Santa and snowmen. Plus a little red lustre dust can give the perfect rosy-cheeked effect.
Festive jumpers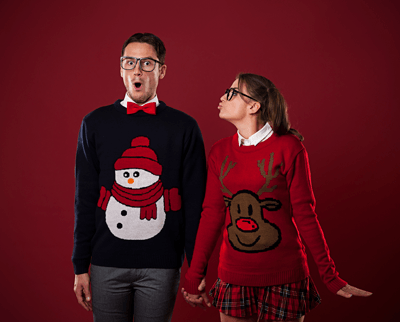 The festive jumper trend has really taken off over the past few years and it's showing no sign of slowing down anytime soon.
Men, women and children alike couldn't get enough of the pullovers featuring snowmen, reindeers, elves and Olaf the snowman from Frozen.
The naffer the better, as far as jumpers are concerned.
Top tip: Once you've bought your perfect Christmas jumpers, customise your garment so that you've got a completely unique pullover and can avoid the awkward moment where you rock up wearing the same polar bear sweater as Brian from accounts.
Fruity garlands
On our frequent trips around the decorations portion of the exhibition, we couldn't help following our noses to a wreath and garland stand which used dried oranges, cloves and cinnamon. Not only do they look tres festive, they can also help to mask the stench of Brussels sprouts.
Top tip: Make your own on the cheap with some of your favourite dried fruits and spices. Why not try star anise?
Hand-painted baubles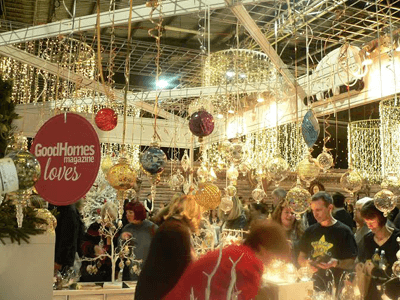 Tired of stringing out the same pack of baubles each year? We spotted some pretty-as-a-picture decorations hanging from a stall and it got us thinking that we could do them at home.
Have a go yourself with some clear plastic baubles and glass pens or paint.
Top tip: You can never have too much sparkle at Christmas, so use a glitter pen or glue gun to put sequins onto baubles.
Gingerbread house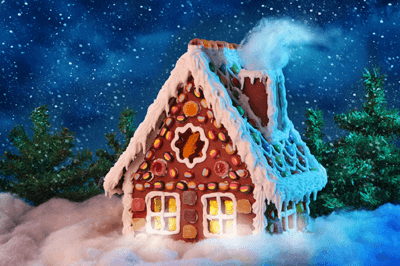 There's something about the smell of freshly baked gingerbread that we just can't get enough of. So go all-out this Christmas and create a scene with yours, complete with snow-capped roof and trees.
It can make an amazing centrepiece too, but you may have to stop people digging in when you're not looking...
Top tip: If you don't have edible glue, try using a mixture of icing sugar and water to stick the different sections together.
Share your Christmas top tips and pictures with us onFacebookandTwitter