A 30-person conga line made up of Spidermen and time travellers narrowly dodges a seven-foot Darth Vader gimp wielding a light sabre for the cameras.
Across the hall a former Power Ranger scrolls through his phone, staring into the distance while a queue forms in front of the Game of Thrones star sat next to him.
There's only one place you can be. Comic conventions – or 'comic cons', to give them their informal name – descend on cities all over the world, and this Cardiff event is among the UK's biggest.
From a brilliantly painted Beast and a scantily clad Wonder Woman to hordes of Doctor Whos in fezzes, fans turned out in their thousands, spending plenty of money on memorabilia, autographs and photographs with their heroes.
Being a fan – and looking the part – is big business, so we went along and asked some comic, videogame and TV cosplayers exactly how much their hobby costs them...
Megan Davies, 20, Carmarthen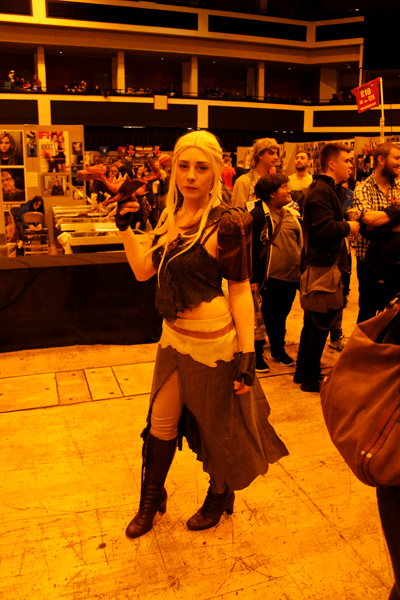 By day: Sculpture student
Character: Daenerys Targaryen (from Game of Thrones)
"This is my first time cosplaying. I spent about £60 on my costume – my friend forged the armour on my shoulder and I covered it in leather myself."
Nadia Brown, 24 and Jeanette Brown, 48, Hengoed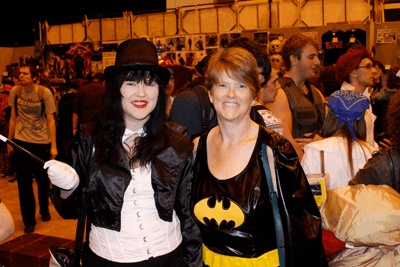 By day: Council worker and canteen assistant
Characters : Zatanna Zatara (recurring DC Comics character) and Batwoman
Nadia: "My outfit cost about £40 – I already had the top hat."
Jeanette: "I came last year to keep Nadia company and didn't dress up, but this year I thought, why not?"
Stewart Chambers, 29, Plymouth, and 'Zatanna'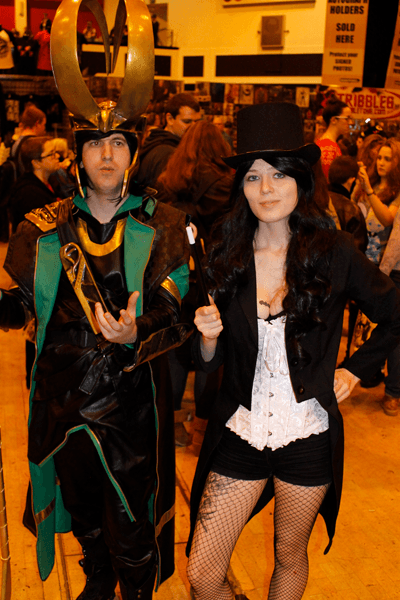 By day: Admin assistant
Character: Loki (from Thor)
"It cost around £1,000 – I bought the helmet on Etsy, from America. I travel all around the country to go to conventions – about 12 a year. I'm wearing Loki today because it's more popular, and tomorrow I'll be Deadpool. It takes me about 20 minutes just to walk across the hall, people keep stopping me for photos."
James Lewis, 31, Bristol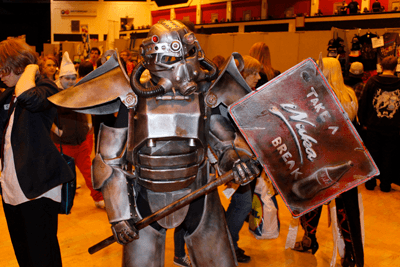 By day: Airbrush and costume designer
Character: Brotherhood of Steel knight (from Fallout 3)
"This cost me around £600 to make and took about three weeks, but I'll sell it for £2,000. It's my first time at a convention – hopefully I'll have a stall next year."
Drew Egan (right), 15, Neath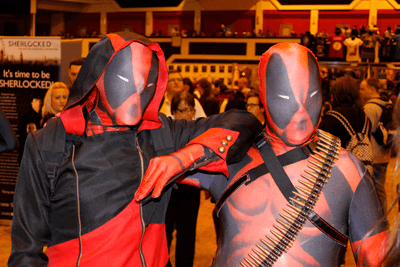 By day: Student
Character: Deadpool (from Marvel Comics)
"[It cost] about £50."
Emy Claire, 26, Cardiff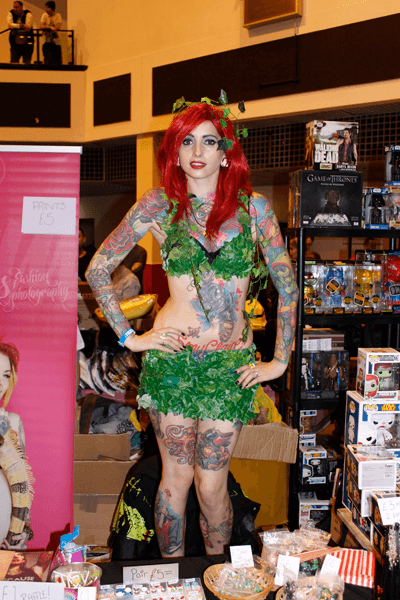 Character: Poison Ivy (from Batman)
By day: Supermarket worker
"This cost me £10 – I come every year."
Have you cosplayed at a convention recently? Share your best cosplay pics with us onFacebookorTwitter