Christmas cards are part and parcel of the festive period. You simply can't have one without the other. It's like having turkey without stuffing, a Christmas tree without a star atop, an Eastenders special without someone crying in the street…
Yet trying to pick out the perfect card to convey how much your loved ones mean to you is far from a calm and serene moment. You're getting bustled around by eager shoppers, there are no envelopes left in the right size and you've all but given up hope when you open up another predictable 'Season's Greetings' offer.
Hold up! You've got a mega-cute dog/cat/rabbit/guinea pig/budgie/goldfish, so why not make them the star of your personalised Christmas card? Genius, right?
Well, as if by magic, here are some tips to get you started…
Find an appropriately festive setting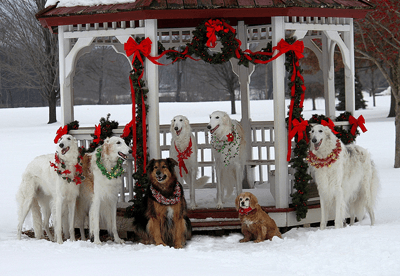 Image: Deb
Your living room sofa just won't cut it – you need something epic to show how festive you and your pet really are.
Basically what you're going for is something so stuffed full of Christmas vibes that even Santa himself would tell you to calm down. If your set is inside, go all out with a tree and presents surrounding your pet, get cheeky with a puppy in the middle of some ripped-up wrapping paper or strategically place your kitty near some mince pies for a 'cat burglar' theme.
For an outside location, think about an ethereal, glacial tundra setting that subtly whispers at the festivities to come… or just stick a 'Santa please stop here' sign in the ground next to your pet. Either works.
Make sure your pet is comfortable in their attire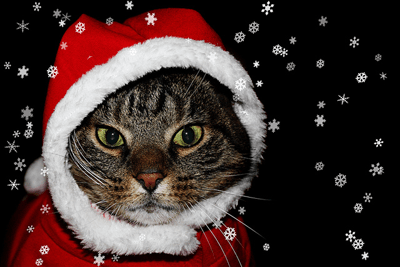 Image: Dennis Skley
If you've chosen to adorn your animal with a jaunty Christmas hat or reindeer antlers, please make sure that they're comfortable wearing them. Cats in particular don't like being dressed up in outfits, which is probably why the one pictured doesn't look particularly full of seasonal cheer.
A pet that regards you with a mixture of panic and fear as you loom over them with a miniature elf hat in hand probably doesn't want to enter into the party spirit. However, there's a way to get around this – simply superimpose Christmas paraphernalia onto your pet's photograph digitally.
Treat your pet
Image: Cris
If your pet is reluctant to stay in the same spot and give that perfect pout you're looking for, then it's time to start bribing.
Perhaps your labradoodle has a penchant for digestive biscuits or your tabby can't get enough of their mouse toy stuffed to the brim with catnip. Holding said treat just slightly above the camera will give your pet the glassy-eyed, whimsical look of an animal dreaming of Christmases past.
Be snap happy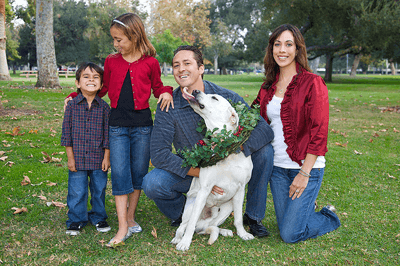 Image: Kevin Stanchfield
You never know when you're going to catch that moment of magic, so keep clicking away for as long as your pet is willing to be your muse.
Sometimes the best photos end up being the ones between the perfectly posed set ups. Try different settings, costumes, expressions. Perhaps your kitten has taken a shine to playing with tinsel. Take as many photos as you can and you can delete the surplus later.
Plan ahead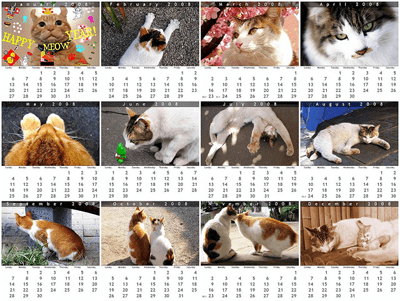 Image: Tanakawho
Whenever there's snow on the ground, whip that camera out straight away and get snapping. You could always use the pictures for next year's festive frolics if it's too late for this card drop.
If you're really savvy you can stockpile pictures for the next five years or create a pet calendar for friends and family throughout the year.
Make it punny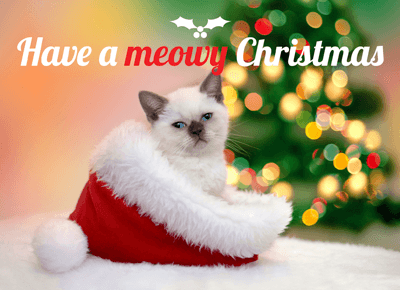 Everyone loves a good pun and a pet Christmas card is the perfect opportunity to go all out and produce a real rib-tickler.
Here are a few ideas to get you started...
"Have a purrfect Christmas!"
"Happy Pawsmas!"
"Wishing you a very furry Christmas!"
"Meowy Christmas!/Yappy Christmas!"
Nothing is off limits so pack in enough cheese to spread on a family size pack of crackers.
Get involved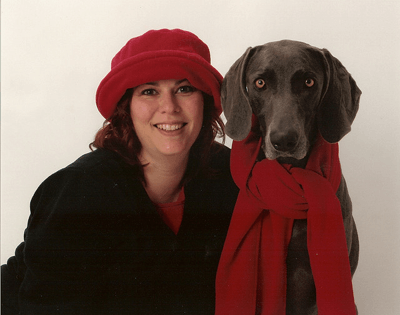 Photo by: Renee V
Although your pet is blatantly the star of the show, that doesn't mean the whole family can't get involved. And now that awkward is the new nonchalant, the more you cringe when looking at the card, the more your friends and family will enjoy it.
We're talking matching outfits, awkward hands on shoulders and posing while looking over your shoulder school-photograph style…
Search for a great deal on pet insurance with Gocompare.com. You'd be barking not to.