Ever fancied jacking your job in and making what most people could earn in a month with just a few clicks of a mouse, a little bit of knowledge and a smidgen of luck? It sounds too good to be true – but apparently, some people do just that.
Independent traders and investors are reportedly able to earn a shed-load of money on the stock market. With the internet, there's no need to spend your whole day sweating through your pinstripes at the London Stock Exchange anymore, either. You can potentially earn a mint (or lose it, for that matter) from the comfort of your own bed.
Intrigued, I headed to the MoneyShow in Westminster, a free-to-attend international conference for investors and traders. I wanted to learn more about how people get involved in the labyrinthine world of stocks and shares, and whether their dreams are actually achievable.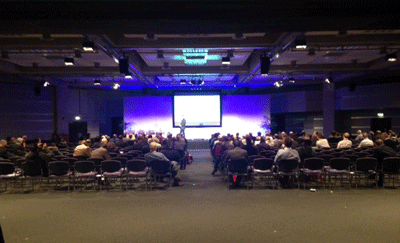 Arriving in the auditorium of the brutalist Queen Elizabeth II Conference Centre, just a stone's throw from the Houses of Parliament, a thick-necked man speaks with authority on emerging markets via video link from America.
The assembled throng certainly don't look like the so-called 'masters of the universe' – in fact, a fair few of them look like they'd be more at home at a rural steam rally or a Red Dwarf convention than in the bull pit at the New York Stock Exchange. There's a man sat next to me dozing. Others thumb through investment papers, and check complicated-looking graphs on their mobiles.
A few speeches in and it really hits home how many everyday things are connected to this complex, high-stakes world – everything from the repayment rates on our mortgages, credit cards and loans to what we pay for our domestic gas and electricity hinges on the whims of global markets. It's pretty mind-melting stuff.
Making the jump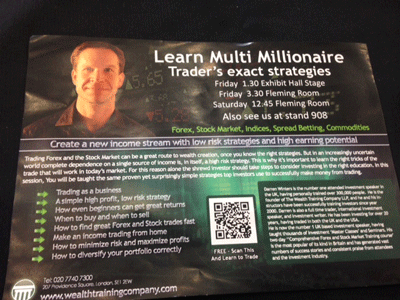 After the morning's speakers conclude, the action moves to the exhibition hall. Stands peddle everything from books and software to help investors make better decisions, to courses and training to help attendees get rich quick.
I chat to Robert, an affable Londoner who recently sold his hotel business and started a family. Both of his parents were traders, and he had an epiphany that it was something he might want to do when watching a film as a teenager.
"Have you seen Trading Places starring Eddie Murphy? Well, I was watching it with my friends, I was thinking 'well, this makes sense'."
Robert is here to see Jason Stapleton, something of a star in the investment world thanks to his instructional YouTube videos. "There are a lot of sharks out there," Robert says. "But I think he's genuine." Robert has only traded paper shares, but is looking to make a living from it full-time so he can spend more time with his family.
After a quick wander around, I meet Sean, a garrulous man from Cork who works in the oil services industry in Kazakhstan. He's a part-time trader who, like Robert, wants to make the jump into making a full-time living from trading. He's had a few notable successes, but has lost money too.
In fact, just a few days previously he'd lost quite a lot. "I was day trading and I wanted to sell," he recounts. "I had a bad day yesterday – what I was selling finished the day 45 points down. If only I'd sold them a minute earlier," he says.
The stuff of dreams?
Andre Malowney is a professional trader, who also runs a company called the Financial Trading Academy with his business partner Cam. His stand is dominated by a picture of a Caribbean beach, with the words 'SAY GOODBYE TO THE 9-5' written in large, bold letters. Glamorous assistants take details from attendees who are interested in signing up for his two-day seminars – usually £497, but available for just £97 with the 'vouchers' they're giving out.
"In a couple of minutes you can make a few thousand pounds," Andre tells me, as he gestures towards a screen with some pre-recorded trades on a screen from the day before. "Look at that – that's £1,088 going into my bank account just there."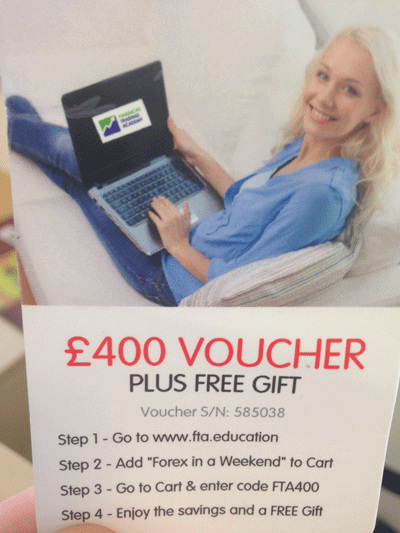 Before he became a trader, Andre owned a company that sold boilers. But the firm fell on hard times when British Gas, one of the firm's principle customers, "started giving them away". With a family to feed, he turned to trading as a way of generating cash quickly. "The penny dropped… now I make money effortlessly," he says nonchalantly.
Andre's philosophy seems remarkably simple. "I don't waste time with patterns," he insists. "That's a sure-fire way to lose money. A lot of literature out there causes people to lose their minds – a lot of trading is just to do with psychology."
There's something quite charming about Andre's unashamedly rapacious patter – "if grandmothers were bought and sold, I'd trade them", he half-jokes to Michael, a punter whose interest has been piqued by the stand's promises of untold riches.
Michael is a squat, middle-aged man who works as an accountant. "I'm just an ordinary, boring person," he says with a hangdog look on his face. "I don't have a life."
Michael does a little bit of trading, which he keeps secret from his wife – in fact, he requests that I don't use his real name when I write about him. He harbours ambitions of the trader lifestyle, and his slightly morose tone switches completely when he starts talking about analysis techniques. When he explains what he's seen on CNBC that weekend, his face visibly lights up.
We say our goodbyes and I wish him luck as he goes to sign up for Andre's course. I wonder how he's going to explain it to his other half.
As I leave, it's clear that the principle commodity being traded today is dreams – realistic and otherwise. I came to the show expecting to meet would-be Gordon Gekkos, but found a lot of relatively normal people just wanting a better life.
Say what you will about 'the markets' but they are, largely, quite democratic – anyone can have a go, providing they have a little bit of money and a stomach for numbers. But while there's no doubt that some people manage to strike it rich from trading and investment, you can't help but think there are probably a whole lot more who've lost more than they ever bargained for. For the people I met today – Michael especially – I really hope this isn't the case.