The snow has already begun to fall across the peaks of Europe.
Some resorts are now in full swing, and many people have started preparing for their 2014-15 ski season holiday.
So, to get you in the mood, we've compiled an A-Z of the ski season. Behold!
A is for Alps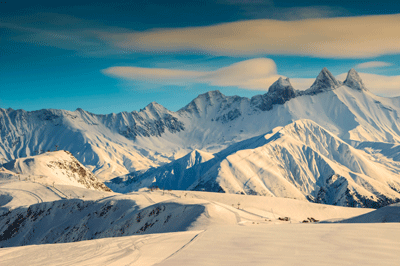 Most of Europe's prime winter sport action takes place here – Austria, Switzerland, France and Italy have some of the best runs in the world and, relatively speaking, they're right on our doorstep.
B is for bus
The ski bus is a boon for getting you from your hotel to the gondola.
If your pass extends to more than one ski zone, make sure you take advantage of it and see some of the other runs in the area.
C is for cranium 
Nowadays, you're in the minority if you take to the mountains sans protective headgear.
Most rental shops offer helmets, sometimes at no extra cost to your boots and skis or board, but it's definitely worth investing in your own. Some insurance policies specify that you must wear a helmet skiing or boarding, or risk invalidating a claim.
D is for dry slopes
They can't compare to the real thing of course, but if you're a novice you could do a lot worse than having a few sessions on a dry slope to get a grasp of the basics.
E is for Easter
Easter is one of the busiest times for the ski season, and one of the most expensive.
That said, late-season deals just before or after the Easter break can often be much more affordable.
F is for festivals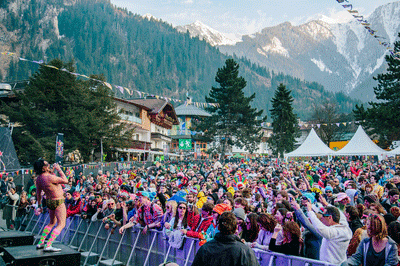 Image: Snowbombing
Long days of hitting the pistes and late nights of hardcore grooving – what could be better?
The biggest event on the ski festival calendar is Snowbombing in Mayrhofen, Austria, but events like Horizon in Bansko, Bulgaria, and Snowboxx in France are also worth a look.
G is for gym
To make the most of your ski holiday, it's best to arrive with a degree of physical fitness so you can really go for it and not end up out of puff by brunch time. Work on leg and core strength for maximum on-piste endurance…
H is for heli-skiing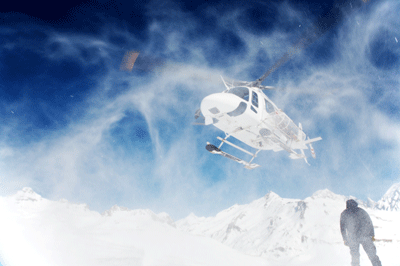 Heli-skiing - where you get to challenging, isolated peaks via helicopter - is an amazing buzz for advanced skiers.
If you're brave enough to give heli-skiing a shot, make sure your insurance will cover you for it.
I is for insurance
You'd be daft to go skiing or snowboarding without travel insurance. Even if you're a frequent traveller who has an annual policy, make sure it extends to winter sports cover.
You should also check for policy exclusions. For instance, you might find that a claim will be void if you were tanked up on those strong continental lagers at lunchtime, or if you weren't wearing a helmet.
J is for Jagermeister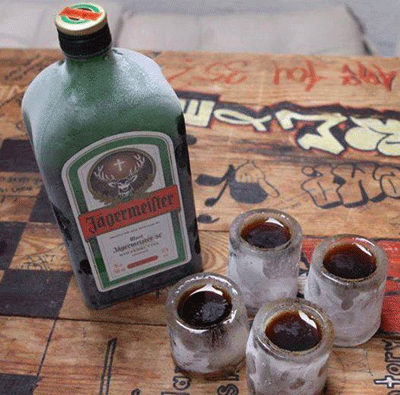 Image: Jagermeister
A staple ingredient of many people's after-ski regime, this 'warming' liquor is made of 56 herbs and spices. Prost!
K is for kids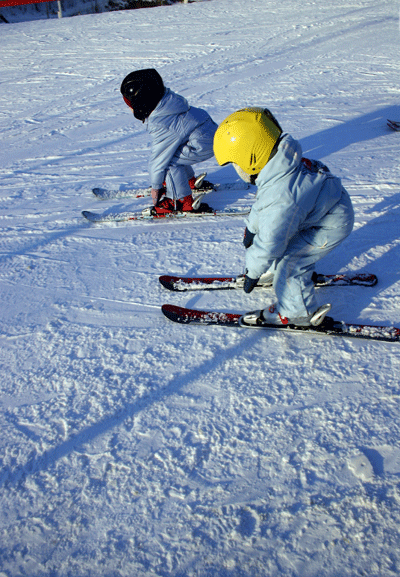 One of the most amusing sights of any winter sport holiday is watching the bold ski school tykes taking to the slopes, looking a bit like penguins.
They're usually completely fearless, and their low centre of gravity means they can run rings around us adults…
L is for lifts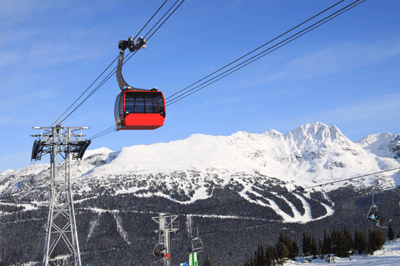 If you're anything like me, you'll often stop and marvel at the sheer mind-boggling feats of engineering which are par for the course at your average ski resort.
Witness the amazing Whistler-Blackcombe cable car, this perilously placed station at Courchevel, or this one in Switzerland which spins around.
M is for my own stuff
If you're a seasoned skier or boarder with a few years of experience under your belt, it might be time to invest in some of your own kit.
Having your own boots is a great start. Plenty of shops sell them here in Britain, but buying them while at the resort means that if there's a problem it can be rectified straight away.
N is for North America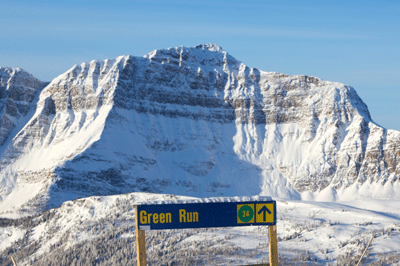 From the peaks of Vermont in the east to the best of the Rockies in the west, the USA and Canada have some of the world's best slopes, not to mention some of the warmest welcomes.
O is for off the beaten track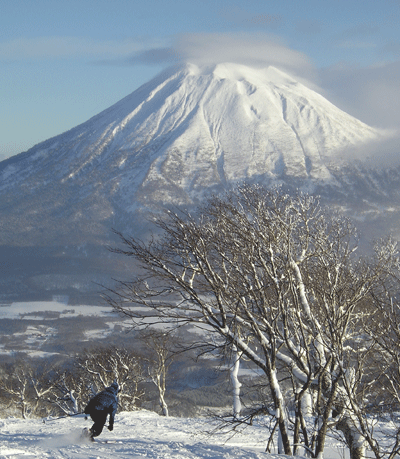 Europe is nearby and North America has some of the world's best skiing, but what about something a bit different?
From incredible runs in the Indian Himalayas to volcanoes in Japan, there are some truly amazing places to ski if you're prepared to travel a little further.
P is for performance
If you're an experienced skier and feel like your ability has plateaued, then why not book yourself into a day of private lessons?
An instructor can help you really hone your technique and iron out any bad habits you've picked up.
Q is for queues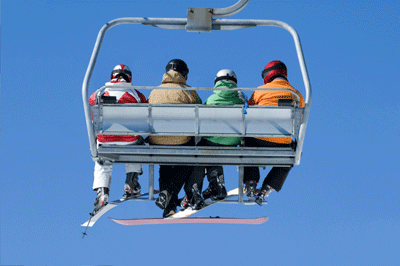 Queues are the bane of many ski trips, particularly during school holidays - half-term and Christmas.
Minimise your time in line by getting up early and dodging the 10am rush, or see if you can get up the mountain from an alternative gondola.
R is for rest
A spot of lunch, a casual hot chocolate at the top of a gondola or a bracing swim at the hotel – make sure you make the most of your downtime to prepare yourself for another day of hard skiing. You're on holiday, after all…
S is for saunas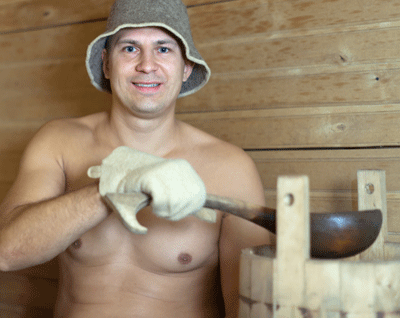 There aren't many better ways of relaxing after a punishing day than sweating it out in the sauna. However, in Europe, you may be put off by the custom of entering the sweatbox 'au naturel'.
Many spas are tolerant of our modest British sensibilities and will turn a blind eye to a pair of Speedos, but some places insist on you letting it all hang out. Embrace it!
T is for thermals
An early morning decision which can make or break a day – get it right and you'll be prepared to confront the elements head-on and come out laughing.
Misjudge it and you'll end up shivering on the chairlifts or sweating buckets…
U is for uphill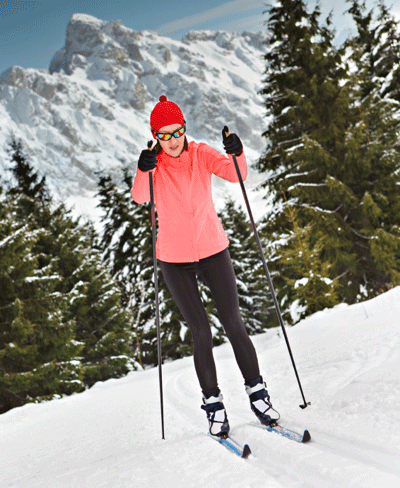 Cross-country skiing certainly isn't for everyone, but if you're after something a little more demanding it might be worth a go.
V is for vision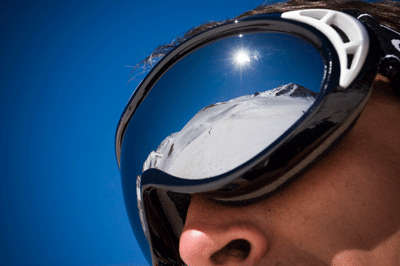 Goggles are quite an investment, but you'd be amazed at the difference spending a bit of money on a decent pair will make.
Persimmon lenses are a decent all-purpose choice for whatever the weather, and work particularly well when the light isn't great. Some super-posh goggles have interchangeable lenses, so you can switch to combat whatever the elements throw at you.
W is for weather
Glaring sun, dense fog, blizzards, wind – there can't be many other holidays where you're exposed to such a diverse selection of meteorological phenomena over the course of a week.
X is for X-ray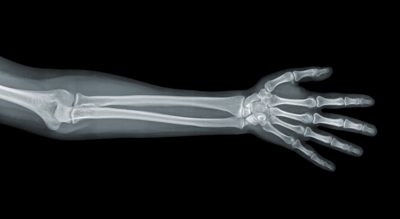 X-rays are surprisingly expensive and, if you injure yourself abroad without insurance, you'll probably have to contribute towards them yourself if you get hurt.
Y is for "YAY!"
Well, what's better than hurtling downhill surrounded by amazing scenery and fresh air, going to bed and waking up and doing it all again? Not much, I reckon.
Z is for zonked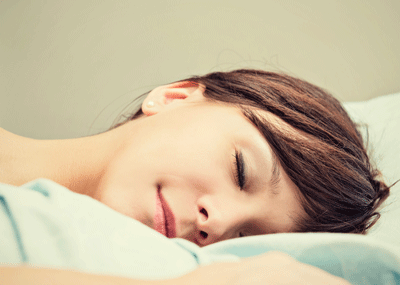 Which is exactly how you should feel after a week or so of vigorous downhill action…
Are you heading to the mountains this year? Tell us about the adventure you've got planned on Facebook or Twitter