The mornings have turned distinctly frosty of late, and it won't be long until a portly gent in a red suit gets lodged in your chimney. Well, unless you can keep your uncle Keith off the brandy this year, that is.
So, this fourth instalment of our Guide to Britain sees us jingling our bells with a little festive flourish.
With the sun glinting through the sparkling leaves, we wended our merry way through south-west London to Kew Gardens, to see what sort of caper was on offer at the world's largest collection of living plants.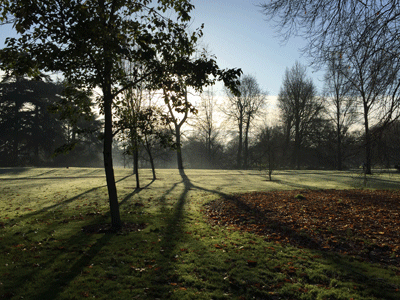 And what better car to borrow for such a jaunt than the beguiling Jaguar XJ-S?
After all, both it and Kew are revered British institutions – old as the hills, solid as a rock, admired by all, and really rather salubrious places to spend time.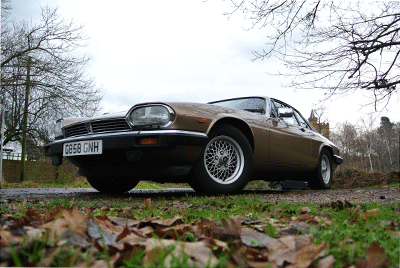 This particular XJ-S came courtesy of the Classic Car Club, based in Hoxton.
It's an outfit that enables customers to try a platter of retro fare without the hassle of ownership or maintenance – once we'd had a look through the choices, the Jag leapt out as a sensible weekend-tripper owing to it, er, having a back seat, thus giving our mini-road-tester somewhere to sit. (Her, and no-one else – there's no way you could squeeze a fully grown human in the back…)
So, having trudged through the London frost to Shoreditch, I found myself pointing the phallically voluminous XJ-S bonnet out into rush hour.
And by gum, it's comfy – gloriously aged leather, huggy seats, perfectly positioned controls, it seemed churlish not to ignore the honking taxis and go on a bit of a tour.
So I gunned the V12 up to a heady 17mph (oh London, you and your ways) and wafted past the Bank of England, down over London Bridge, along to Waterloo, back over Westminster Bridge to Big Ben and Parliament Square, and along the Thames past the Chelsea Hospital and Battersea Power Station.
I kept driving and driving until I found myself, slightly surprised, all the way out at Brooklands.
Sorry, I couldn't help it.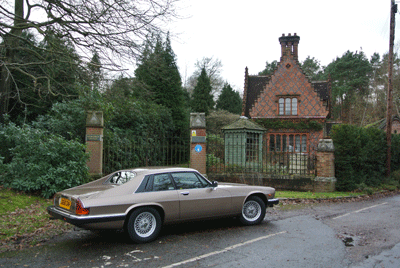 Anyway, to Kew.
Bright and early the following morning, Mrs Guide to Britain and I packed the mini-road-tester into the rear seat using advanced paediatric origami, vaselined the pushchair into the Jag's boot (It fits, miraculous!), and headed for the botanical gardens.
Something to bear in mind is that, while parking is ample, it's pay-and-display, and an all-day parking ticket costs £7. On the other hand, Kew has dropped its entry fee over Christmas, so that's only £11 each including Gift Aid, and kids go free. It balances out pretty reasonably.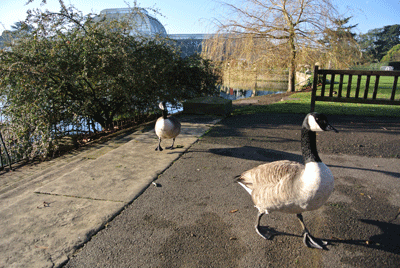 Arriving nice and early means that you'll pretty much have the place to yourselves.
As you can see from the photo above, the Canada geese are sort of territorial about this, and will get all up in your grill to honk their displeasure. Don't let them intimidate you – their avian grump is no match for your superior human brains.
Now, Kew Gardens has laid on a variety of treats for the festive season.
The evening events are largely sold out, but there's plenty of Christmassy stuff to do during the day: Santa's grotto, a festive fairground, the 12 trees of Christmas trail, carol singing, mulled wine, face-painting – think of it as an upbeat, high-end Christmas fair that happens to be held in some captivatingly beautiful scenery.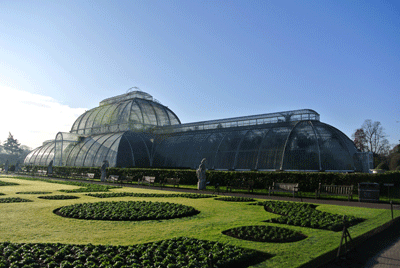 Before any nippers you have in tow start to get peckish, I'd recommend heading for the famous Palm House. For one thing, it's summery and warm in there, which will give you all some soothing respite from the wintery chill outside.
For another, it's just gorgeous – fascinating big-leafed plants, a spiral staircase that takes you up to a treetop gallery view and, as if that wasn't enough, a basement full of fish tanks.
Rather handily, the Palm House is right by the cafe, so you can quell those rumbling tummies with some nourishing grub. I heartily endorse the home-made chicken-and-ham pie, and the mini-road-tester told me to tell you that the jelly was nice.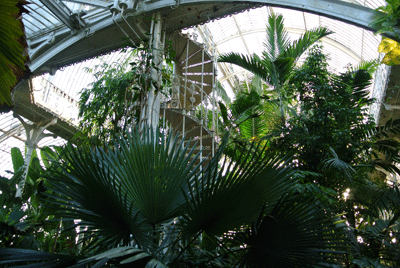 Kew Gardens really is massive, and you can easily fill a day wandering among the lawns, trees, lakes and beds. I suggest ignoring the guide map and just seeing where your fancy takes you. It's much more in the spirit of exploration, and every new building or exhibition comes as a lovely surprise.
Eventually, of course, your feet will grow weary, at which point you'll be grateful that you arrived in an XJ-S (which, if you're following this guide correctly, you will have – right?). It really is the most luxuriously comfortable thing I've driven in some time, so much so that you sort of forget you're driving it. Except, that is, for the fact that everyone over the age of about 60 gives you a friendly wave, with an I-wish-I-had-one-of-those look in their eyes (that, and you have to call into every petrol station you come across – it's a thirsty old beast).
It smells right. It looks right. And everything's better with a V12.
So, a thoroughly British day out in a very British car. And Kew really has made the effort to imbue its rambling and expansive grounds with the spirit of the holiday season.
Look, they've even left Christmas presents under the trees…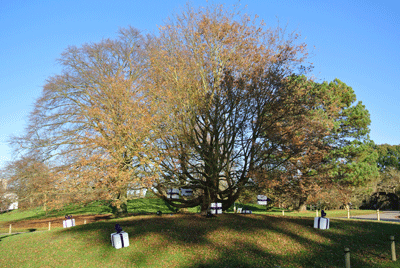 As we rumbled amiably off into the sunset, our two-year-old helper piped up from the back seat: "Daddy, this really is a majestically plush little coupe, and the surge of effortless torque does spirit you along with casual aplomb. It smells deliciously vintage in here."
She said no such thing, of course. She was all tuckered out and having a little Jag-nap. If you're after a thoroughly relaxing day out, Kew Gardens and the XJ-S go hand-in-hand.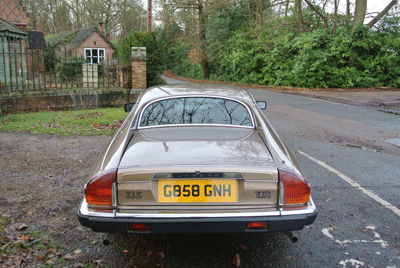 With effusive thanks to the good people at the Classic Car Club.