Elvis wasn't great at taking care of his finances.
His shady manager Colonel Tom Parker took almost half of his earnings during the 1960s and 1970s and Elvis famously spent most of his money on prescription drugs, food and alcohol in his later years.
But since his untimely death at the age of 42, Elvis' image and music have continued to make money around the world. Whether it's Jailhouse Rock Elvis, Hawaii Elvis or Vegas Elvis, the King never truly left the building – or the pub, bar, club or private function.
On the seaside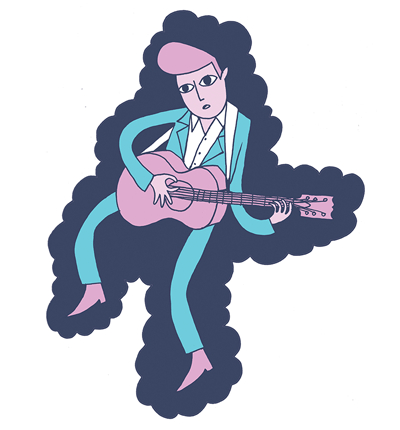 For one weekend a year a small seaside town in south Wales is overrun by 30,000 people in tight rhinestoned-jumpsuits, hip-gyrating and finger-pointing their way along the promenade in an ode to their favourite cultural icon.
Porthcawl's Elvis Festival has been running for almost 12 years and, according to a report by the Welsh Government, it's worth more than £6m to the local economy – local hotels are booked up over a year in advance in preparation for the three-day-long Elvis extravaganza.
Festival organiser Peter Phillips says: "Elvis is huge business. Apart from Elvis himself – Graceland, royalties, etc – Elvis tribute artists earn a lot of money.
"History will show that Elvis was the greatest entertainer of the 20th century, but his enduring appeal is because of the Elvis tribute artist industry. There are 100 good Elvis tribute acts in the UK alone, and they deserve a lot of credit for keeping Elvis going.
"Most people's impression of Elvis is from seeing tribute artists, and I think the British Elvis tributes are better than the American ones these days. The weirdest tribute I've ever seen was a bald druid who performed in Welsh!"
Peter has been to Elvis festivals all over the world and claims that none have as much fun and atmosphere as Porthcawl's, which has overtaken the Collingwood Elvis Festival in Canada as the biggest in the world.
"I lived in America for years and have visited lots of Elvis festivals, but none have our party atmosphere," he says.
"Most of the big festivals like Collingwood and one in New South Wales are primarily tribute artist competitions, but that's only a small part of the festival in Porthcawl – we're all about the live performances in small pubs."
Inside the world of Elvis tribute acts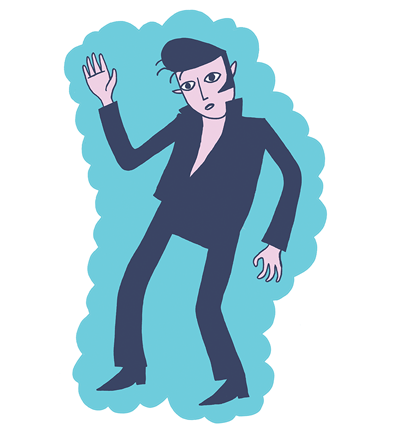 Paul Larcombe's career as Elvis started when he was in the Royal Navy.
"I've always been an entertainer and Elvis is a great way to entertain people," he says. "He has so many fans and I'm a big fan, so it felt like killing two birds with one stone."
The 43-year-old from Crewe – who has also performed as the 'When I'm Cleaning Windows' hit-maker Geroge Formby and as himself – worked in the Royal Navy and on the Royal Yacht Britannia, where he was asked to perform for the Queen and the Royal family: "It wasn't about being talented – I was in the right place at the right time!" he modestly says.
In 2007, Elvis Presley Enterprises in Graceland held a competition to recognise Elvis tribute artists for the first time, and Paul was one of 10 to be officially endorsed by the Elvis estate; he's been performing full time as Elvis ever since.
"I don't compete any more – I feel like I've achieved enough and don't need to," he says. "That was a launch pad for an Elvis career."
Darren Rivers from Bradford had been a fan of Elvis since he was a boy, before becoming an Elvis tribute artist in his early 20s. 
The 35-year-old says: "I have always been a fan of Elvis, my mum and dad were huge fans and they were always playing his music in the car and at home.
"I started singing karaoke when I was 18. The first song I ever sang was 'Teddy Bear'. After I sang it, quite a few people approached me and said that I sounded like Elvis.
"I was often encouraged to take it up as a profession wherever I sang. A short time afterwards I became unemployed, so it was then I decided to try going professional."
Darren performs all over the UK but has never compared his act to other tributes in competitions: "I just do what I do and as long as people enjoy my tribute show I will keep on going," he says. "But there will only be one Elvis."
Own a piece of the King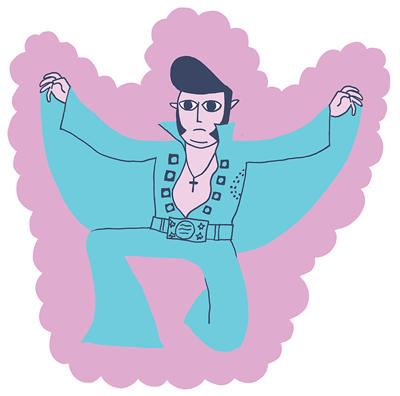 According to Forbes, Elvis earned a cool $55m (£36.3m)in 2013 alone, making him the highest-earning dead artist after Michael Jackson.
The money was made mostly from his image and Graceland, which is now a museum to Elvis' life and welcomes 60,000 people a year, making it the second most visited house in America after the White House.
Elvis artefacts are currently on display in an exhibition at London's O2. Stage costumes, cars and jewellery can be seen at the exhibition, the biggest of its kind in the world. Included is Elvis' personal wallet, including pictures of his daughter Lisa Marie.
Pieces of Elvis' life still fetch big bucks at auction. His pair of personal jets – complete with gold accessories and a conference room – will go under the hammer tomorrow in Beverly Hills and are expected to fetch between £6m and £10m.
Elvis memorabilia, on the other hand, is difficult to value as there was so much of it produced – generally, artefacts from earlier in his career tend to fetch more on auction websites like eBay, where 50,000 pieces of Elvis memorabilia have been sold in the last three months.
If you've got any Elvis stamps or original movie posters hiding in the attic, you may be in luck.
What's your favourite Elvis tune? Do you have a suspicious mind or a favourite pair of blue suede shoes? Tell us onFacebookandTwitter