Whether it's feisty XR2s skulking in your local drive-through or your grandma pootling to the shops in a Popular Plus, memories of the Ford Fiesta will be inextricably intertwined with your past.
This is unsurprising, given that the model popped into the bestseller lists back in 1977 and has stayed there ever since.
It's an enduring love affair, so, with misty eyes, here's the history in a nutshell…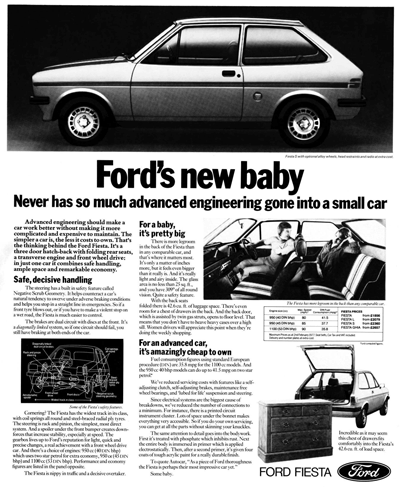 That's a great advert. Check out the chest of drawers that's clearly not going to fit in the back.
Mark 1 (1976-83)
The 1973 oil crisis did much to shake up the global car market. But even before then, Ford had been looking into the development of a small, frugal model to tap into a shifting consumer mindset – and it was going in hard, with the brief to create 'the most outstanding small car the world had ever seen'.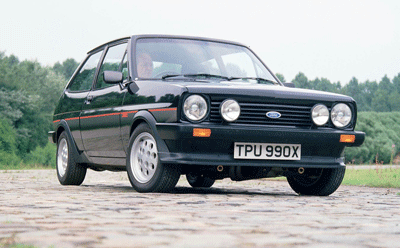 The first Fiesta was the result. The public lapped it up – over a million were sold by 1980.
A whole range of specifications were available: from the Spartan Base model to the slightly less grim Popular, the Ghia (which had velour seats and simulated walnut burr trim!), and the peppy Supersport.
But the real fun started with the XR2, with its 1.6-litre engine, rakish graphics and pepperpot alloys. A whole generation of XR-obsessed boy racers was born.
Check out this brilliantly overblown period promo film...
Mark 2 (1983-89)
The second-generation Fiesta didn't really shake up the formula too much.
Cosmetically, it had a rounder face and a sharpened-up interior, but shared its predecessor's dimensions. Different engines appeared, including the first Fiesta diesel.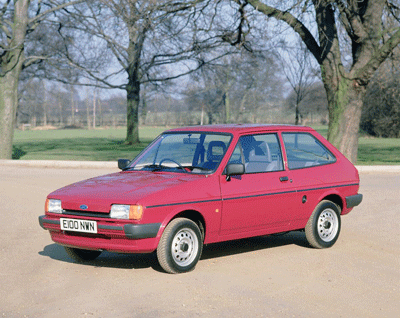 This generation will probably be remembered most fondly for the bewildering array of special editions that were offered – Firefly, Dash, Finesse, Festival, Holiday, Bonus, Olympus Sport… Whatever your preference in terms of, er, random words written on your car, there was a Mark 2 Fiesta for you.
Oh yes, and the second-gen XR2 was all sorts of cool. Great big plastic bodykit, 96bhp, five-speed 'box – this was aspirational stuff for the late '80s.
And here's another period piece for you – you'll enjoy the bit where they pretend it's got electric mirrors...
Mark 3 (1989-94)
The Mark 3 was based on a whole new platform. It was bigger, had revised engines, better suspension, the works. There was now a five-door version, too!
Ford shifted over a million of these in the first two years of production alone, and again there were plenty of comically named specials: Azura, Quartz, Sapphire, Cabaret, Louisiana…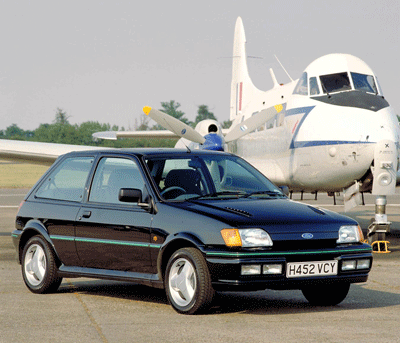 Excitingly, there were also three – count 'em! – sporty variants: the XR2i (in two guises; first 8v, then 16v), the hooligan RS Turbo, and ultimately the RS1800, which cemented the credentials of the new family of Zetec engines.
If you couldn't afford to insure these sporty models, it was common practice in the '90s to buy a cheap little 1.1 and bolt on a set of the fancy rounded bumpers from the Fiesta Si. Ah, halcyon days.
This promo film is probably the most '90s thing you'll see this week:
Mark 4 (1994-99)
This was Britain's best-selling car from 1996-98. It shared some of the Mark 3 bits, but was very heavily revised throughout – and also shared a production line with the obscure Mazda 121, fact fans.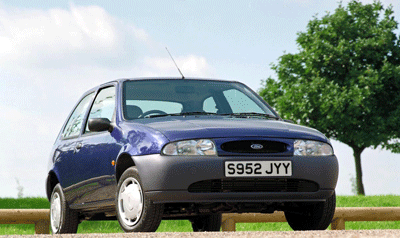 There was a fresh new range of Zetec-SE engines, and the Mark 4 also donated its chassis to the slinky Puma – which, means you can squeeze the Puma's 1.7-litre engine into a Mark 4 Fiesta, should the fancy take you (consult your insurer first! Sensibility ed).
This is just as well, as there was no sport variant of this Fiesta generation. Bit of an own-goal, that.
Remember this colourful ad? It's like having a terrifying dream.
Mark 5 (1999-2002)
This is where the numbering system goes slightly awry, as the Mark 5 is actually just a facelifted Mark 4 rather than being a whole new car. But it looks a million times better than the dowdy old 4, taking styling cues from the recently launched Focus.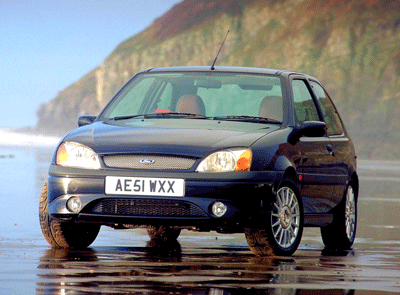 Ford also addressed the "oops, we forgot about hot hatches" issue with the frisky Zetec-S, which had a super-cool bodykit, 101bhp, Puma brakes, and a nice stiff chassis. These have an almost XR2-like cult following these days.
Mark 6 (2002-08)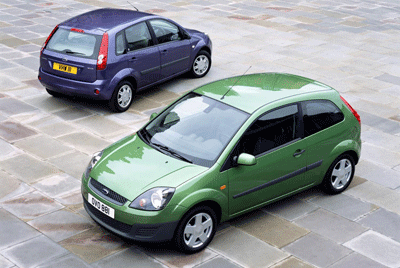 Ford announced this one on April Fool's Day 2002, but it was no joke. The Mark 6 had ABS and airbags as standard across the range, and was really quite grown-up.
It aggressively marketed it as a 'world car', selling it as far afield as Japan, Australia, India, and all across South America. It's the best-selling generation of Fiesta to date.
Hot-hatch fans were catered for by a new Zetec-S and the peppier ST, while at the cheaper end of the spectrum even the base models were reasonably quick as well as being thoroughly sensible.
Leather, air-con, Bluetooth – none of this modern stuff seemed out of place in the Mark 6. The Fiesta had come of age. This pretty much sums it up...
Mark 7 (2008-present)
Regular readers will know our thoughts on this one – the Mark 7 ST is one of the best front wheel-drive cars ever. And that's not just hysterical hyperbole, every single motoring journalist agrees (and if they say they don't, they're fibbing).
Comparing this generation to the Mark 1 throws into sharp focus just how far the automotive world has advanced in the last 39 years.
While the original sold its charms on the minimalist virtues of a compact footprint and cheap-to-produce plastics ('we pass the savings on to you!'), today's Fiesta proudly boasts such baubles as ambient lighting, keyless entry, electric power steering, USB ports and a radiator grille that could've been crowbarred off the nose of an Aston Martin.
The entire genre has shifted upmarket, and Ford are moving with the times in order to maintain top-seller status. It didn't exactly hurt the Mark 7's reputation that Ken Block did this, either…
So what's next for the Fiesta?
Well, with its 40th birthday fast approaching, we'd really like to see the return of the XR, RS and Supersport badges, along with perhaps some pared-back interiors, new-wave pepperpot wheels, and retro graphics to take it back to the old-school.
The people at Ford seem to know what they're doing though, so we'll let them take care of the product development…
What's your favourite Fiesta variant, then? Has a Fiesta played a pivotal role in your life? Let us know viaTwitterorFacebook