Andrea Morgan is a Newport-based property blogger who runs Trying to Balance the Madness and owns her own business, Citrus Content.
We caught up with Andrea to have a chat, and to get some advice for other people trying to make a name for themselves in the blogging game…
Hi Andrea! How did you get into blogging? What's the story?
Blogging is not something I ever aspired to do, and actually I didn't even know what it was until a few years ago.
I love property and I'm a self-confessed Rightmove addict. I started using Twitter to enter a Rightmove competition. After a while I began to get a small following.
All of a sudden, Rightmove found me and said they loved my twitter handle – @RightmoveAddict. I was in awe! Anyway, they asked me if I would like to write a blog post about being a Rightmove addict, so how could I refuse?
I had no idea what I was doing but I put together an article and, lo and behold, a few days later I was there in black and white on their website.
My Twitter followers told me I should have my own blog, but I was scared. I didn't like the idea of being on show, and what would I write about?
I finally gave in and launched Trying to Balance the Madness. It took a while to find my feet but when I did, I loved it!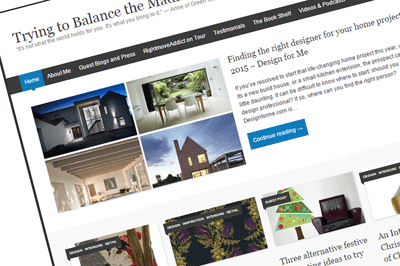 What's the most satisfying thing about blogging?
The freedom to write your thoughts, feelings and ideas and also sharing things you love.
What posts are you most proud of?
I'm proud of everything I've achieved, every small milestone, every interview, every award – I never dreamed any of it would be possible.
Where do you find inspiration for your posts?
I find inspiration from everywhere: daily life, browsing online, flicking through a magazine or the scenery that surrounds me.
On occasion I write a mini-series. One of my most popular was written while I was on holiday in Switzerland. My followers just couldn't wait to find out what I had been up to! I loved writing this series as it allowed me to write creatively and passionately.
What other blogs do you enjoy reading, and why?
I read a lot of other property and interior blogs. I find it fascinating to get other peoples' points of view, as well as seeing what designs inspire or delight them.
I also read social media and marketing blogs because I am scared of being left behind in this fast-moving social world.
When you're not blogging, what do you get up to?
When I'm not blogging I run my own business, Citrus Content, which was actually born from my blog. My first clients loved my blog and asked me to start writing for them. It has grown ever since.
Apart from that I love spending time with my family, reading and also dabbling in a spot of cooking and baking. I'm no Mary Berry, but I enjoy trying to pretend to be!
Your Twitter handle is 'RightmoveAddict' – how much time do you spend on average browsing the popular property website every week?
Not as much now as I used to, but whenever I get five minutes I'm on there. I still visit every day… well it'd be wrong not to!
What are your hot interior design trends for 2015?
Firstly, deep, rich blues. I love indigo and dark colours – I find them warm and enchanting.
Copper is still about, but I've seen many wonderful brass pieces that'll come to the forefront during 2015. Frosted glass, especially in lighting, is certainly another one to keep your eye on.
Finally, what tips do you have for anyone setting up a blog?
Firstly, write about what you love. Write freely – some people are so nervous about sending out a post that they edit it so much it loses its personality.
Also, be committed: people expect regular posts, and make sure you link it to your social media profiles.
Would you like to be considered for our Blogger of the Month award? If so, email us at bloggers@gocompare.com and tell us all about yourself!