For the fifth instalment of our Guide to Britain we decided to go further afield. About 300 miles further, in fact, up to sunny Gateshead to visit the Angel of the North.
A glorious symbol of Tyneside culture, her wings are angled forward a few degrees to suggest a feeling of being embraced, so it's as if the very act of turning off the A1 and heading into Gateshead is rewarded by a lovely northern cuddle.
Those canny Geordies certainly know how to give a warm welcome – which is just as well really, as that part of the world in mid-January is cold enough to freeze the bottom off a snowman.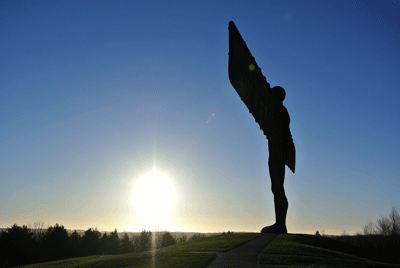 What, then, would be an appropriate vehicle for such a trip?
Well, an angel is a supernatural being, so it needed to be something equally ethereal… a Rolls-Royce Ghost? Yeah, that'll do nicely.
Our last episode saw us falling in love with a V12 Jaguar, so the Ghost's V12 heart gives us a nice sense of continuity too. And if you're going to be swallowing up hundreds of motorway miles, you might as well be comfy.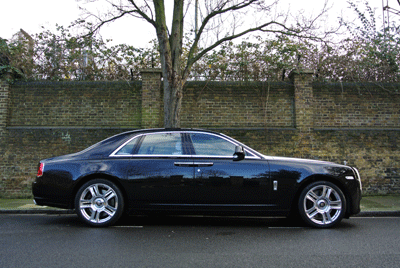 The mini-road-tester was immediately chuffed with the choice, given that the Ghost has a glass roof (something she's been enamoured with since the Stonehenge adventure), and Mrs Guide to Britain was unsurprisingly pretty smiley about it too. She usually rides shotgun, but for this journey she was adamant that she'd be chauffeured, and voiced some concerns about my lack of peaked cap.
The rear of the Ghost, you see, is wonderful. Heated, electrically reclining seats, zoned climate control, your own DVD player – separate from the one in the front – that controls the big TVs on the back of the seats, polished wooden picnic tables… It was almost a shame that I couldn't be back there too.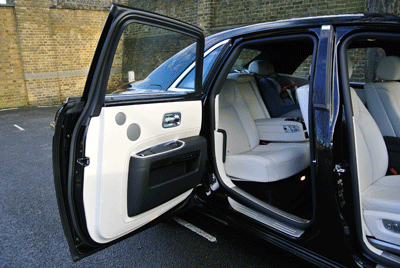 Almost, but not quite.
Everything about driving the Ghost just feels right, like other cars are missing a trick by not being as solid and smooth.
Every switch is perfectly weighted, every screen makes sense. That's what a quarter of a million quid buys you, I guess.
You quickly get used to how massive it is – as wide as a Range Rover, and over a foot longer – as it's just so lithe and lissom. It slithers through the metropolis like a buttered eel, which is a good thing because everyone's looking at you and pointing their camera phones, trying to figure out which celeb might be inside. The sight of my anonymous face was a constant disappointment.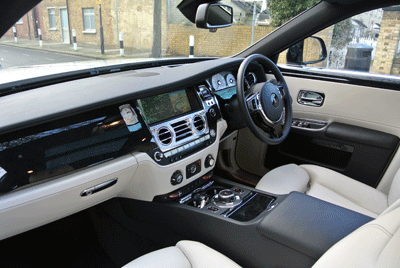 The driver's reward for not being pampered in the rear is a mighty, Earth-trembling engine – a 6.6-litre twin-turbo V12 with 563bhp.
The car may weigh two-and-a-half tons, but it'll hit 60mph in 4.7 seconds, which is brain-scramblingly surreal and forces you to re-evaluate your understanding of physics.
The Ghost defies categorisation – it's not a saloon or a sports car or a limousine, it's a Rolls-Royce. It is its own thing.
Having left London at 8:30am (through rush-hour traffic, smart…) we reached the Angel at around 3pm, having stopped off a few times for food and fuel.
You might think that this is a long time for a two-year-old to be stuck in the back of a car, but you're underestimating the unalloyed joy of watching Frozen on repeat, with surround-sound…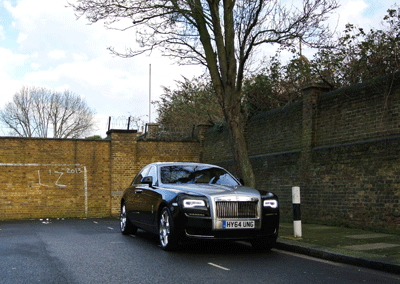 Some key facts about the Angel, then. It was completed in 1998, largely Lottery-funded and, brilliantly, the construction of it was all done and dusted within a day.
There were months of welding the thing together in kit form beforehand, of course, from 3,153 bits of steel, but it must have been pretty surreal for the locals – one day she wasn't there, and the next day she was.
And she really is massive – 20m high, with a 54m wingspan.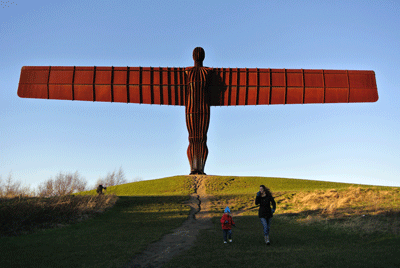 If you're thinking "crikey, that must wobble about a bit in the wind", designer Antony Gormley was one step ahead of you.
The Angel's foundations go down 33m into the very living rock, with a 5m plinth under the ground that her feet are bolted to. She can withstand 100mph winds, so you don't need to worry about her unexpectedly taking off or squishing any bystanders.
A relief, that – imagine the chaos that a pair of flapping wings of that girth might cause. South Shields would be blown into the North Sea.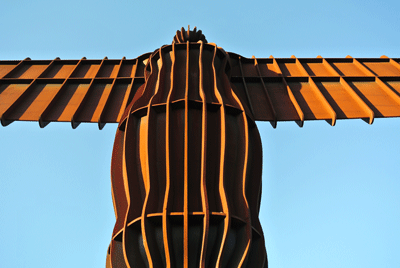 So what is there to do once you arrive? Well… you just, sort of… look at it. I mean, it's a big statue, isn't it? If you're expecting a high-end visitors' centre with touchscreen displays, or some sort of rollercoaster or popcorn stand, you're in the wrong place.
But don't worry, it's free. You don't even have to pay for parking. And the more you amble around her, the more you're beguiled by her industrial, weathered charms.
She really is magnificent to behold close-up.
Is she worth visiting? Yes, very much so. Is she worth a 600-mile round trip? Um… possibly not – unless you have a Rolls-Royce, obviously.
Distance is immaterial in such a machine, you simply waft toward the horizon in leather-lined splendour, feeling generally positive about the world.
Having travelled so very far, we overnighted at the nearby Eslington Villa – well worth a go if you like large bedrooms and juicy steaks – before heading back down south at rooster o'clock the next morning.
"Daddy, this really is a sumptuously opulent place to recline," Mini-road-tester seemed to say. "And the clickwheel menu system on the computer is brilliantly intuitive."
Not really, of course – she was watching Rio on DVD, while Mrs Guide to Britain amused herself by selecting comically named destinations on her navigation screen, then sending them through to my sat-nav console at the front. Sadly we didn't have time to go to Sandy Balls or Cockermouth, but maybe another day…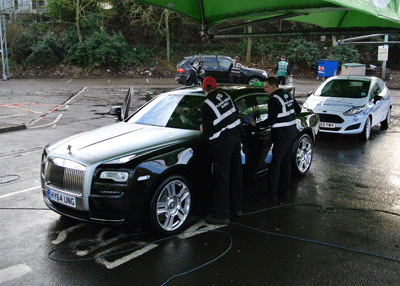 The following morning, while the girls slumbered, I snuck out to the local valeters to eradicate that terribly gauche road grime that 600-odd motorway miles had built up.
Without the family in the car, it can be tempting to misbehave – spinning up the rear wheels, getting the tail out on fast bends… but the Ghost has no truck with that sort of juvenile behaviour. It adopts an air of Wodehouse's Jeeves; you can feel him eyeing you like he would Bertie Wooster's ill-advised spiv moustache. "No sir," he seems to say. "One rather thinks not."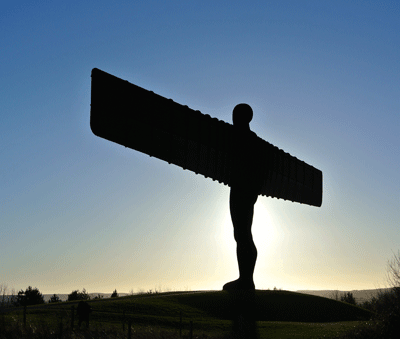 He's right, of course. The Ghost commands respect, it's an otherworldly and ethereal creation, its name whispered reverentially – just like the Angel of the North, really. And it's every bit as welcoming in its colossally broad embrace.
Read more of our Guide to Britain series...