If the cold season has meant locking your bike away or limiting it to functional commuting runs, the four-day Easter weekend's the perfect chance to rediscover why you really love riding.
Need ideas? Try one of our five fun-filled things to do on a bike this Easter.
1. Ride until you run out of land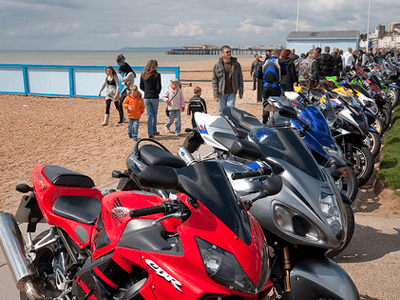 tps58 via Flickr
If you're London-based and in need of a gentle spring run-in for you and your bike, the road to Hastings is a classic pilgrimage. It's a satisfying feeling, whirring down winding A-roads until the sea hoves into view.
The seaside town plays host to thousands of bikers in a few weeks when the May Day Run ends there, but it's a pleasant route to get yourself warmed up on alone or in a small group before that.
There's not a lot to see or do in the town itself, but you can look forward to a hearty post-ride pub lunch, or just park up next to the pier and order fish and chips. You'll find yourself mentally playing top trumps while you eat, weighing up your ride against the reams of others that perpetually throng the seafront on spring and summer weekends.
2. Go on tour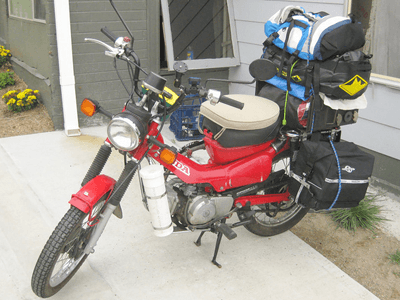 Photo: Chris Baird
If a tootle down to the south coast has whetted your appetite for something a bit more serious, how about planning a camping trip?
Absolutely anyone on any bike can dip their toe into bike touring – my own first foray was a 200-mile round trip to the Cotswolds, with tent and sleeping bag lashed to the luggage rack of my 125cc Yamaha. No motorways needed, which was just as well as I was still on L plates.
Choose a pretty campsite, double check everything's securely attached with bungees or stowed in bike luggage and off you go – the ultimate simple and inexpensive short break.
On the other hand, it's a fine excuse to deck out your bike with some glorious new luggage or, if you're really taking things seriously, you could even get a trailer tent for your bike. Just have a read of our motorbike towing guide first to make sure you're road-legal, safe and insured.
3. Spring clean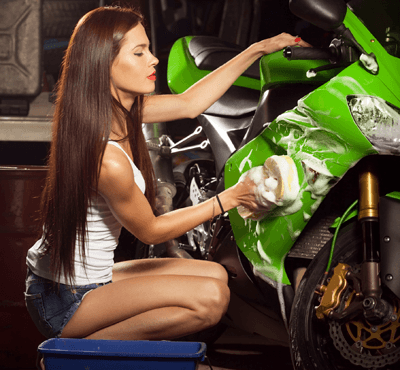 Before attaching new bits to your bike, you might want to give it a good scrub down.
A thorough clean is also a great time to give your bike the once over, relube the chain, top up fluids and make sure everything's as it should be before you start riding more regularly again.
Can't be faffed with doing it yourself? You could just bung 70-odd quid at these guys and have them do the job for you, you lazybones.
4. Remember where you came from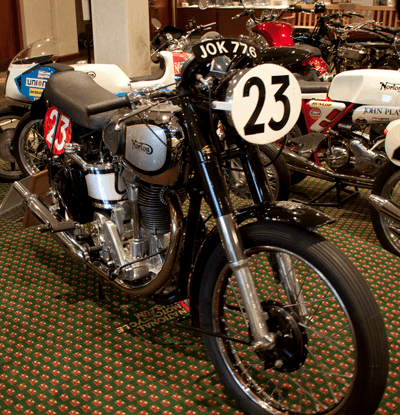 Photo: Tony Hisgett via Flickr

When your bike's clean and sparkling like new it's probably reminding you why you love riding, so you might be inspired to take an Easter day trip to Birmingham's National Motorcycle Museum.
After being wowed by the gleaming chrome and hand-painted panels of yesteryear, you'll leave with a new-found respect for your favourite mode of transport and how it all began.
5. Give something back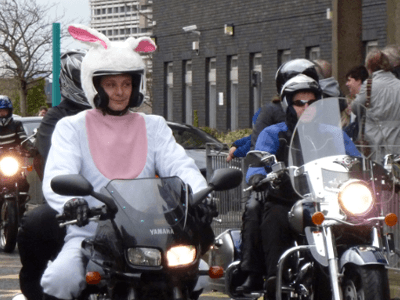 Photo: knockhill@live.co.uk if you would like an A4 print via Flickr

Believe it or not, it's not all about you this Easter, so how about using your motorbike for a good cause?
The Yorkhill Easter Egg Run is a big, noisy event for all the family. Donate a tenner to Yorkhill Children's Charity, in return for joining in with thousands of other bikes and trikes for an eight-mile parade and fun-day in Glasgow.
Further south, the Beerhounds Pet Food Run and Party involves a ride, knees up and free camping, with proceeds going to the Oxfordshire Animal Sanctuary.
Is your bike a key component of your Easter weekend? Tell us your plans onFacebookorTwitter