Today's young people are Generation Rent – forced out of the property market by high prices, unable to save because of costly rents and ruled by private landlords.
The number of 25-to-34-year-olds privately renting has more than doubled in the past 10 years to almost 48%, according to new government figures.
In an economy where owning your own place seems impossible and budgets are tight, how can you make your rented house or flat feel more like a home?
Find the right place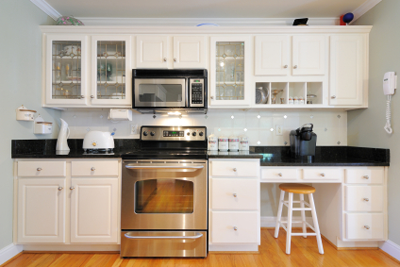 Finding somewhere you like is actually easier said than done when the rental market is so competitive, especially if you're looking in London. But finding somewhere that suits your taste is the first step towards making your house feel like home.
Make sure that your new pad has the right features to keep you happy and comfortable; a lack of double glazing or a gas hob could be a deal breaker. If you're attracted to clean white walls and carpets, prioritise those when looking – if you can't live without wooden floors and high ceilings, keep an eye out for those.
Furniture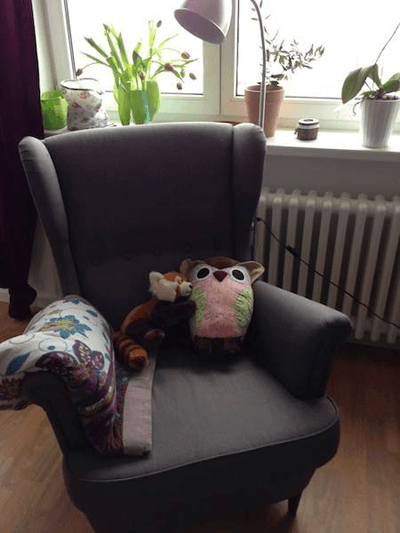 Image: Gwendolyn Dunner
Depending on your circumstances you'll either want to live somewhere furnished or unfurnished. If you've got some spare cash, think about renting an unfurnished property and decking it out to your taste.
Finding furniture doesn't have to be expensive and - while it can be tempting to buy the cheapest version of everything Ikea has to offer - you don't want your place to look identical to your mate's. Buying cheap furniture will only serve you well in the short term – investing in quality if you can afford it will mean your furniture could last you years.
Get in touch with family and friends to see if they've got anything to pass on or join Freecycle and take stuff off people's hands for free. Scour car boot sales, charity shops, Gumtree and eBay to find one-offs that'll make your place feel unique.
Gwendolyn Dünner, a junior PR consultant renting in Berlin, moved into a half-empty flat with no furniture to her name but didn't want to limit herself to just buying a sofa and bed.
"When I moved into my flat, I was able to take on some of the previous tenant's furniture, which was lucky since I had nothing," says Gwen.
"I finally got a (very comfy) bed and TV. I also needed a place to sit down and relax, and didn't want to sit on my (not so comfy) sofa or in bed all the time – a chair was more of a luxury item, not something I bought right away."
Accessories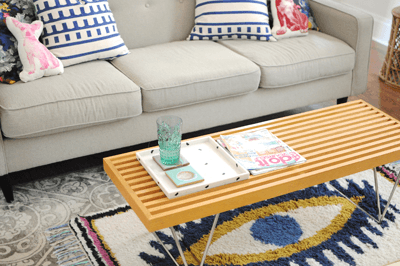 Image:Emily May
Soft furnishings like cushions, throws and rugs will add colour and personality to your home with minimal effort or cost.
"Use lamps instead of room lights," says Harry Wincup, a software developer and renter from Birmingham. "Nice lighting makes a world of difference to how a place feels."
Adding rugs to wood floors, blankets to sofas and extra colourful bedding will mean that you're always warm and cosy too, regardless of whether your landlord is too tight for double glazing.
Hang pictures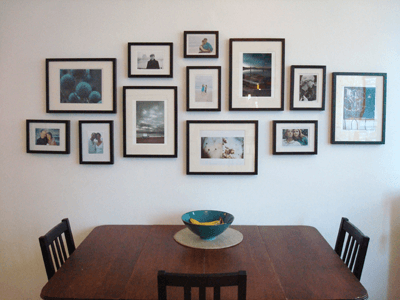 Image:Jocelyn Durston
Whether they're memories of holidays past, photos of family and friends or posters that show off your excellent taste in films, hanging pictures on bare walls is an easy way to make rooms feel personal.
Upgrade from the bog-standard Chat Noir or Audrey Hepburn posters from student days and pick something one-off – search Etsy and local shops for independent or local artists.
Make sure you check your tenancy agreement before hanging anything, as some landlords can be strict about nails and screws. Use damage-free hangings like these to avoid any holes in walls. If you do have a fussy landlord, lean pictures against walls instead or get a picture ledge like this one.
Candles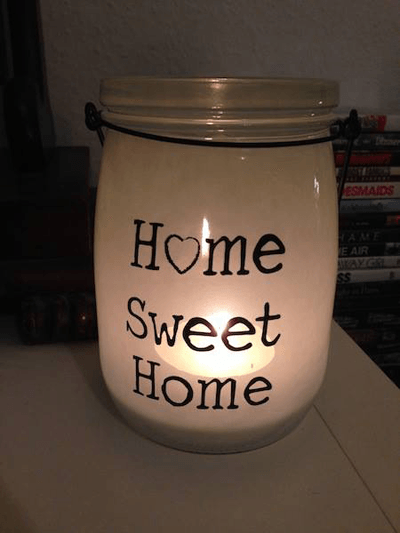 Image: Gwendolyn Dunner
A familiar smell will instantly help a house feel like home. Buy a candle for each room (never leave any unattended however) or invest in a wax or oil burner for a longer-lasting scent.
Paint a wall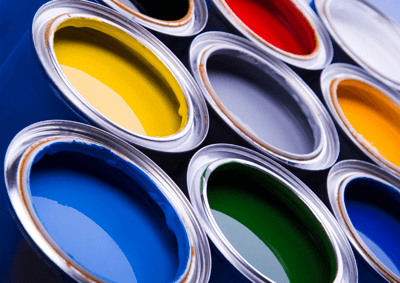 Ok, we may be breaking the rules a bit here... whether you're allowed to paint a wall will depend on your landlord.
While some might not let you near their walls with even the most inoffensive slick of magnolia, others may be more laissez-faire when it comes to giving rooms a touch of colour. You never know, a landlord may even be grateful that you care enough to spruce the place up a bit – there's no harm in asking.
Plants and flowers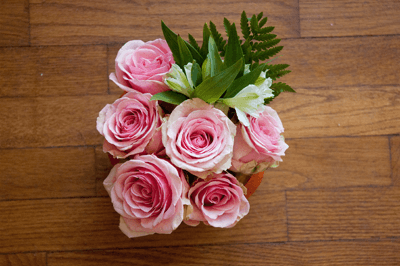 Image:Jodi Michelle
Who doesn't love a big bunch of daffs or a lovely vase of pussy willow?
Buying flowers regularly can be an expensive habit, so it can be a good idea to go for plants instead. If you're a forgetful sort and liable to kill any living thing (RIP plants, the sun hardly knew thee), succulents are the fashionable foliage of choice at the moment and are the most low maintenance living things going.
You could combine decoration with starting your own urban garden: "Plants can really make a difference and make a balcony or windowsill more alive," says Gwen. "I made my own herb garden with the basics like mint, rosemary and thyme."
Are you a renter? Do you have tips to share on how to jazz up a lacklustre space?Tweetus or get in touch onFacebook