There are a lot of airports which play fast and loose with their location.
You can't really blame them – after all, 'London Gatwick' sounds way more marketable than 'Halfway-to-Brighton Gatwick'.
The same goes for 'London' Stansted, which is about 40 miles from the centre of the capital, nestled snugly in the hinterland between Hertfordshire and Essex – if the Tube went that far, we'd probably be in 'Zone 28' territory.
That said, Stansted is a mere hop, skip and jump away from central London compared to 'Paris'-Vatry, which is 93 miles from the French capital. That's about as far away from Paris as Coventry is from central London.
Lots of budget flight operators use these airports as they have lower operating costs, meaning the airlines can keep the headline price of the ticket low for passengers.
This is fine as long you don't mind a bit of a schlep, but it's also worth taking a look at how much time and money you'll have to spend getting to where you actually need to go.
This can be particularly vexing if you've planned a weekend break and will effectively have an entire day eaten up by simply getting to the airport and back.
So, here's a list of the 10 airports in the world furthest away from where they claim to be… and how to get there on public transport.
1. Paris-Vatry (Disney) – 93 miles from Paris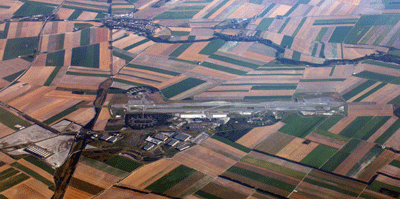 Image: Wikimedia Commons
You'll have a gay old time getting from the austere former military base of Paris-Vatry to the most romantic city in the world – travel veterans recommend a shuttle bus from the airport to nearby Chalons-en-Champagne (about 20km) before hopping on the TGV rail line to Paris. It'll set you back between £22-27 one-way and take around an hour and 40 minutes.
2. Munich West (Memmingen) – 70 miles from Munich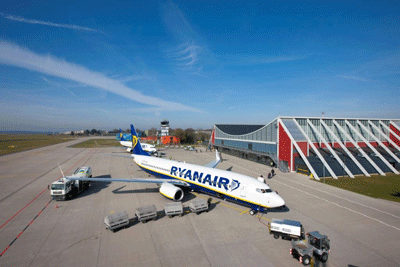 Image: Wikimedia Commons
Memmingen may be 70 miles west of the Bavarian capital, but at least it's straightforward getting there – a regular bus service will get you to the heart of Munich in a shade over 90 minutes. It costs 15 euros one-way and an additional five euros if you want to take bulky luggage on board.
3. Oslo (Torp) – 68 miles from Oslo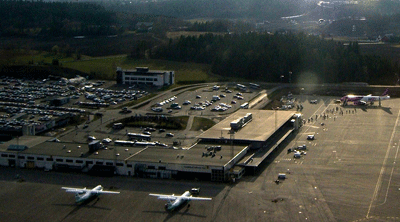 Image: Wikimedia Commons
You've got a choice here – either take a bus to nearby Torp Sandefjord Lufthavn station and board the train to Oslo, or get on the direct bus to the city (about two hours away) which goes from the airport and corresponds with most international flights. It costs 320 krona return – about £30 at the time of writing.
4. Frankfurt (Hahn) – 75 miles from Frankfurt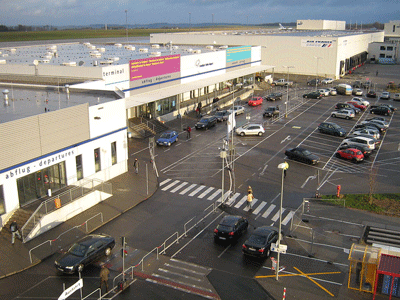 Image: Wikimedia Commons
Two bus services run to Frankfurt – one of which stops at Frankfurt Airport itself, meaning you can curse all the passengers who've got a much shorter transfer than your mammoth two-hour trek. Prices start from 14 euros.
5/6. Stockholm (Vasteras) and Stockholm (Skavsta) – each 62 miles from Stockholm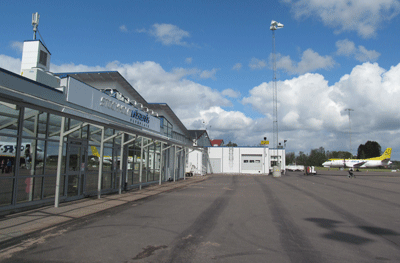 Image: Wikimedia Commons
It's easy to get from these two Swedish satellite airports to the centre of Stockholm – just buy yourself a ticket for the Flygbussarna service either online or at the airport. Check it out – they've even made a video showing you how easy it is, complete with an excellent 'wine bar' soundtrack.
7. London Oxford – 60 miles from London
Image: Wikimedia Commons
No, we'd never heard of this one before either. Your best bet here is to jump on a bus to Oxford (every 15 minutes) then get on the train to London, which takes about an hour.
8/9. Barcelona Girona and Barcelona Reus – 58 miles and 65 miles from Barcelona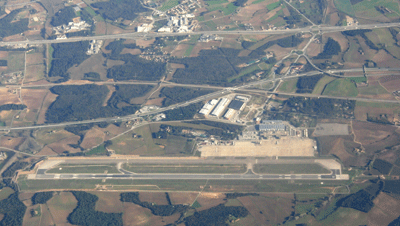 Image: Wikimedia Commons
When it comes to Reus, you can either get a coach direct from the airport (about 90 minutes, 24 euros return) or get a transfer to Reus centre and get the train straight to the heart of the Catalunyan capital.
For Girona, there's a bus from outside the airport which takes about an hour and 10 minutes to get to Barcelona. Alternatively, travel from the airport to Girona City Centre and get a train.
10. Paris Beauvais – 55 miles from Paris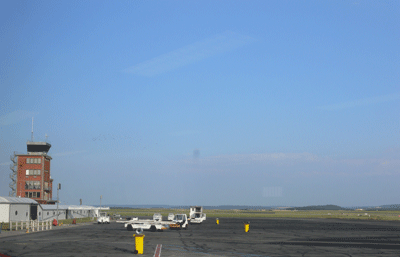 Image: Wikimedia Commons
There's a convenient airport bus which runs from the airport to central Paris which takes about an hour and 15 minutes. It costs 17 euros one-way from the bus office, but it's marginally cheaper online in advance.
As an alternative, why not avoid all the faff and discomfort of public transport and opt to pre-book an airport transfer instead? Gocompare.com's comparison service lets you check out all the options for your destination, from shared shuttle buses to luxury private cars.
What's the most arduous airport transfer you've ever undertaken? Share your stories with us onTwitterorFacebook