Where else can you see rows and rows of pampered pooches sitting eagerly in their little cubbyholes and ready to prance around in a ring, a border collie doing pelvic thrusts to the Time Warp, or a five-deep crowd clambering to stroke a gargantuan dog covered in dreadlocks? There's no denying it, Crufts is the place to be for canine lovers.
However it wasn't without its controversy this year, with horrific claims of poisoned dog food at the show and accusations of animal cruelty against the Best in Show winner hitting the headlines. But we have to say that all we witnessed was tens of thousands of dog lovers who couldn't do enough for their beloved pets.
So let's plunge terrier-like down the rabbit hole into the kooky, adorable and incredibly friendly world of Crufts.
Barking is good when it comes to agility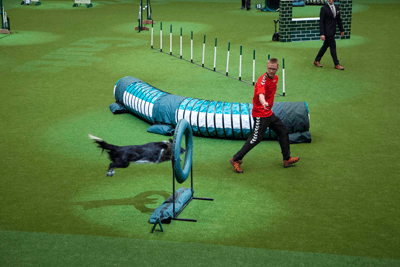 One thing we didn't realise before our jaunt to Crufts was that the majority of dogs taking part in the agility competition bark constantly around the course.
Of course, there are some that prefer to exhibit a solemn silence, but most yapped and wagged their tail for the duration.
Your pooch can double up as a parrot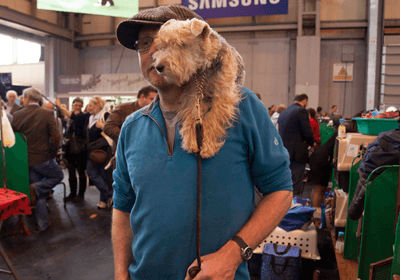 This little delight escaped out of the limelight and hopped up on his owner's shoulder for a little wander around the NEC.
Famous dogs aren't divas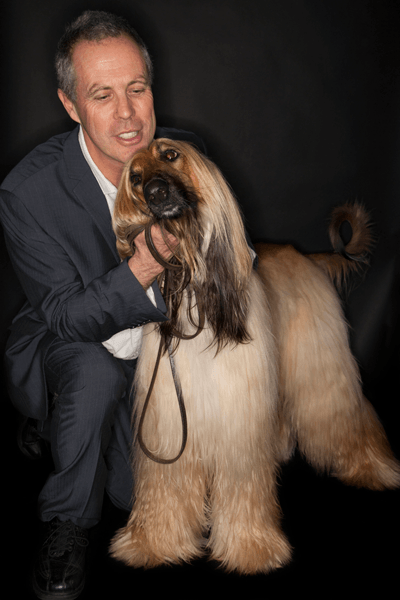 They may have a passing resemblance to Gwyneth Paltrow, but don't let their A-list looks put you off.
We can testify that Afghans are extremely lovely, especially three-year-old Walter here, who displayed his acting chops in a recent Halifax advert. His owner, Bob Parsons disagreed slightly saying, "The word is 'aloof', that's what goes with this breed."
We're going with 'regal'.
Core strength is key for large dogs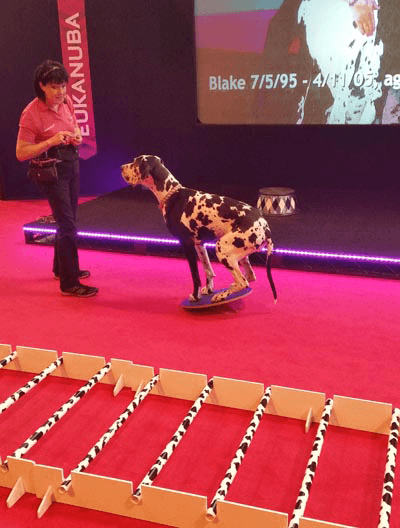 Hip problems can be quite common in bigger dogs, but building up their core strength can help take pressure off their joints.
You can do this by getting them to partake in a number of exercises that engage their core, for instance standing on wobble boards, like Angel the great Dane.
Border collies aren't fond of Frozen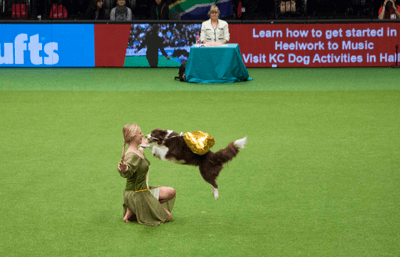 It may have started well enough. There were jumps and spins in all the right places, but in the climactic part of this heelwork to music routine (dog dancing) to Let It Go, this little dude obviously wasn't feeling the rhythm and ran out of the arena, resulting in immediate disqualification. Boo!
Puppies can get involved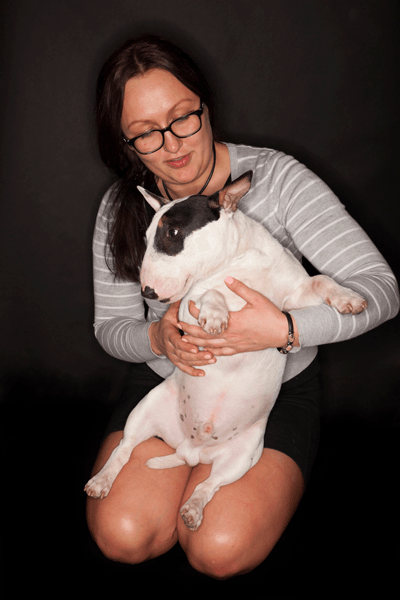 Boo the English bull terrier came third in his junior class at the age of 10 months, and boy was he excited (and extremely wriggly).
His owner Svetlana Krezub said: "He was happy. Happy to see all the dogs and happy to see all the judges."
That's one cheerful pup.
Akitas are blooming massive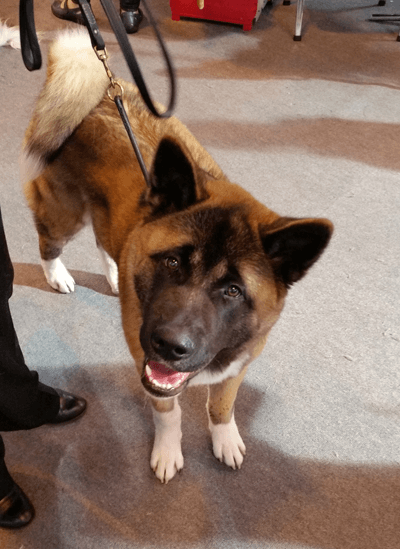 He may look adorable, but this bruiser is a mere pup at only six months old. Amazingly, he's yet to grow to his full size. We're still not convinced that it he isn't a small bear.
Standard poodles do their bit for charity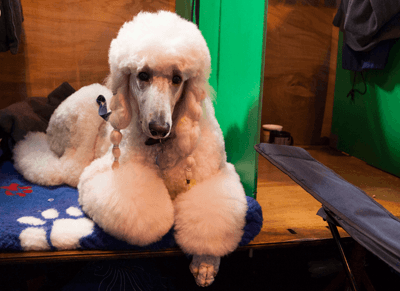 This absolute beaut of a creature was helping raise money for the Manchester Dog's Home which was burnt down in September 2014, killing 50 animals. Since then over £2m has been raised to help rebuild the home.
Afghans can totally rock a snood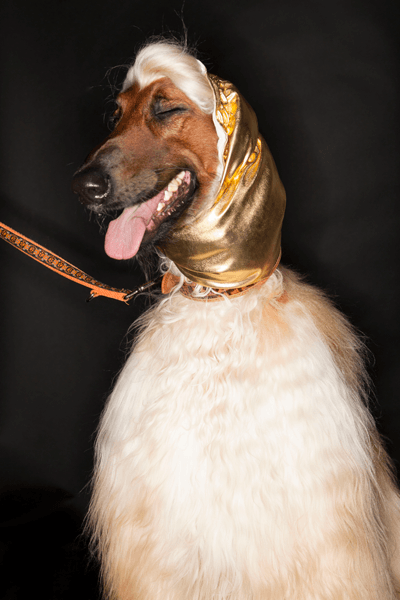 Many of us may have long since banished this headwear to the back of the wardrobe, but it may be time to whip it back out again.
If Leon the Afghan is anything to go by, they're about to have a revival.
Dog owning is an addiction
Such is Mark Brooker's love for Rhodesian ridgebacks that he actually has 10, which includes the delightful Cuddles (pictured). Oh, and a French bulldog too for good measure.
Dogs don't always look like their owners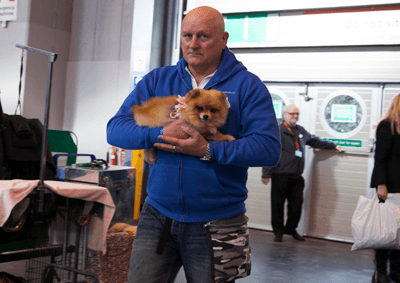 Case in point.
You shall not pass… until 4pm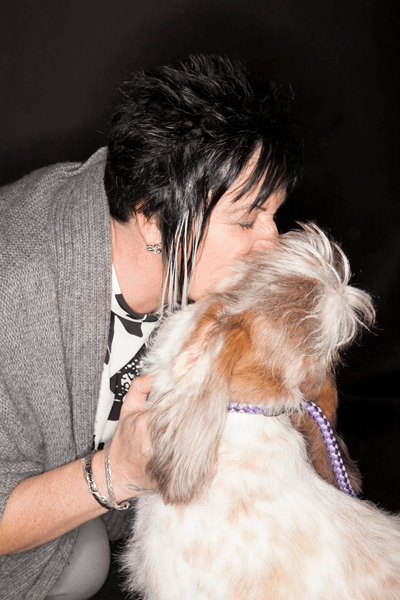 Well not if you're showing a dog anyway, just in case they get recalled. It's also to stop the halls looking empty in the afternoon.
Luckily dog groomer Yvonne Moult had prize-winning puppy Sadie, the bassett griffon vendeen (grand), by her side to keep her company. "I've been showing dogs for about two years. I wouldn't show her if she didn't like it. I've never loved a dog so much as I love this one."
Puppy love...
It's a long old day for both pets and owners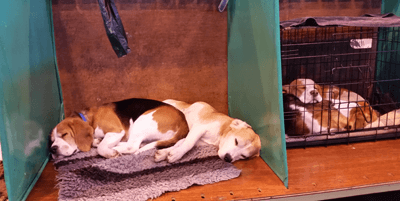 Now we know where the phrase 'dog-tired' comes from...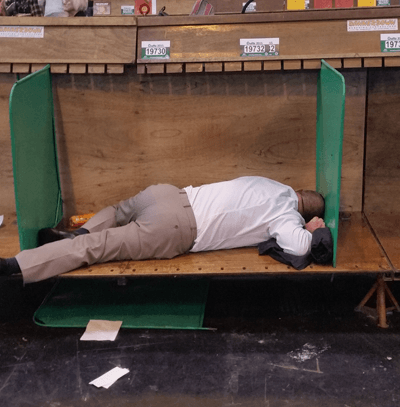 Did you go to Crufts or watch it on the TV? Tell us what your favourite moment was onTwitterorFacebook