I never realised how much I liked Italy until a really excellent Italian cafe opened around the corner from my home. I ended up going there so often I felt I really should see more of the country.
So, one bleary-eyed January morning, I found myself booking some dirt-cheap flights to Ancona (a town on the Adriatic) and back to the UK from Rome. Not long after, I'd sorted out some similarly inexpensive Airbnb accommodation in Florence and Bologna – it would be a grand tour, on a not-so-grand budget. Or so I planned…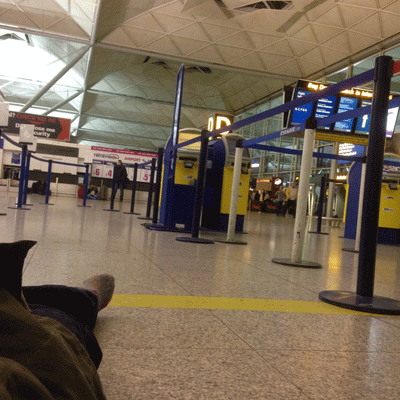 Before I knew it, Easter rolled around. Those flights were cheap for a reason – my journey began on a coach at 7pm from Cardiff, followed by several hours of cold, broken sleep on the floor of Stansted Airport before a 6am flight. But touching down in glorious spring sunshine in Italy, it just about felt worth it.
Ancona
Arriving at my accommodation, it really should have been time for rest. But with a man busking on an accordion (how Italian!) under my window, I had no choice but to get out of bed and explore.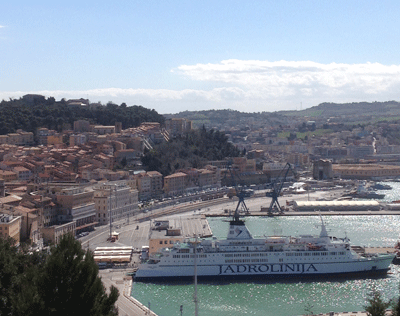 Most people come to Ancona for the ferries to Croatia, Turkey, Albania and Greece. But they're missing a jewel of a town, with dramatic squares and amazing views over the sea.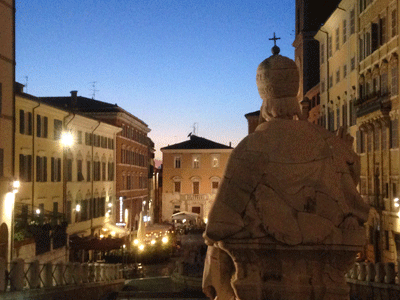 After catching up on sleep and getting my train tickets sorted, it was time to depart to Bologna. To save a bit of cash, I opted to take the 'slow' train, which meanders up the Adriatic before heading west through the rolling countryside of La Marche. It's a very relaxing way to spend a few hours.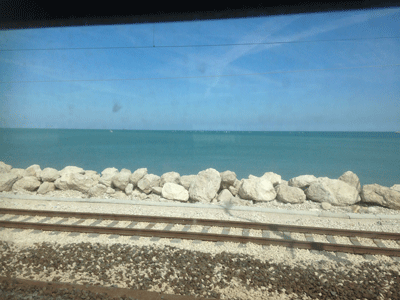 Bologna
Bologna, it turns out, is wonderful. A terracotta maze of medieval buildings with pavements covered by atmospheric porticos, it could inadequately be described as an Italian equivalent to Bristol. 
There's a fair bit of money sloshing about the place, but also a very strong whiff of bolshy counterculture, what with the old and storied university (rumoured to be Europe's oldest, history fans!) dominating a large part of the city and an easy-going, welcoming populace.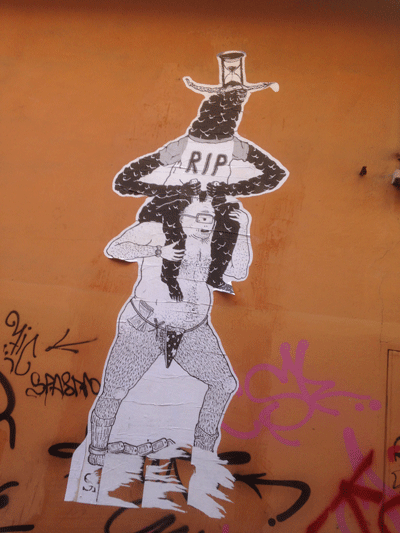 Bologna has some pretty excellent food and drink – the most famous being tagliatelle al ragu, the meat-based sauce you may know as 'Bolognese' - and because of the victuals, my trip was about to take a turn for the expensive.
Birra artigianale – craft beer, as it's known here – is enjoying just as massive a surge in popularity in Italy, and Bologna has no shortage of places to drink it. Like here, it also tends to be on the pricey side. But hey! When it's this delicious, who cares, right?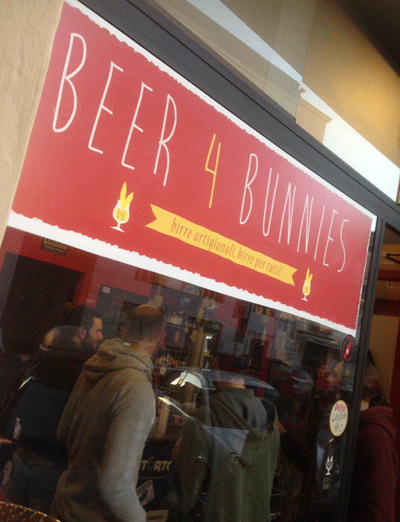 Er, me in hindsight. Drained of funds, nursing a hangover and with the so-far wonderful weather disrupted by a downpour, it was time to depart Bologna for Florence – just over half an hour away on Italy's impressively brisk trains.
Florence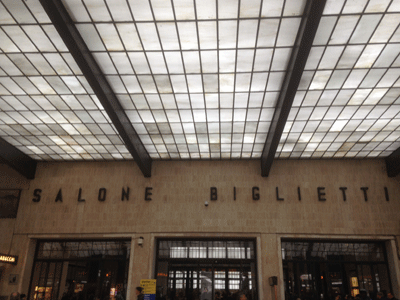 The downpour continued as I arrived at Florence's wonderful art deco station and hopped on a bus. As I peered hopefully out of the steamy window, it became clear that my host's directions left something to be desired.
After much faffing – and a reluctant use of mobile internet – I found myself in a charmingly weathered apartment with a bag-full of soggy luggage, wet trainers and no radiator.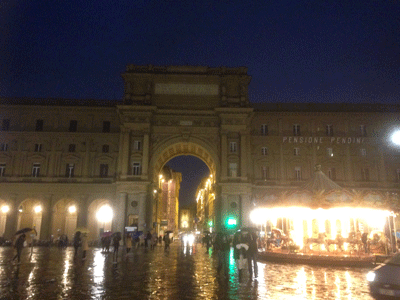 Following a few hours speculatively blasting my shoes with a hairdryer (sorry about the electricity bill, hosts) it was time for a saunter round the rain-drenched streets of the Tuscan city.
The next day I found that, as well as being pretty, Florence is very busy, with tourists snaking around the block to enter museums, and cafes doing a brisk trade in overpriced espressos and gelato.
Running low on money and with no appetite to stand in line, I did what any self-respecting lapsed Catholic at a loose end in Italy on Easter Sunday should do, and went to mass.
And what masses! Over the course of the day I managed to attend three, the worst of which was the one in the spectacular Florence Cathedral. Well, it's hard to maintain a sense of poignant spiritual contemplation when you've got several hundred selfie stick-brandishing bozos messing up the atmosphere.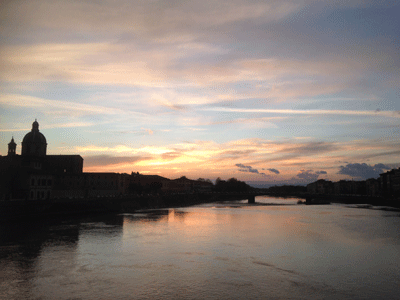 Rome
With my clothes finally dry, it was time to depart on the final leg, southwards to Rome. And if the selfie stick massive were prominent in Florence, nothing prepared me for the Eternal City: hordes of people brandishing the devices. It wasn't long before I was craving the gritty, tourist-free streets of Bologna again.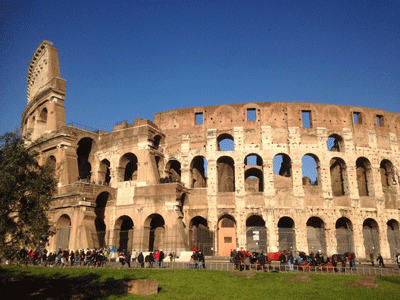 That said, even the legions of tourists couldn't spoil the wonder of stepping off the Metro and being confronted with the vast, ancient splendour of the Colosseum, Palatine Hill and the Forum.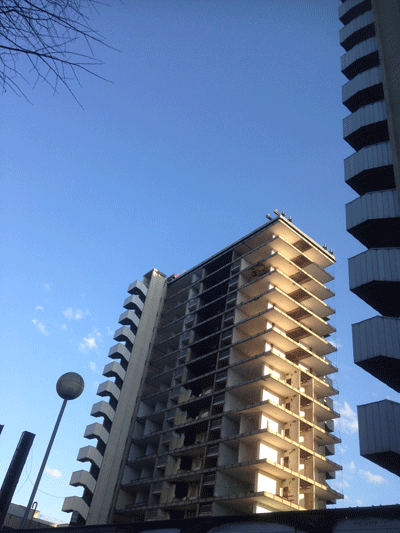 Having had my fill of ancient splendours, I headed south to my accommodation in the modernist EUR district, full of brutalist buildings and relics of the doomed 1942 World's Fair. It was also where I managed to sample what was unquestionably the best pizza I had all week.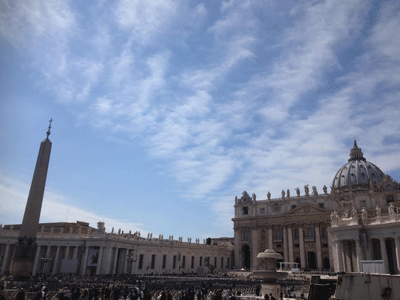 After taking in the 'happening' Trastevere and Monti areas, it was only fitting that my final hours in Italy would be spent at the Vatican. But if I actually ventured into St Peter's Basilica I'd probably end up missing my flight, such were the queues – you'd think that people were actually lining up for an audience with Papa Francesco himself…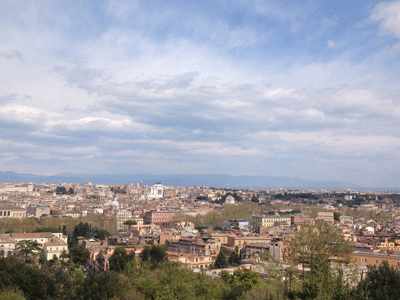 So, instead, I clambered up a nearby hill to be greeted by easily the most spectacular sight I'd seen on the whole trip – Rome, in all its glory.
Never mind what you'll find in the museums, the biggest work of art in Rome is surely the city itself, in all its slightly skew-whiff glory. Thousands of years of plagues, sackings, fires and tyrants couldn't destroy it, and here it still is – from the Pantheon to the unloved neo-classical Altare della Patria.
I sat there awhile, licking an overpriced ice-cream and taking in the view. In all honesty, I'd failed miserably in my attempt to go to Italy on a budget, having spent far too much money on consuming heroic amounts of pizza, poncy beer, wine and coffee to say with any amount of confidence that I'd done it on a shoestring.
But whoever said la dolce vita was cheap anyway?