With the dreamy, verdant vistas of the Masters at Augusta about to hit our screens, Graham Thomas delves deep into the uglier innards of the first major of the golfing season...
At the Augusta National Golf Club – home of the Masters – there's a sign that says: No fanny packs larger than 10 inches.
Perhaps the strangest thing about this command (it concerns the size of your bum bag, by the way) is that it's probably one of the least weird rules governing behaviour at the most famous golf club in the world.
So, in no particular order, and for no particular reason, here are the most bizarre rules concerning the golf club and its attendant spectators as the 79th Masters tournament prepares to tee off in Georgia, USA.
There are no spectators… or fans… or even a crowd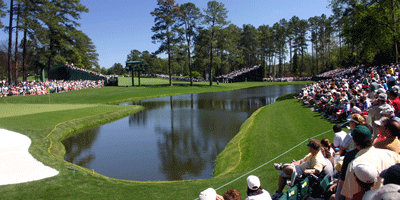 Image:gomattolson, Flickr
Ok, so there are around 40,000 punters a day who roam the verdant acres at Augusta, but the official term for them is 'patrons'. They must never be called anything as crude as fans, customers, or even a crowd.
As for getting a ticket, then it's easier for a camel to pass through the eye of a needle than it is to get one of the 'patron's' passes. Most are inherited through families. A tiny fraction are put on general sale via a draw system, but the club don't say how many. But think tiny. Think Charlie Bucket meets Ticketmaster. Think £8,000 for a day pass if you go through a tout.
Absolutely no-one can be given the club's recipe for Pimento cheese spread
Pimento cheese – known as the 'caviar of the south' – is Augusta's signature snack, a refined blend of American cheddar and mayonnaise.
Aghhh! Now I've told you their secret recipe I'm probably banned for life from the Masters! Doh!
No asking to become a member of Augusta National Golf Club
Well, you can ask. But that would be country club suicide. Augusta National has no application process or membership forms. Members are invited.
Bill Gates once hinted he might like to be a member and he was ignored for years (Bill finally blagged his way through in 2002). There are thought to be no more than 300 or so current members.
No running
You know how you sometimes see golf fans running across a fairway to get a better view? Don't try that at Augusta National. You'll be ejected.
No lying
No lying down, at least. You can lie about your wealth, your job, your partner, even your membership of Augusta National. But don't try lying down on the grass. It's a no-no.
No bare feet
Like the feel of grass under your toes? Not on their watch. Get your socks back on.
No mobile phones
Now, this one I like. Ever looked around you at a football or rugby match recently and seen all those gurning idiots filming themselves? Try that at Augusta and an ex-CIA agent in sunglasses will take you out before you can say 'Jack Nicklaus'. As for selfie sticks, think of where the sun doesn't shine.
No backwards baseball caps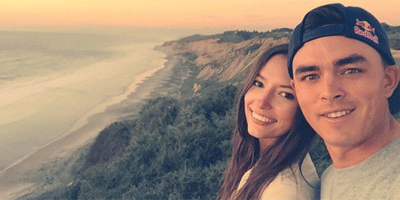 Image: Rickie Fowler, Instagram
Not round here, sonny. Young American dude, heart throb, and world number 12 Rickie Fowler once tried that look on the practice ground and was gravely reminded of his global responsibilities to mankind.
No… er… random things
Like cameras, flags, banners, signs, rucksacks, radios, TVs, folding chairs, pushchairs, ladders or periscopes.
The rules are clear. "Anyone violating this policy will be subject to removal from the grounds and the permanent loss of credentials (tickets)."
No alcohol
What?
You heard.
No alcohol.
No drones
Have you seen those incredible flying cameras, mounted on space-age drones, that broadcasters are using to cover sports events? You won't at Augusta.
No wearing of normal clothes by the caddies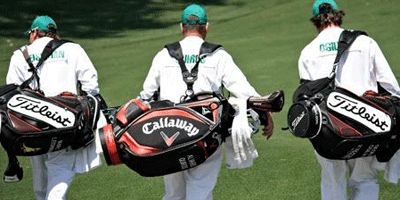 Image: Thornhill GCC, Twitter
Caddies (for the non-golfers, they are the bag-carrying station porters of the game) are particularly distinctive at Augusta. They have to wear white overalls, unlike the shorts and T-shirts they prefer at every other tournament around the world.
This is another club tradition, dating back to its establishment in 1933. Back then, there were four rules for caddies. You had to be a man. You had to be black. You had to wear white overalls. You were not allowed in the clubhouse.
Clifford Roberts, one of the club's founders, said: "As long as I'm alive, all the golfers will be white and all the caddies will be black." Tiger Woods came along and messed that one up and these days there are only two rules for caddies. You can be a man or a woman. You can be any colour. But you must still wear white overalls. And you're still not allowed in the clubhouse.
Not many women
Up until 2012, this was Augusta National's strictest and most infamous rule. No women members.
Then, club chairman Billy Payne coughed politely and addressed what he coyly called, 'the ladies issue'. Condoleezza Rice, the former US Secretary of State, became the club's first woman member and got to wear the famous green jacket bestowed on members and Masters winners (as automatic members).
Then, American businesswoman Darla Moore became the second female member. Since then, the floodgates have really opened and female membership has soared to almost four after another wealthy lady, IBM CEO Ginni Rometty, became the third woman allowed in last November.
She doesn't have to wear overalls. And she can go in the clubhouse.
*Want to watch the Masters live? Why not compare digital TV packages including Sky Sports...?