Every biker has the dream of hitting the open road for a tour on the far side of the Channel, but it can be a daunting prospect for the first-timer.
We asked some seasoned bike-travellers to share their top tips for oversea exploration, from planning to packing advice.
Where to go, where to stay?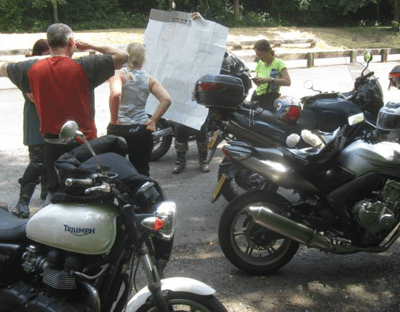 You'll need a general ideal of where to head to and the type of trip you fancy, as this'll dictate the rest of your planning and packing.
To familiarise yourself with the rules of the road pre-trip, check our European touring tips by country – it includes everything from compulsory reflective helmet stickers in France, to a ban on lighting up while riding in the Czech Republic (really).
For hotel or B&B accommodation, you won't need to sort out as much luggage capacity on your bike. The Biker Guide has plenty of details of interesting, kooky and motorcycle-friendly guesthouses.
Don't overdo the scheduling though. "My best advice is to try not to plan too much," says intrepid overlander Pippa Unwin. "Either camp, or decide you're not too fussed on where you end up staying and let weather, roads, traffic, scenery and hunger dictate your route, how long you ride for and where you hunker down for the night.
"I've done planned trips and unplanned trips, and the unplanned ones are always the least stressful. Planning can't take into account crazy storms, traffic accidents, breakdowns, heatstroke and road conditions."
Campsites in France, Belgium and Germany are plentiful and a couple of bikers with a tent can normally be squeezed between the luxury motorhomes.
Kit and carrying it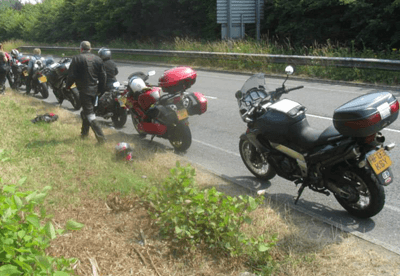 Most bikes are capable of carting a bit of luggage, even if that's a rucksack on the rider's back. For more comfort and capacity, you'll want to think about racks, panniers and top boxes.
A tank bag is really handy for keeping valuables where you can see them, as well as serving as a handy map holder, while hard luggage gives the ultimate carrying capacity and protection – but they come at a price.
"Don't use a trip abroad to try out new kit unless you have to. It might work great, but usually better the devil you know," emphasises Pippa.
The golden rule is don't carry more than you need or comfortably can. A top tip is to lay out the gear you want to bring. Then halve it. Then halve it again. Now you've got the right amount of stuff.
There's one handy exception to this. "My best top tip to anyone going abroad for the first time is to pack every single pair of motorcycling gloves you own," says Pippa. "Even if they're 100% waterproof, if you do get caught in a downpour it's nice to be able to put a dry pair on."
Two's company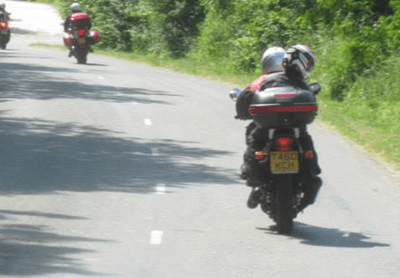 If you're worried about riding on the right, there's no shame in being a back-seat rider on your first trip – besides, you'll halve your ferry costs.
Julie Lewis has years of biking experience, but still likes to "go pillion and enjoy the views instead of worrying about all those things".
Trust and communication is the key. "We do have a comms system but it only ever works intermittently so some basic 'sign language' is handy," she says. "Tap on the left or right leg if you want them to turn in that direction, circle hand to turn around, close hand (like a beak) to ask them to stop… you can also help with directions if you can keep an eye out as pillion."
Husband Colin has his own top tip for marital bliss on two wheels: "Just do everything your wife says."
Julie's thoughts? "Can't fault that advice."
On the ferry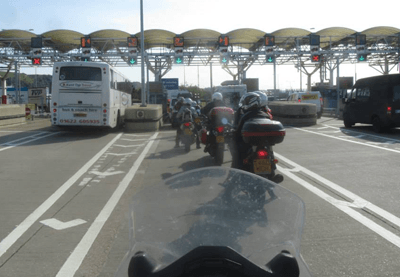 One of the joys of biking is being able to bypass queues of motorists and the ferry port is no exception. You'll usually be ushered past the waiting cars and campervans and up the ramp. Take it slow, brake carefully and be vigilant for oily patches on the car deck.
Ferry policies for securing your bike vary. "You don't need your own straps for the ferry but these days they don't always help you to lash the bike down so it's worth watching YouTube for a ratchet strap demo," advises veteran biker Luke Edwardes-Evans, who heads to Europe several times a year. "If there's no foam pad attached to the strap, put your thickest glove between the seat and strap."
If you're left to secure your bike yourself, avoid the rookie error of trying to tighten the strap on the side of your bike away from the stand – this way lies a humiliating, painful and expensive way to begin a holiday.
Get friendly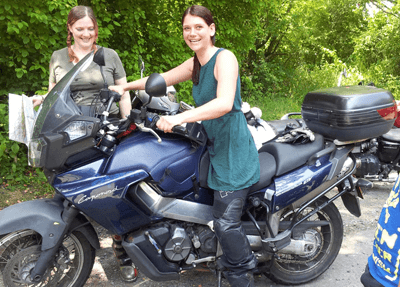 When you're touring on a motorbike, you're part of a community – so embrace it.
"We met up with a Dane from one of our bike-specific forums when we travelled through Denmark," recalls Pippa. "He rode 200km to meet us off the ferry, led us around some highlights of Denmark, and then created an amazing meal for us. He then led us to our harbour port before heading off into the darkness for his 100km ride home!"
On another occasion, after a disastrous day culminating in a ferry evacuation, Pippa and her husband were rescued by the local Danish equivalent of the Hell's Angels chapter. "We were taken to one of their clubhouses where we were bedded for the night in absolute comfort, and a cooked breakfast provided the next morning – the biking fraternity is strong."