It's not every day you get a glimpse of the future, but Toyota's i-Road could be just that.
If ever you've thought that you'd like to combine downhill skiing with riding a motorbike, but you've been keen to stay inside where the weather can't get to you, then the i-Road is for you. Except you won't be able to buy one.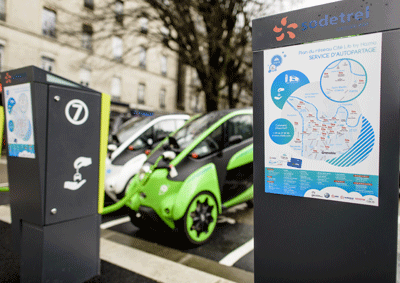 Instead, the i-Road is part of a wider research project that's taking the excellent city centre infrastructure of Grenoble, with its combination of trams, buses and trains, and adding some personal transport in key parts of the city to get a user over the last kilometre.
It's part of a multi-modal urban transport system that, once up-and-running entirely, will be able to combine an analysis of current traffic conditions, public transport systems and a user's own car details to provide the most efficient way of getting from point A to point B.
For now, however, the programme is focused on verifying the i-Road's car sharing capabilities.
Using a smartphone app, a user finds a conveniently located i-Road, sets a destination and books it. Turning up at the parking bays (that also double up as charging stations) the user simply taps a smart card on the machine and drives off.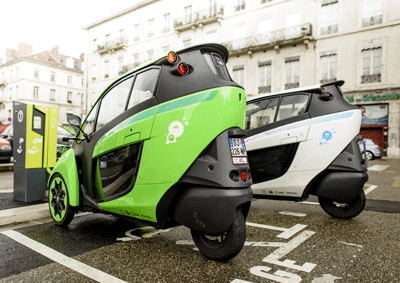 There's a charge, of course, but at just five euros for half an hour, it's a lot cheaper than a taxi, if slightly more expensive than a bus or walking. It's also a lot quicker than travelling on foot.
Barely as wide as an average motorcycle, the vehicle looks like a futuristic moped on steroids, while it leans into corners with its parallel front wheels, in the same style a skier might when navigating their way down the pistes of nearby Alpe d'Huez.
Open the lightweight plastic door, with clear panels low down so you can see kerbs, children or racoons when parking, and you slide into the disappointingly conventional seat.
Ahead is a very car-like steering wheel with a minimalist dashboard behind. There's no gear lever, with just three buttons on the dash allowing you to choose drive, reverse or neutral, while an ordinary column stalk handles the lights, indicators and wipers. It's all utterly normal.
That's where normal ends though. Fire up the twin electric motors, each producing 2kW of power, and there's immediate confusion as the rear end swings round. The front wheels handle the power on the i-Road, with the single rear wheel sorting out the steering, but that does mean that close-quarters manoeuvring takes a bit of getting used to.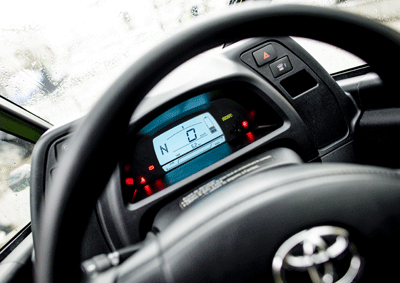 Ten minutes of practice around cones makes you feel like an expert though, so it's soon off into the mean streets of Grenoble to see what the i-Road can do. At speed it all becomes pleasingly neutral, the rear end remaining in line with the front as you swoop around corners and lean into roundabouts.
There's a complex system of electronics and hydraulics used to lean you towards the apex, sometimes at quite alarming angles, but it always feels incredibly stable. The independently controlled front wheels rise and fall as the computers see fit, which means it also stays level when you hit a bump as the hydraulics ping the wheels up and down automatically.
Speeds never become too worrying as it's limited to just over 30mph, although that's plenty for a city centre. Those twin electric motors allow you to hit that max speed briskly, too.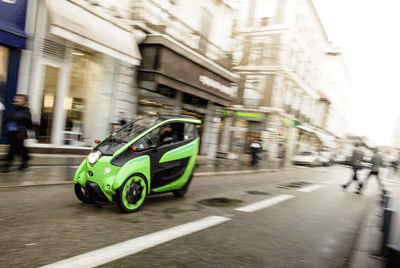 It's just about practical enough for city centre life, too. Two people can squeeze in, although you need to be very good friends as the rear passenger ends up with their legs splayed and the driver between them. There's also a tiny boot, but the rear seat is a better bet - and if there's a passenger in there, just get them to hold your bags.
Even in those cramped conditions you'll still have a blast. The i-Road is a huge amount of fun, leaving every single driver on the day smiling and wanting more time to zip around the cobbled roads of Grenoble.
Whether the public buy in to the concept remains to be seen, and that in itself is part of the experiment. However, being a pure-electric vehicle it emits zero emissions locally, something that will be an appealing proposition for any city centre.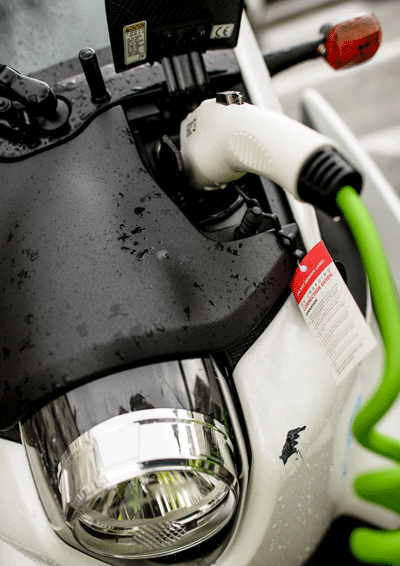 That it's fun to drive won't make any difference to the business case, sadly, but could make an impact on the uptake of the service. The requirement for a brief but potentially inconvenient training session will go the other way and put some off though.
Those that don't sign up won't know what they're missing. With all the drives completed, there was half an hour to kill before my transport back to the hotel turned up. Time for just a few more laps of the city then…