"Sheesh. Smells kinda like junior high gym class."
I'd never heard anyone utter that sentence until one morning last summer, as I retrieved my boots and various bits of clothing from the drying room at the Rifugio Bonatti. The line came from a late-middle-aged American chap we'd had dinner with the previous night, and who am I to doubt him?
Welcome to the Tour du Mont Blanc (TMB). Tackled over seven or 10 days of walking in France, Switzerland and Italy in a loop around Europe's highest mountain, it's an ideal break from the sedentary beach holiday for those who fancy challenging themselves.
The scenery is stunning, and you'll walk yourself fitter without doing 'fitness stuff'. You also eat and drink very well, and meet lots of interesting people.
The only real downside, potential soakings apart, is really smelly socks…
Walk on by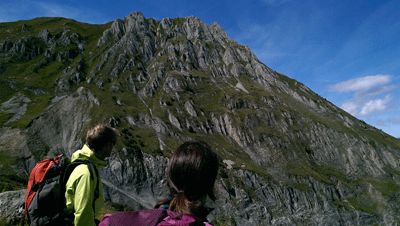 The beauty of walking as a hobby is that you can do it absolutely anywhere, and there are all sorts of trekking holidays available in Europe – in the Alps, Pyrenees, Dolomites, Tatras, even on Crete. But the TMB's a classic, attracting walkers and mountain bikers from all over the world. 
You can either sort everything yourself (and this website is a useful tool) or book with a guiding company who'll take care of everything. There's a cost differential of course – guided tours are generally around £900 for seven days, self-guided maybe a third of that – but for a maiden voyage, it really does pay to go guided.
As Kingsley Jones, co-founder of operator Icicle, says: "Using a provider takes all the stress out of organising the logistics, and a guide can really add to your trip by showing you places that the guidebooks don't cover, and being able to adapt to conditions due to local knowledge."
You do want to relax and enjoy it, after all.
Starting off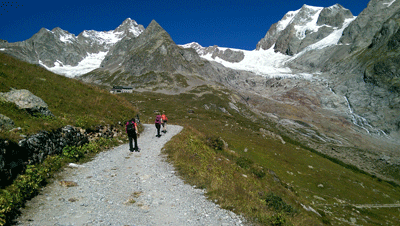 The most common starting point is Chamonix, to which, as any skiers will know, transfers from Geneva Airport are easily arranged – or you can travel by train.
When you book, you might be offered the option of baggage transfers – you can do this of course, but where's the fun? Loading everything you'll use for a week in a 40-litre rucksack will give you more of a sense of achievement.
When it comes to the actual walking  (there's roughly 80 miles on the seven-day highlights tour) the drill is simple enough: breakfast at 07:30, set out walking, coffee stop around 11:00, hit the day's high point around 13:00, lunch soon after. Walk through the afternoon until you reach the next refuge between 16:00 and 17:00. A beer on the terrace, showers, scrub some clothes, dinner at 19:00 with wine, before collapsing into bed exhausted around 21:30.
If that sounds repetitive, it's anything but – the settings are so changeable and the views so awe-inspiring it never gets dull.
Along with the jaw-dropping vistas, there are close-ups of furry little creatures such as marmots, stories about generations of mountaineering derring-do and all sorts of historical curios.
Insure thing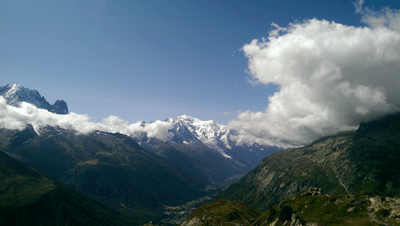 You need cover, of course.
If you've got an annual insurance policy, then you need to be very sure that it will cover you for mountain trekking. If it doesn't then it might be worth investing in a specialist policy from a provider like BMC (British Mountaineering Club) and Snowcard, both of which are geared towards mountain trekking. Jones says: "They are aware about Alpine mountain rescue cover and costs."
Common mistakes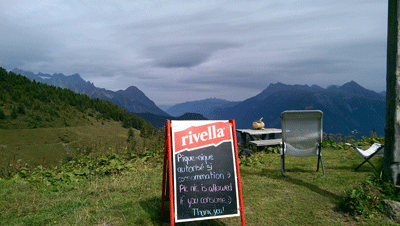 What are the most common areas people make mistakes with on the mountain?  "Blisters and sun cream!" Jones says. "People tend to react to getting blisters, rather than take proactive preventative action, such as putting on Compeed or plasters on known hot spots. With sun cream, people tend to forget under their chin, the back of their neck and their ears."
For my part, I learned some harsh lessons. Here's the idiot's guide...
Waterproofs
Do not skimp. The cagoule that's ok to see off a 20-minute shower in the Peak District before finding a pub is no good when you've got four hours of constant downpour before you reach your digs. Gore-Tex or similar is necessary, plus a rainproof cover or waterproof inner-sack for your rucksack.
Packing tips 
You don't need spare footwear – each hut provides some sort of slippers or Crocs for when you ease your boots off. Pack two or three pairs of walking socks. On the undies front, you want stuff you can wash easily and that will dry quickly – swimming trunks or bikinis work well. You'll be advised to take a sleeping bag liner – this is sound advice. Don't bother with a book, a hairdryer or a big toiletries bag. Do take walking poles.
Food
Dinner-wise, you'll get three courses every night, and it's very good, the Italian places in particular. Good, filling stuff. There is decent, well-priced wine. The Bonatti, unreachable by road, even had Birra Moretti on tap. The refuges will also offer packed lunches, or there are stops en route. It's smart to buy and stow in your bag some stuff that lasts – salami, nuts, hard cheese.
Sleep
Shared dorms. At some places, the rooms are smaller, so you could be sharing with just your group, but in most they sleep 12 or so to a room and it's usually boys and girls in together. If you're a light sleeper, pack earplugs. You'll be exhausted anyway.
There you have it – a taste of the mountain life. Lounging poolside with a Fanta Limon's all well and good, but there's always some stereotypical berk being all 'Brit abroad' in the background isn't there?
For my money, it's a damn sight more relaxing to let your mind wander while strolling 2,500 metres above sea level.