Our latest blogger of the month is Dan Toombs – also known as 'the Curry Guy'.
Dan's a Yorkshire-based curry enthusiast and promotional gifts company boss who's been delivering spicy dispatches to a heat-hungry online audience for several years on his blog, Greatcurryrecipes. It's safe to say he loves a curry – in fact, he once ate nothing else for a whole year.
We caught up with the Californian, who's recently started publishing his own curry e-books, for a chaat – see what we did there?
Hi Dan. How are you doing? What was the last curry you ate?
My last curry was a chicken korma I made at my local Indian restaurant, Chai Wallah.
I don't really like korma but I do enjoy learning how different chefs prepare the recipe. It's a popular choice at most curry houses after all.
While I was there, I learned to make their naga chicken with honey curry and also their version of chicken tikka masala.
Whenever I go to curry houses to cook, which is often, I always bring what I make home for the family.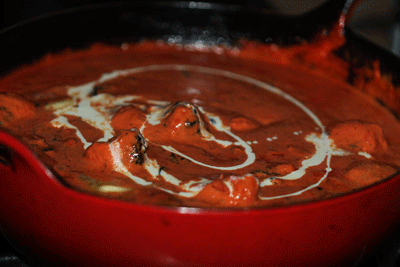 When did you realise you wanted to start blogging about curry?
My blog started by chance. I wasn't planning on taking it as far as I have – I just wanted to get my kids in the kitchen to teach them how to cook, and also I wanted to perfect my own curry skills.
As time went by, I began to receive recipes from followers of my Twitter account and then invitations to cook at different restaurants up and down the UK.
What started as a small hobby has now become a business, which I really enjoy.
What's been your most popular recipe so far?
I have a lot of favourites but at home I cook butter chicken and lamb rogan josh most often.
These are our family favourites. On my blog, the chicken chilli garlic is by far the most popular. I love it too.
If 'Curry Guy' was a superhero, what powers would he have?
I know there is another superhero that can do this but I would want to be able to fly faster than a speeding bullet.
I enjoy travelling around the country and learning recipes from top curry house chefs. These are the recipes I use most on my blog.
Unfortunately, although I'm invited often, it just isn't possible to visit as it takes too long to get to their restaurants from where I live in north Yorkshire.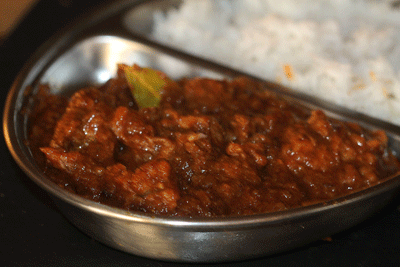 What achievement are you most proud of?
That would have to be my promotional products business. I started CompuGift Limited in 1997 and I love the promotional products industry.
My business has made it possible for me to pursue other things like food blogging too. If I want to take a day or two off to cook, I can do it. I'm the boss.
What's the best curry you've ever had?
That's hard to say as I've tried so many. I had a selection of curries at Annayu near Heathrow by chef Madhup Sinha that were amazing and different.
You also can't go wrong with any curry served by chef Palash Mitra at Scarfes Bar in the Rosewood Hotel. It's only open for lunch, but definitely worth a visit.
What's the furthest you've ever travelled for a curry?
About 300 miles, when I drove to London to try the Cinnamon Club. It was a long drive but worth it!
What makes a good curry… what makes a bad one?
You really can't go wrong with a curry if you use the freshest ingredients you can find. Whole spices need to be roasted and ground at home. I prefer using meat and fish from our local butcher, farm shops and fishmonger.
I have had too many bad curries that are usually served by inexperienced chefs with low quality ingredients – stale spices and too much salt.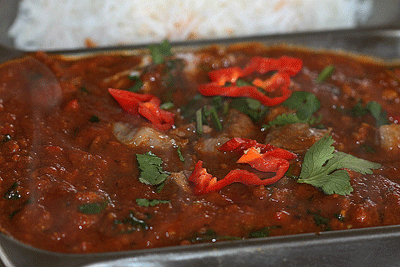 What curry would you give to someone who said they weren't fussed on them?
That would have to be a beef, chicken or lamb keema.
These are usually quite mild and look similar to Bolognese. I've never met anyone who doesn't enjoy a good keema when they try it.
What do you like eating aside from curry?
Everything! I've been teaching myself to cook Japanese food for the past six months or so, including sushi and sashimi. Love it!
I was brought up in California and learned to cook Mexican, Italian and Chinese which are all firm favourites. I always enjoy trying new things.
What blogs do you like reading – food and otherwise?
I read a lot of blogs about online marketing because of my business. Recently I 've been finding it difficult to find time to blog, let alone read other blogs. I wish I had more time as there are some fantastic food blogs out there.
What advice would you give to someone who was just starting out in the blogging game?
You need to build your social media following. This takes a lot of time and work but it is essential to growing your audience.
Also, try to find a niche that isn't already totally saturated. I chose curry as there weren't many curry bloggers when I started my blog. It helped that I was also passionate about the subject. Make your blog something different and become an expert in the subject and your readership will grow.
Read more of our blogger of the month features....
Are you a blogger who'd like to be considered for our prestigous blogger of the month spot? Perhaps you know someone who should be? Drop us a line on bloggers@gocompare.com and tell us why