There's nothing quite like the RHS Chelsea Flower Show – 19 days of frantic constructing and blooming culminates in the world-renowned flora and fauna spectacular, and this year we were lucky enough to have a nose around.
So here are the ideas, tips and tricks that we discovered as we sauntered around the flower-filled festival…
Sunken gardens are the way forward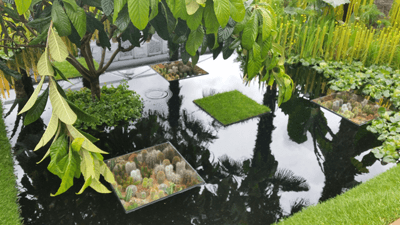 Demonstrated spectacularly in the World Vision garden, small sunken gardens can add another dimension to your pond or water feature.
Just make sure the plant container is waterproof…
Flowers aren't just for your garden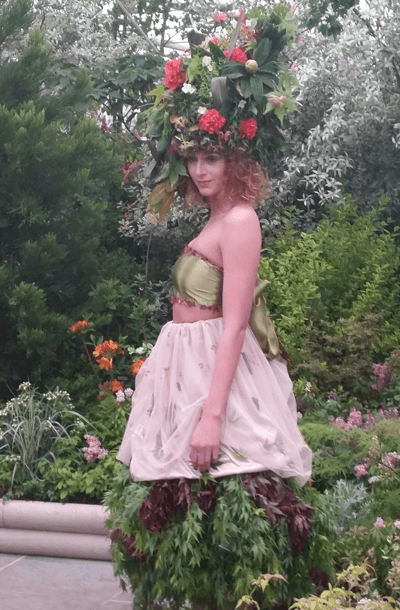 Ever thought that your blooms are so dazzling you want to show them off to everyone, especially Doris next door and her prized petunias?
This model obviously had the same exact thought and wore her flowers as a fetching dress.
Disguise tree trunks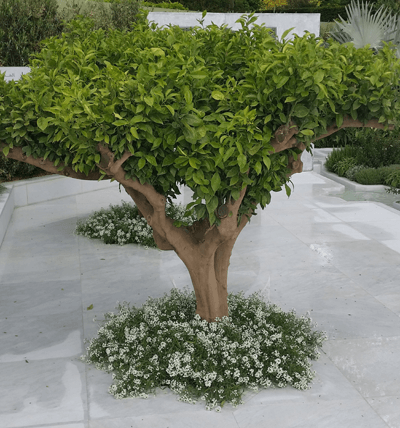 They're very striking by themselves but you can make your trees a double feature by planting flowers at their base, as seen in the Beauty of Islam garden.
Create your own oasis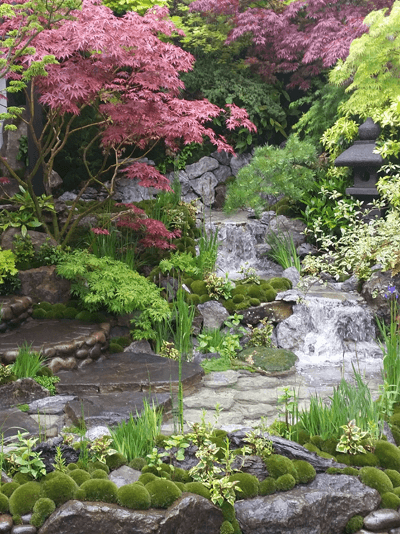 City life got you feeling claustrophobic? Mould yourself your very own retreat wherever you are. If greenery this gorgeous can be created in the middle of London, there's hope for us all.
Just stick to hardy, durable plants which won't wilt if they don't see the sun for a couple of days.... or years, for that matter.
Fake a pet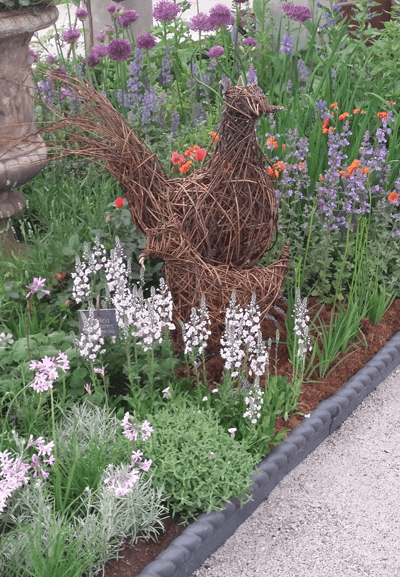 If you're not really an animal lover or live in a rental property that strictly prohibits pets, why not fashion yourself one out of twigs?
Not only do they look great, they don't leave smelly 'gifts' around your yard to clean up.
Size doesn't matter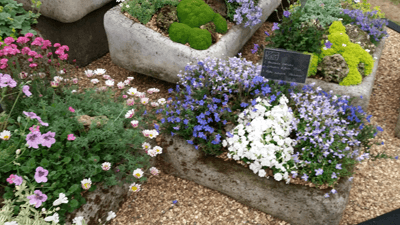 Now we know that not everyone has a 10-acre estate to erect pergolas and multi-tier water features, but these little self-contained gardens in stone planters would be perfect wherever you live.
Cheers to gardening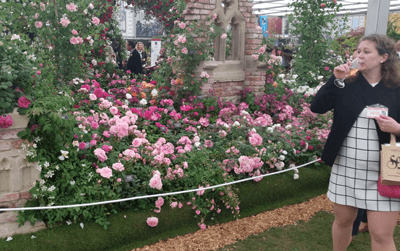 If you've ever pondered the allure of gardening, you may want to consider quaffing champagne as you partake in some troweling. Around most gardens there were a number of horticulturists and blossom enthusiasts alike enjoying a cheeky bubbly beverage.
Get fruity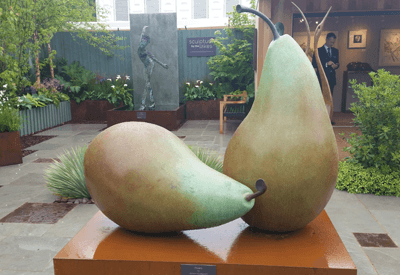 It seemed that everyone had their five-a-day firmly on the brain at the show, with apples and pears popping up all over the shop.
So, whether you're partial to a bronze statue or need a sculpture to reflect your cutting-edge urban style (below), plump for a juicy piece of fruit.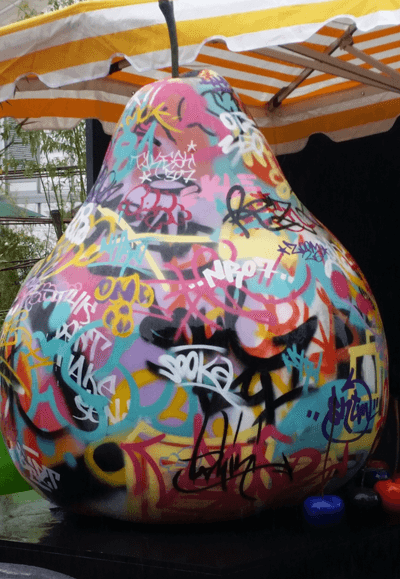 Multitasking is a must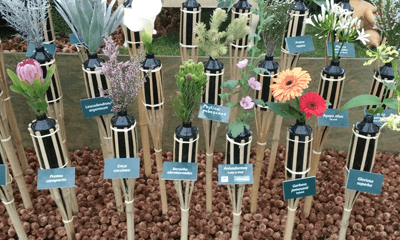 You may recognise these as they're more commonly used as outdoor candle holders, but some clever fellow has used them as miniature vases to hold sprigs of an array of different flowers. Ingenious!
Less is more is so yesterday
The Thailand Land of Buddhism display shows this rather perfectly with every inch of this exhibition filled to the brim with vibrant flora, jewel incrusted dragons and gilded Buddhas.
Another level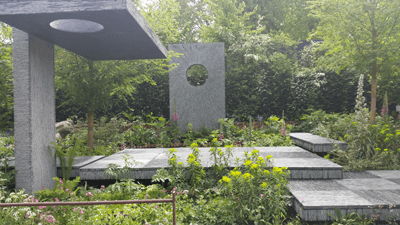 Add another layer of interest to your garden by playing around with levels, whether that's with decking or slate as used in the Brewin Dolphin show garden.
Hyacinths smell incredible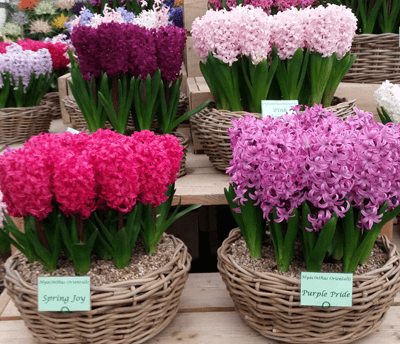 We ventured over more than a couple of times to catch a whiff of these sweetly scented sensations. If you're searching for a highly fragranced flower, look no further than the hyacinth family.
Take inspiration from your favourite TV programme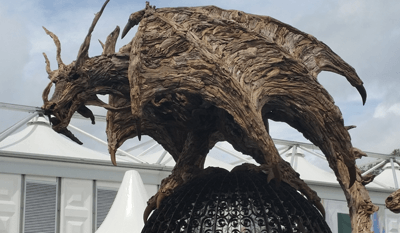 There was an undeniable influence from the sexy gore-fest of a show that is Game of Thrones, from actors wandering around with axes and chainmail vests to the amazing and imposing wooden dragon sculpture above.
Rough it up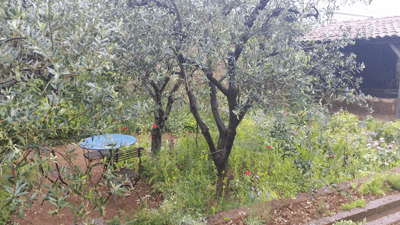 Neatly manicured lawns and perfectly placed blossoms are all well and good, but some designers bucked the trend in favour of fiercely overgrown and wilderness inspired entries, like the Laurent-Perrier Chatsworth Garden.
Perk up your pergola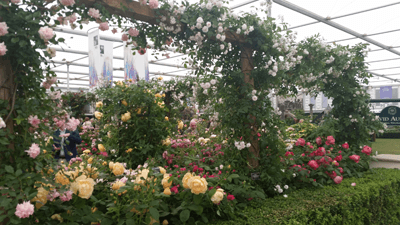 Roses and pergolas go together like Chelsea Flower Show and Pimms (of which they sell 6,400 glasses a year). The rigid structure helps to train the climbing roses into shape giving the illusion of a 'living' space.
Get collecting seashells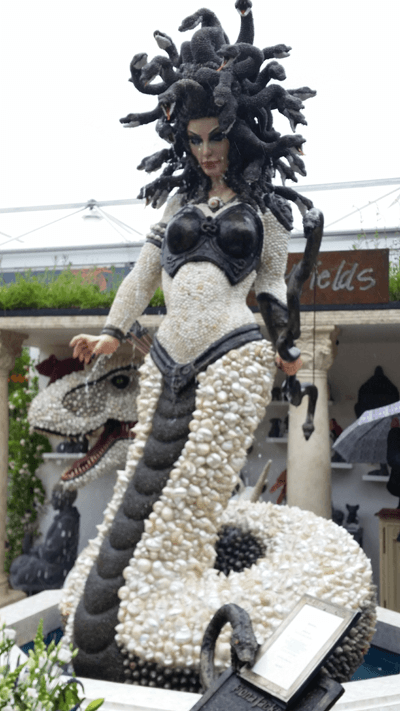 Next time you're down the beach, make sure you pick up a few shells and you too could create a gargantuan statue of Medusa in your garden.
That'll get the neighbours talking...
Did you visit the Chelsea Flower Show or watched it unfold on TV? Tell us your top tips onTwitterorFacebook