At the London Pet Show 2015, Gocompare.com got to meet and greet some very special four-legged celebs who paid a visit to the stand.
You might already have spotted some of these talents on TV, but we got all the gossip on where you might see these furry future stars turn up next.
Smurf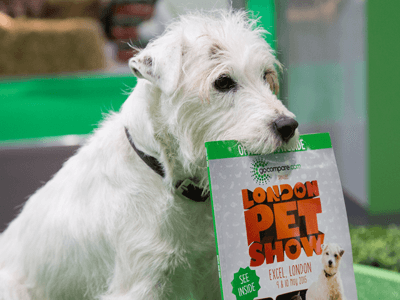 Parson russell Smurf might be our most prestigious special guest from the Show, as he's already made his movie debut: fans of dark comedy horror might recognise him as Banjo from cult 2012 Brit comedy-horror Sightseers. He won the Cannes Palm Dog award for that performance – yes, the same award previously scooped by fellow terrier Uggie, of The Artist fame.
More recently, Smurf rubbed shoulders with John Barrowman when he competed in, and won, Superstar Dogs 2014.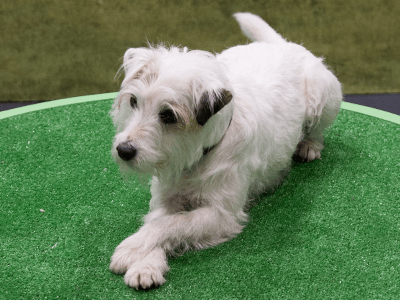 After charming the pants off the Gocompare.com crew by doing handstands, hiding behind his paws and even performing a fake wee on our stand, we asked him about his plans for the rest of 2015 and beyond. Does he hope to expand his acting career, or is he focusing more on agility and tricks?
"Well what he really needs is for Steven Spielberg to get in touch, because Smurf was just born to play Snowy in Tintin" says owner Sarah Humphrey. "But so far he's not phoned!"
Scarlett
There's just something about Scarlett – we don't know if it's her placid, cheerful demeanour or her beaming rottie smile, complete with side-lolling tongue. But whatever it is, she drew a cooing crowd of children the moment she sat and stayed.
"She's an ambassador for the breed," says owner Anthony Skordis. – we go to events, she has a Facebook page and she's always doing positive stuff for the breed."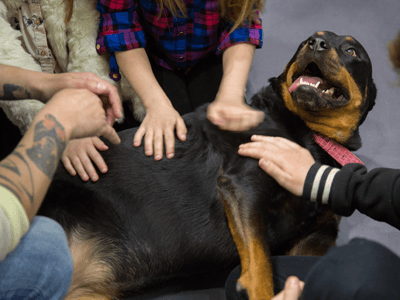 Since getting to the finals of Top Dog Model she's featured on the cover of Dogs Today and made appearances on This Morning and the Secret Life of Dogs.
As for her plans for the rest of the year? Stunning Scarlett is taking a break from the limelight to focus on her charity work.
"She's  become a Pets as Therapy dog," Anthony tells us. "We go to a local care home and visit the people there. Some have dementia but it's nice because they might actually remember us two weeks later.
"I go there thinking 'is she doing anything?' and the woman tells me the fact that they remember her from two weeks ago is huge."
Lucky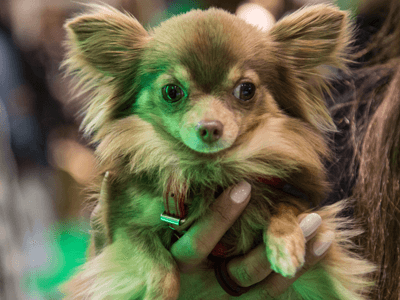 If Lucky can teach us anything about the dog modelling circuit it's that – unlike in the human industry – being less than 10 inches tall needn't hold you back. In fact, it can be quite an asset, as owner Isa Randle tells us.
"I think it's an advantage actually because he's so tiny and very talented as well with his tricks, doggy dancing and agility – there aren't that many tiny dogs that do all that."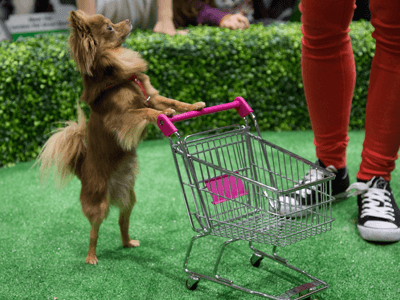 After watching Lucky ring a bell, play with a full-size football and push a miniature shopping trolley across the front of the Gocompare.com stand, it's not hard to see why this charming Chihuahua is such a hit.
One of his biggest skills is being a tiny twinkle-toes – "We're doing loads of doggy dancing at the moment," says Isa. "We always have something going on."
Simba
Owner Dan Carrick likes to describe Simba's breed as a cross between a lion and a bear – and we're still not totally sure he's joking.
Simba was the hulking winner of Top Dog Model and although there's no denying his beauty, he impressed our visitors just by placidly sitting on a podium, being vast.
"He's not really a tricks man," admits Dan. "His main impact is basically that he's just huge."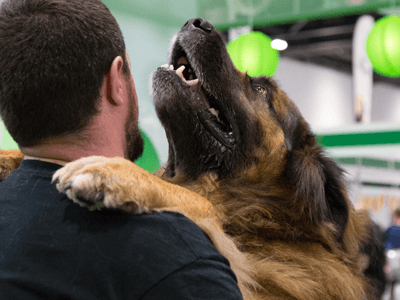 He won Top Dog Models aged just 12 months, so he's surely got a long and successful career before him now. But we're dying to know if he has any strong views on the 'plus-size' debate.
"Oh, he's all for the plus sizes models," says Dan. You met Scarlett earlier – Simba and Scarlett are inseparable – they're like a proper little married couple."
In fairness though, next to Simba, Scarlett's a size-zero waif.
But this lad's not sizeist either way and it turns out he's a bit of a ladies' man.
"He loves the little dogs too because he's been raised by a pack of Chihuahuas. We've got three of them and the girls are constantly flirting with him."
Flora and Kin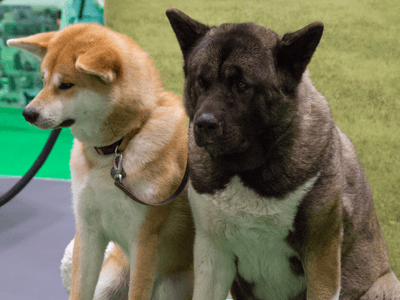 Our final guests were Flora the Akita and young friend Kin, who's a Japanese Akita inu.
Flora's definitely one to watch in 2015 – she's set to make her movie debut very soon in Film4 production Trespass Against Us.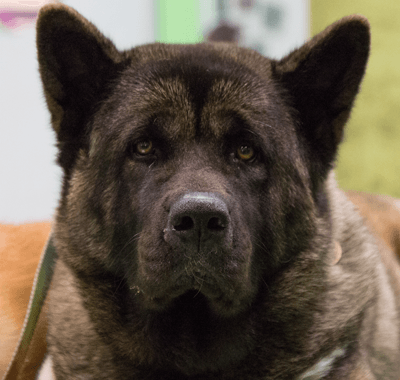 "Last year we filmed in glamourous Hemel Hempstead for two weeks for a story about a travelling community," says owner Robert Stuhldreer.
"It's quite action packed, starring Michael Fassbender and Brendan Gleeson. She played Michael Fassbender's character's dog, outside his caravan most of the time."
Before meeting Flora, a rumour had somehow circulated the Gocompare.com camp that she had, in fact, starred as one of the direwolf pups in Game of Thrones. But it turns out the gossip was groundless.
"I wish!," says Robert. "Although actually one of the guys who's in Trespass Against Us was in Game of Thrones so maybe that's where that came from!"
While we're talking about dogs, did you know you can search for a cracking deal onpet insuranceat Gocompare.com?
Photography: Rebecca Lloyd