Whether you're a freelancer who's sick of at-home distractions or an aspiring start-up looking for the right first step, co-working could be a good choice for you.
Co-working hubs have popped up all over the UK in recent years to provide enterprising businesses and independents with a working space outside of the home or coffee shops.
With all the social aspects of an office without any of the fuss or high cost of renting your own space, co-working can be flexible, friendly and creative, and provide start-ups and freelancers with desk space, wi-fi, a social hub and a support network.
"The fact that you're part of a community of similarly minded small businesses that are striving to be slightly larger businesses has a huge impact," says Warren Fauvel, co-founder of health and wellbeing service Nudjed and a co-working veteran who has had desks at several co-working spaces including Google's Campus London, Westminster Hub and Indy Cube in Cardiff.
"Something that helped us when we first started the business was being next to other people going through the same journey.
"That shared learning, the ability to look across the desk and ask somebody else the question that's bugging you," says Warren, who started his first business in his early twenties and founded Nudjed at Welsh ICE in 2013.
"On a fundamental human level, having a community around you, having a support network can grow your confidence, it helps you avoid problems or share your problems if you have them."
Welsh ICE, a co-working hub in south Wales just 20 minutes' drive outside Cardiff, has been home to businesses since 2011 and offers a collaborative desk space for freelancers and small businesses or enclosed offices.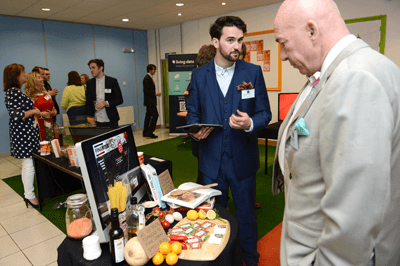 CEO Gareth Jones says that being in a co-working space offers start-ups much more than a desk.
"When you look at what we're selling, people think we're selling the office space, the broadband or the phone. But what people are really buying or what people get the value from is the community and that positive attitude.
"I think the reason that a lot of founders of co-working spaces create the spaces is that they want to be surrounded by awesome people who inspire them, and they want to create something that they think doesn't exist in the marketplace at the minute," says Gareth.
"From that perspective, there's a lot of narrower focuses when it comes to co-working spaces."
That's certainly true of Duke Studios in Leeds, a creative studio started by James Abbott-Donnelly and his partner Laura Wellington. "We were struggling to find anywhere in Leeds that offered the kind of studio space we wanted to work in. It simply didn't exist. So we set about building an environment we would want to work in," says James.
Duke Studios – which recently expanded into a second space in a different area of Leeds – was founded in 2011 and provides a range of services including its own laser and vinyl cutters, a high spec photography suite, a workshop and a design studio. James and Laura aimed to create a co-working space and a creative hub to help exchange knowledge, networking and collaboration.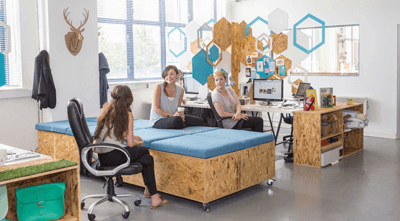 James echoes Warren: "Those working in the creative sector tend to get on better when they have others to bounce ideas off, different specialists to collaborate with and engaging surroundings to work in."
When it comes to the creative industries in particular, co-working seems to be a huge source of potential growth. 
Share and share alike
A converted barn on the outskirts of Bristol plays host to Hullo Creative, a collective of freelancers led by Suzi Hull, a designer. When she went freelance in 2013 Suzi struggled with working alone, so joined up with illustrator Emma Randall to create a collaborative studio.
"We realised quickly that our productivity went up, our work improved and our contacts and our clients as sole traders grew from moving into the space," says Suzi.
The studio plays host to seven permanent members who are all creatives, from writers to filmmakers, and Suzi believes that working collaboratively means everyone in the studio has improved their business by sharing clients, contacts and projects.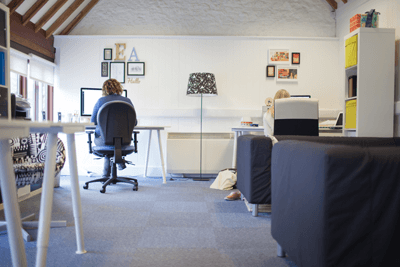 "We encourage people to have client meetings in the space so that they can meet other people."
One of the best things about co-working is the different atmosphere, says Suzi – Hullo Creative has a collaborative Spotify playlist and members are always chatting about what they're working on.
Welsh ICE member David Wiffen founded his CGI and 3D imaging business there in 2013. He now employs three full-time members of staff.
"When I left my job I was planning to work from home, but I didn't think that would be the best idea forever. Welsh ICE was absolutely perfect – they had all the infrastructures I needed," says David.
By starting his business in a co-working space David was able to employ staff far sooner than if he had started the business from home. Increasing the size of his business has allowed David to take on bigger contracts, most recently with Dyson.
"By having more employees not only can you turn the work around quicker but it seems like the stature of our client is growing because we're able to take things on a lot more," says David.
Balancing the books
For many freelancers and small businesses, the main downside of co-working is cost. How can small businesses justify spending upwards of £200 on renting a desk or office space?
"Your sanity is the cost," laughs Warren.
"It's difficult to quantify the added value that comes when you're surrounded by like-minded peers, potential partners on projects," says Gareth.
"When you look at what we're selling, people think we're selling the office space, the broadband or the phone or whatever it is. But what people are really buying or what people get the value from is the community and that positive attitude."
"Our members get more business as a result of being part of a co-lab," agrees Suzi. "It's more a case of they can't afford not to."
Compare business insurance and get the right cover for your needs with Gocompare.com