There are few pursuits more quintessentially British than trotting along to gawp at grand old buildings.
We've got loads of them scattered about the place – castles, forts, palaces, follies… you name it, our ancestors lounged about in it.
You may have enjoyed our jaunt to Bletchley Park last year, but this time we're ramping up the grandeur with possibly the largest darned building you've ever clapped eyes on, Blenheim Palace.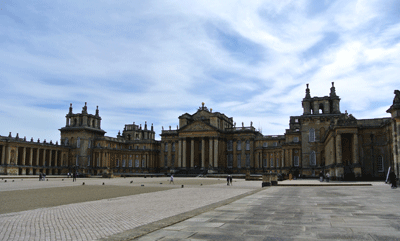 It is, by any rational measure, a big 'un.
We're talking 187 rooms, a chapel, a bonkers pipe organ, countless portraits and tapestries, 2,000 acres of Capability Brown-sculpted grounds… it's the only non-royal domicile in the country to be called a palace, and its scale is near-incomprehensible.
So, we'll be needing a fitting motor to ferry us there.
Something unashamedly imposing. Something with boisterous embellishments, simmering undercurrents of flagrant power, a rich dollop of heritage, an honest-to-goodness sense of entitlement… the Subaru WRX STI seems to fit the bill rather nicely.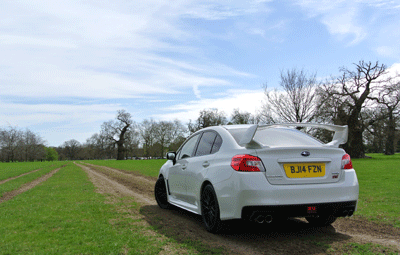 No, before you ask, it's not an Impreza. Without getting bogged down in tedious minutiae, this car is just marketed as the WRX STI. Don't overthink it.
The Impreza genes are there in spades, though – complex four-wheel drive system, turbocharged flat-four engine that goes bubba-ba-bubba-ba-bubba-ba, ironing board-style rear spoiler… it's a shouty plaything for the Gran Turismo generation who've grown up a bit and need things like nice suspension and a big boot – that'd be me, then.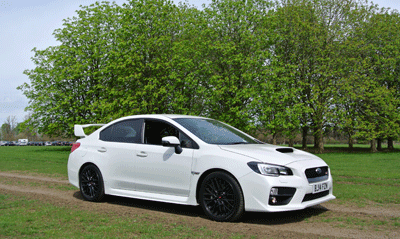 As we trundle through west London, family safely ensconced and enjoying surprisingly pliant damping, the parting words of Subaru's delivery man ring in my ears: "Just remember, everyone tries to race you in this car. You've just got to learn to ignore people."
He's absolutely right. At every set of traffic lights there's a boy racer in a pastel-hued Corsa revving his meaty pipe at me. I'm unaware of the internationally recognised gesture for "jog on pal, I've got a toddler in the back", so I opt for tunnel vision.
And it works just dandy, allowing me to enjoy the Subaru on its own terms. It's the reverse side of the Rolls-Royce coin – everyone's looking, but you're far less aware of it.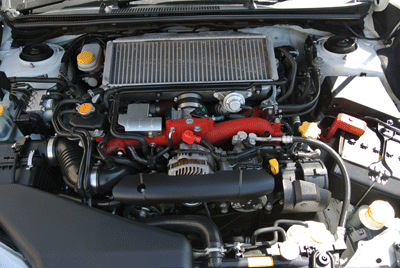 As the roads open up through Oxfordshire, we're able to stretch the WRX's legs a little. It becomes increasingly apparent how readily it can despatch vast swathes of scenery with utter disdain. It's hilarious fun. It feels like you're attached to the horizon by a taut piece of elastic. And that digital boost gauge on the dash? Pure PlayStation.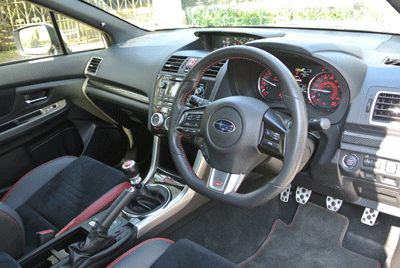 As you pull up to the payment booth at Blenheim Palace, be sure to steel yourself in the manner of a person waiting at a Harrods checkout or the bar of a central London nightclub.
The entry fee does fall slightly short of them actually holding you up by the ankles and shaking your pockets clean, but only just. Forty-five quid for two adults and a nipper? This had better be a massive house.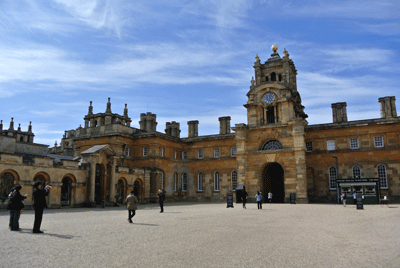 Thankfully, it is.
Entering through the cafe and gift shop, you emerge into a courtyard and think: "Huh, it's pretty big, I guess".
But then you realise that the next archway takes you into the actual courtyard, which is big enough to contain a village. Seriously.
The scale of the thing is mind-boggling – that it could be one family's house rather than, say, a place where all of Canterbury can hang out at the weekend seems absurd. Lucky old Dukes of Marlborough, eh?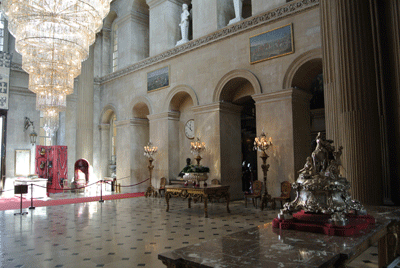 The vast stone steps take you to a reception room with the most insanely large chandelier you've ever seen, where you're directed toward the Winston Churchill exhibition.
Old bulldog-features was born at Blenheim, and there are plenty of opportunities to photograph your kids in front of portraits of the man, which may prove useful if they grow up to enter politics.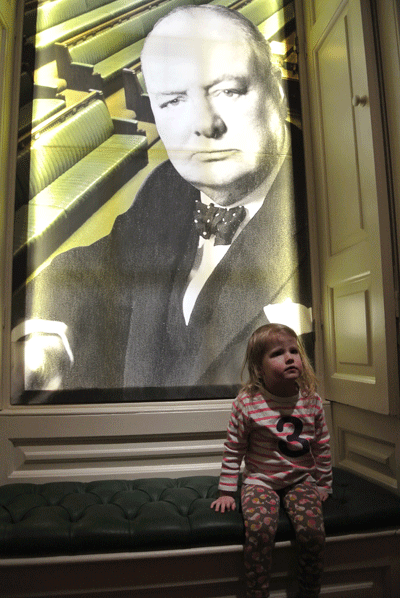 Walking through the palace, you start to get the uneasy feeling that something's not right.
Among the astounding grandeur of the high-ceilinged parlours and drawing rooms, with their mahogany sideboards and wall-to-wall tapestries, it seems incongruous that you should suddenly be confronted by a big pile of plastic crabs.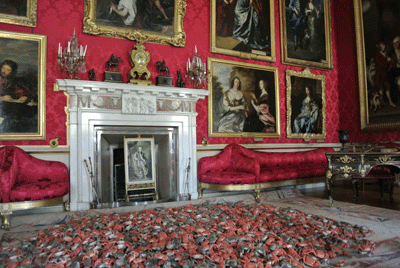 And the next room has some sort of sculpture made of a load of bar stools nailed together. And in the next, porcelain interpretations of builders' helmets and CCTV cameras.
What on earth can this mean?
Ah, we missed the signs relaying that there's an exhibition by contemporary artist and activist Ai Weiwei happening – easily done, but a little more signage would make the whole visit significantly less befuddling.
It all finally becomes clear in the long library, where a number of elderly visitors are angrily muttering about the dozens and dozens of framed photos of Weiwei giving the middle finger to various global tourist spots.
To be fair, it is quite strange.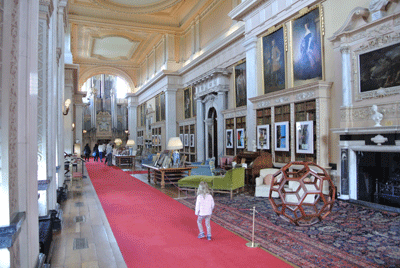 It's also quite fitting, however, as Blenheim Palace is a deliberately strange place.
It's a big house that's bigger than every house you've ever lived in combined, and then some.
From out the front, you can take a little train to a butterfly house and hedge maze. The palace's roof has so many statues on it, it looks like the 1990 Strangeways riot.
This is a staggering expression of excess, and we should be very glad that it exists – if only for the fact that we're allowed (for a tidy sum, admittedly) to amble around in there and poke at things.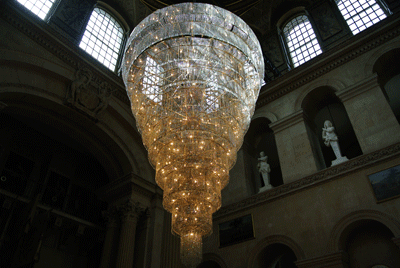 And so, with a crushing sense of our own penury safely and indelibly instilled, we ready ourselves to return to our quite-small flat. But first – glory be! – we get to bubba-ba-bubba-ba-bubba-ba in the Subaru for a bit and that immediately makes everything better.
You see, the WRX STI is a true everyman performance car – just see if you can find another motor that offers these levels of performance, technology and practicality for £29,000.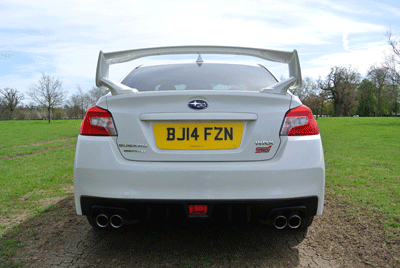 This thing will hit 60mph in a sliver over five seconds, while happily carrying a pushchair and giving everyone plenty of legroom.
It's properly good fun to drive, without irritating your passengers, and it infuses a sense of that Blenheim opulence into the mundanity of the everyday, without requiring you to bear a title or have a butler to do so.
It offers, in essence, upper-class jollies for (just-about) realistic money. And the world should have more of that.
Read more of our Guide to Britain series