When cars go into mechanical meltdown, you know who you need to call. Whether it's your local garage or a rescue mission from a breakdown provider, those guys in overalls will get it put right.
But they're not infallible, you know. We talked to some experienced vehicle technicians to find out their most disastrous stories of car woe.
Hole in the wall – Daniel Mander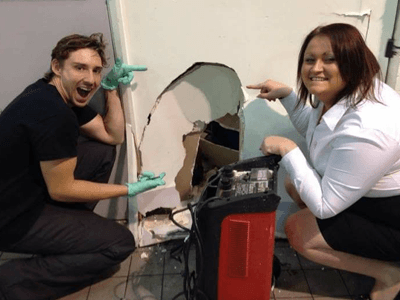 Daniel's got 10 years' experience as a vehicle tech.
"My worst slip-up doesn't need much explanation – the picture pretty much tells the story. It involved a brand new 50-grand vehicle that'd been left in gear. On ramps.
"It shot forward and shunted a large air compressor unit. Which came to rest on the other side of the wall."
Unhappy camping – Dan Reddington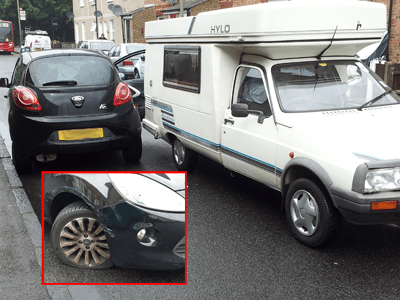 Dan's been a vehicle technician for 13 years, after starting an apprenticeship aged 16.
"About a month after first meeting my girlfriend (the writer of this article), she let me drive her precious 20-year-old campervan – who goes by the name of Jeff – just a mile, into our local town.
"Although she pointed out its various quirks – the boat-like steering, the camper body that hangs a clear metre over the rear axle – I (not at all patronisingly, don't listen to what she says) reassured her that I'd been a mechanic for over 10 years and had driven literally hundreds of vehicles.
"Unfortunately, as Jeff hefted himself up a short hill, a girl racer in a souped-up Ford Ka spun through a mini roundabout up ahead, evidently misjudging Jeff's portly dimensions.
"I don't know what Derri was so upset about – Jeff's a sturdy beast so the Ka [inset] came off much worse and the insurance coughed up, no bother.
"That was several years ago. I'm now occasionally allowed to drive Jeff again."
Spring fling – Adam Goddard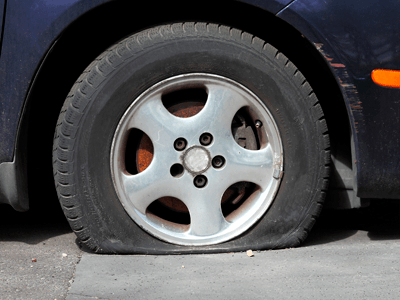 Apprentice tech Adam found out that sometimes it's best just to quit while you're behind…
"The suspension spring in my car snapped going over a speed bump while I was driving in Milton Keynes and for some reason I decided to try to drive back [circa. 180 miles, to Swansea].
"I was going down the M4 when I smelt burning. The spring had rubbed through and blown the tyre.
"I was on the hard shoulder for two hours waiting for recovery. Then they took me to the depot in Bristol, I had to pay a recovery charge and I had to get a courtesy car back home."
Tow's company – Lee Jones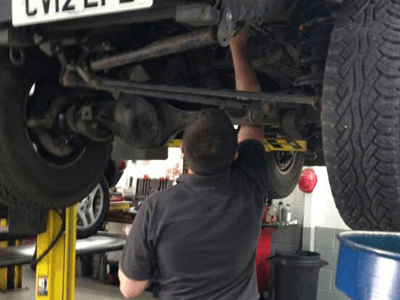 Another apprentice, Lee had to use the tools available at the time.
"I was driving in convoy with a friend when the CV joint [that's the quite important bit that makes the wheels turn round] collapsed on his car. He couldn't drive it, so I tied it up with the only thing I had to hand – my belt.
"Unfortunately that left me nothing to fashion a tow-rope with, but in my car I had one of those portable 12v tyre inflators. So the electrical wire from that had to do…"
Don't try that at home, kids.
Nervous about breakdowns?
If you're thinking 'if this is what happens to the pros, what hope is there for me?', fear not, there's a very simple solution to keep you moving.
Decent breakdown cover can be surprisingly cost-effective, particularly if you consider smaller providers.
Compare all the options, adding just the cover you need – whether that's home-start or European cover for one trip or year-round – to find the policy that gives you the most bang for your buck.