Gio Compario, the much-loved financial services tenor, returned to the nation's television screens over the weekend, to much fanfare.
Now the luxuriously 'tached vocalist, played by Welsh opera singer Wynne Evans, is back for good.
So, let's take a look at some of his finest moments...
2009 – a star is born
Dateline 2009. The world is mired in the depths of the recession. Barack Obama succeeds George W. Bush as the leader of the United States of America. Cristiano Ronaldo becomes the world's most expensive footballer when he moves from Manchester United to Real Madrid for £80m.
And somewhere, in a cafe on the outskirts of London, two men idly bemoan the price of their insurance over a cappuccino…
And thus a legend was born.
Gio Compario's signature song, based on first World War recruitment ditty 'Over There' quickly ingrained itself in people's memories. It stayed there, making Gocompare.com a household name and Wynne Evans, the star of the ads, a man in demand.
2010-2011 – Gio through the ages
By the time the new decade rolled around, Gio Compario had well and truly established himself.
He even turned up on a Channel 4 special in a wince-inducing encounter with rubber-faced funnyman Jimmy Carr, and was cited in Heat magazine's 'Weird Crush 2010' shortlist.
The new decade also marked the start of a bold new campaign.
After disrupting meals and appearing in people's homes, 2010 saw Gio Compario turn up in all manner of places – from desert islands to Egyptian crypts... even outer space.
This Flintstones-inspired number was one to remember.
Gio also found time to scoop Marketing magazine's 'Most Irritating Ad' gong in 2010, and won it again in 2011.
Oh, and did we mention the Christmas single, championed by Radio 2's Chris Evans?
2012-2013 – Gio goes Hollywood
By the time 2012 came by, Gio Compario had firmly ingrained himself in the public's minds.
In fact, he'd even managed to make a few, er, friends along the way… including Sue Barker, Ray Mears and Professor Stephen Hawking.
2013 – Gio goes meta
After teaming up with a selection of celebrities, 2013 was the year Gio Compario embraced postmodernity, flashing an arched eyebrow and a wink at his audience.
He also bought a dog.
The new ads saw Gio coming up with ideas to pitch to the Gocompare.com marketing team… with mixed results. Our favourite was probably this one, with a slick R&B 'vibe'…
2013 – 2015 Gio on the buses
As 2013 drew to a close, Gio Compario was given a new job… driving a bus.
Even though he was at the controls of the coach, he'd taken a metaphorical back seat… until now.
2015 – Gio returns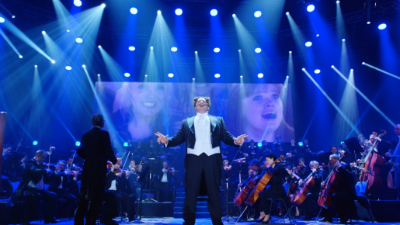 You can't keep a good man down, goes the old adage, and that's certainly the case with Gio Compario.
The new campaign sees Gio Compario going back to basics, doing what he does best – belting out rousing comparison-themed arias with bombast and aplomb.
It's good to have you back, Gio.