Exactly a year and a week ago, I picked up the keys to my new house and new life in Swansea.
Well, I say new – what we'd actually bought was a rancid 19th-century pile that'd stood empty and abandoned for over five years in the wake of a storm-damage disaster that collapsed a massive retaining wall down one of its borders.
But hey, it was a bargain.
It's a fairly unusual house, perched atop a rocky outcrop on a steep, cobbled hill in Swansea. It's surrounded by an enormous stone wall and vertiginous steps, giving the impression of being in a little castle, with a breath-taking sea view over the bay and Gower Peninsula.
That sort of thing helps when the boiler's been condemned and all of the ground floor plug sockets have died.
A tale of nine tails (and 36 legs)
When I moved in, I'd a vague notion of breathing life back into the place, but I don't think I realised how literally we'd be doing that: with a parade of motley rescue animals.
By moving day, our creature collection was relatively modest. A few years earlier, my boyfriend and I blended our furry families – my two cats and three ferrets joined his six-foot carpet python and bearded dragon. Sadly, two of the elderly ferrets died shortly before buying the Swansea gaff, so only 20 legs and five tails actually moved in.
That didn't last long though, with two ferrets (courtesy of RSPCA Swansea) and two cats (thanks to Swansea Cats Protection) taking the tally to 36 legs and nine tails before the month was out.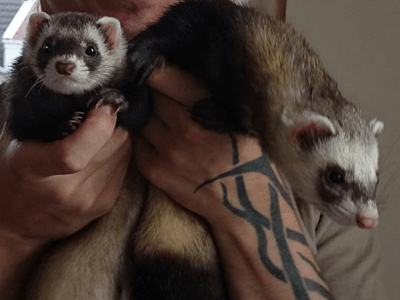 And that's just the permanent residents – we foster for Cats Protection, which means there's also usually at least one extra cat and a clutter of kittens to feed, clean and entertain.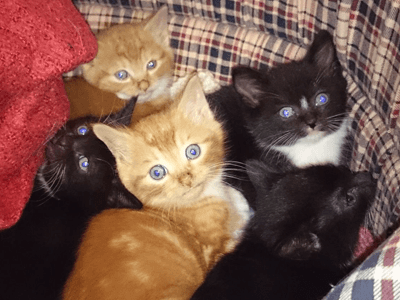 But earlier this year Ozzy, my boyfriend's ancient bearded dragon, croaked – leaving a pet-shaped vacancy and freeing up some significant budget due to prodigal vivarium heating costs.
And that was when we hatched Project Poultry.
I've had a soft spot for chickens for a while now, coupled with an abhorrence of factory farming. So when I discovered the British Hen Welfare Trust – a charity that rescues ex-commercial hens destined for slaughter and finds them new free-range homes in back gardens – it was a bit of a no-brainer.
Especially as chickens only have two legs each and no tails to speak of – a pair of hens would balance out the numbers left by Ozzy's loss quite nicely. And we'd get guilt-free eggs too – bonus.
Except BHWT rehomes hens in threes, not pairs. No matter, I thought, what's one more? They'll be just as easy to keep and there'll be more eggs to go round.
A total eggstravagance
Now, I know it's possible to buy a thrifty wooden coop and basic equipment and to keep chickens very cheaply indeed. But I don't like to do things by half. And much over-Googling turned up a mass of extra equipment that was surely vital for my chooks to thrive.
So, even before C-day rolled around, I'd managed to spend over £500 on  a snazzy coop and run, feed and other assorted miscellany.
Although it seemed to take an age, the big day finally arrived.
The hens were actually only a fiver each, which was a donation to the BHWT cause – apparently their commercial value is only about five pence apiece as they're considered 'spent' after 18 months mass-producing eggs in a crowded barn or stacked cages.
Our trio were plucked at random from a seething, squawking mass in a stable on a farm, where they'd spent their first day of freedom being health checked and examined. They were bundled into a cat basket by BHWT and we began the hour's drive home with quizzical clucking coming from the boot.
Project poultry was go!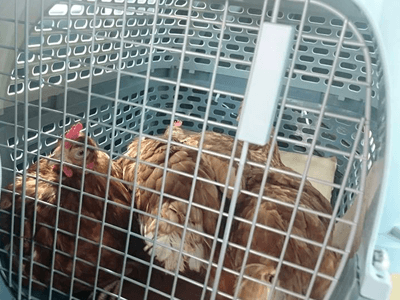 We ended up with a mixed bunch of ex-barn hens – fat, fluffy and bossy Edwina, affectionate Patsy and ditzy, henpecked Saffie, whose plucked neck bore testimony to some former bullying.
The first job on getting them home was applying mite powder and clipping their wings. Apparently the latter can be fatal if got wrong – so no pressure, then.
A bit of YouTubing later (who knew chickens calm right down when you turn them upside down?) and I could finally settle my hopefully not-too-traumatised hens into their posho coop while severed feathers and insecticidal dust wafted gently round the kitchen. Talk about a baptism of fire.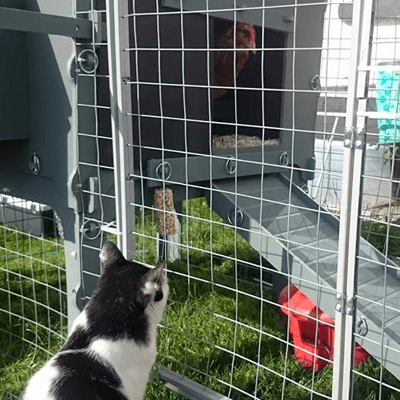 They've settled in amazingly though, producing an impressive 15 eggs in their first seven days. You'd never know they hadn't even seen daylight before C-day.
And, in less than a week, Project Poultry has also expanded from this: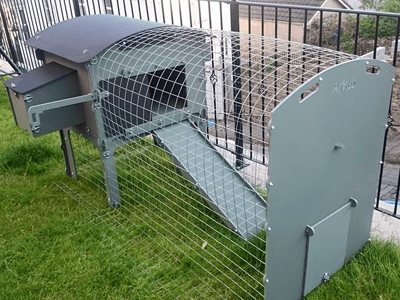 To this: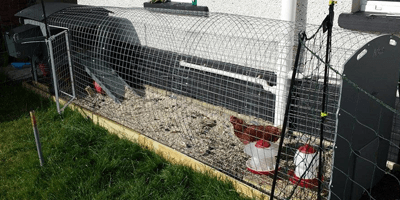 Incidentally that all cost another 50 quid or so in materials, taking the Project Poultry total to £585. But they're producing £4-worth of high-quality free-range eggs a week… which means they'll have paid for themselves in less than three years!
Except they'll probably need more food and bedding in that time… and sadly these 'exhausted' rescue hens often only live around 18 months at the most…
But on the bright side I suppose that means we'll have to keep rehoming more hens in future to balance the chicken books – and that can't be a bad thing.