Can you hear that? The throaty rumble of powerful engines over the horizon, and the distinctive 'one-two' sound of a bearded roadie conducting a line-check?
Yes readers, it's time for the second leg of CarFest, the annual music-and-motors jamboree organised by radio DJ, car enthusiast and soon-to-be-Top Gear anchor Chris Evans for Children in Need. The northern leg took place at Oulton Park in Cheshire earlier this month. Now, it's time for the southern leg, which takes place at Laverstoke Park Farm in Hampshire over the August bank holiday weekend.
Gocompare.com is very proud to be sponsoring the event. We'll be there with our very own kids' driving school, relax-and-recharge marquee and a picnic zone. Our experts will also be on hand to dish out car insurance and financial tips aplenty.
So, what else can we look forward to? Here's a selected assortment of delights to pique your interest…
Cars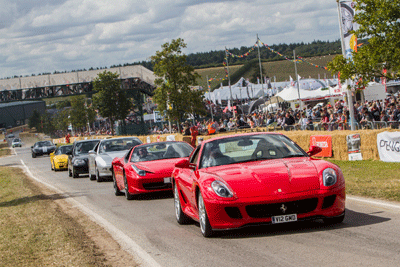 They're worth a fair whack, we'd wager
There'll be cars galore at CarFest – the clue's in the name…
A huge collection of rare and exotic motors will taking to the track – you can even book rides in some of them.
Music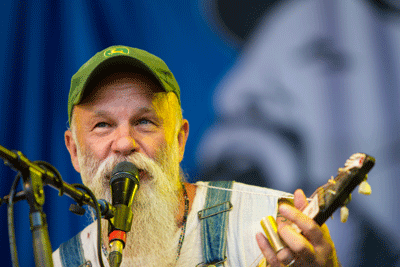 Seasick Steve
Where else will you be able to see Primal Scream, Billy Ocean, Level 42, the Boomtown Rats, Seasick Steve (above) and Will Young on the same bill this summer?
Loads of food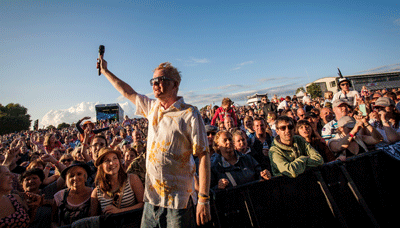 "Put your hands in the air if you're hungry!"
A bevy of excellent traders will be on site to ply you with exotic delicacies from across the globe. That said, if you fancy something a little closer to home CarFest will play host to the ultimate savoury challenge – the sausage rolls v Scotch eggs competition…
Massive stuff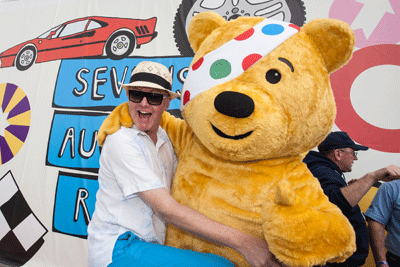 Chris Evans and a large bear
Want to feel very small? Then beat a path to Mega Land, and gawp at massive vehicles, including bulldozers, dumper trucks, fire engines and a Volvo H-Series wheel loader and G-series articulated hauler – we have it on good authority that the last one is an absolute whopper.
Stunts
Probably best driven by professionals
Watch daredevils perform all manner of hair-raising stuff, so you don't have to!
A beach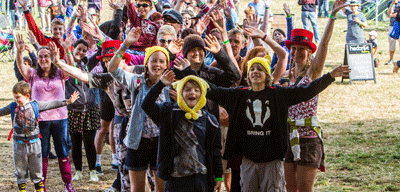 Where's the Slam Tent?
Don't forget to pack your bucket and spade, because there'll be a beach – an actual beach! – at CarFest.
See you at the festival! Follow us on @gocompare and @covered_mag and get involved in the fun.