This edition of our Guide to Britain series is a little more conceptual than those that came before it.
Rather than going to a specific place, like the White Cliffs of Dover or Stonehenge, we're going campervanning. Which is a word, despite what your spellchecker will tell you.
As you've probably deduced, this is basically camping, but in a van – so you get all the benefits of the al fresco canvas lifestyle (portability, cosiness, the freedom to make last-minute venue changes, an excuse to use a sleeping bag) with the added advantage of being in a largely watertight vessel if it rains.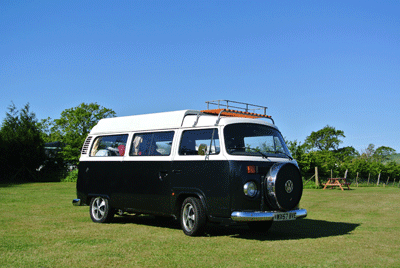 Campervanning is a tremendously versatile way to see Britain, as you can call pretty much anywhere home for the night. Well, I say 'anywhere' – you can't just pitch up on a stranger's driveway or the hard shoulder of the A3, you need to do it somewhere legal.
But this little island isn't actually all that little, and there are plenty of places you can go.
And, of course, you'll look awesome doing so… VW campervans are inherently cool, and you'll get admiring glances and cheery waves from people of all generations.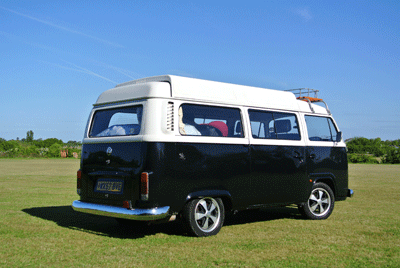 So, this black-and-white poppet is named Bertie. Sorry, I'd normally deride the horrible practice of calling a car 'he' or 'she', but Bertie has a name, and thus it shall be so.
We borrowed him from Classic Campervans in Hoxton. For £145 per night they will cheerfully unleash you upon the countryside in one of their fleet of hippie vans.
You may have spotted Bertie's 2007 number plates. Despite production of the Type 2 camper officially ceasing in 1979 in Europe, they kept on making them in South America for ages.
This one was indeed built in 2007, in Brazil, and features a 1.4-litre engine from a Polo instead of the old-timey aircooled unit. So you get old-school looks with modern reliability. Not bad, eh?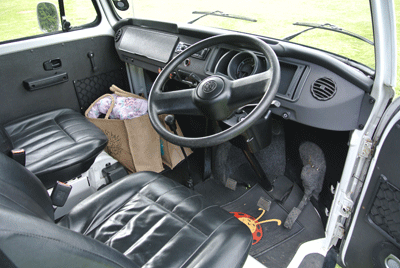 I collected Bertie from his Hoxton lockup just in time to hit the London rush hour, which gave me plenty of time to acquaint myself with the controls while sitting stationary on Old Street for improbably long periods.
The steering wheel is amusingly bus-like – vast, near-horizontal – and the gearshift has a very long throw. Meanwhile, the pedals are almost upright, requiring you to dance across them like an out-of-practice Christopher Dean It's not hard, it's just different.
But once you've recalibrated your reactions to account for all of this, and the fact that the acceleration is better recorded with a calendar than a stopwatch, it's rather fun.
People smile at you, and let you out of side-turnings. The size isn't an issue either, as it's no wider than a modern hatchback; sure, there's a fair chunk of length, but no more extravagant than a Rolls-Royce Ghost…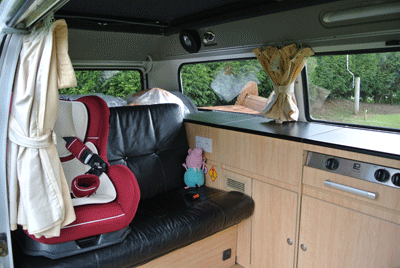 We'd decided to head south, and once out on the motorway Bertie really got into his retro stride.
The steering box takes a little getting used to, but the campervan is perfectly happy to potter along at 70mph while the family sing the Frozen soundtrack from the back seat.
When I said "rather than going to a specific place" I was speaking conceptually – obviously we had to go somewhere. So, we went to the Southdown Way campsite, which seemed as good a place as any.
On arrival, it was time to take stock of the amenities both in and out of the van to see what was what.
Bertie comes luxuriously equipped with a leisure battery and electrical hookup , and the interior is stuffed with goodies: a two-ring gas burner, fridge, sink, iPod connectivity, er, cutlery, um, somewhere to sit. All you need, really.
The back seat folds down into a double bed, while the roof pops up to provide a further double bed for kids.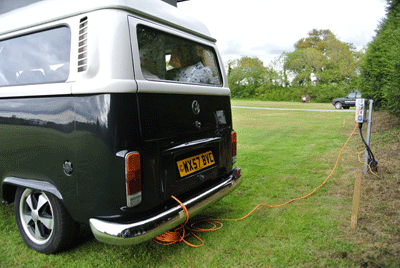 Now, I've been on a lot of family camping holidays when I was a young child, so I know what not to do when squished into tight quarters with your family. Don't have beans for dinner. Don't sit in the coffee pot. Make sure you've familiarised yourself with the lavs before it gets dark. Well, two out of three ain't bad, and the sausages and beans we cooked for dinner went down very well…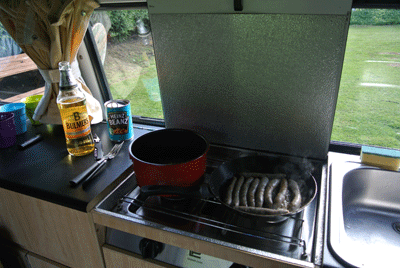 This particular campsite has decent toilets and showers, which is something I'd recommend looking out for when you're browsing for camping spots – while it's lovely to experience the great outdoors, you don't want to be burying your leavings in the woods.
It costs £26 a night for a pitch here, including all the electricity and water you can handle.
After wearing out the mini road-tester on the swings, we decided to all turn in for an early night.
It quickly became apparent that we probably shouldn't leave the little 'un to kip in the pop-top in case she fell out, so she and Mrs B snuggled up in the double bed while I clambered up into the roof.
Top tip: there is literally no way whatsoever to do this with any semblance of elegance or grace, so ensure that you know your co-campers very well indeed. They'll see bits of you.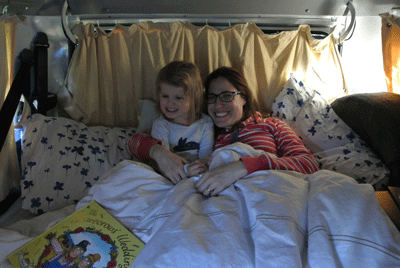 You know what? I actually slept pretty well up there, despite it being not at all designed for grown-ups. Don't tell my wife, though – she was up all night with a three year-old in her face saying "Mummy, I'm not asleep! We're in a campervan! Mummy, I'm not asleep!"
And yes, she did fall out of bed. My daughter, not my wife. I assume. There was a thud and a wail, I didn't ask.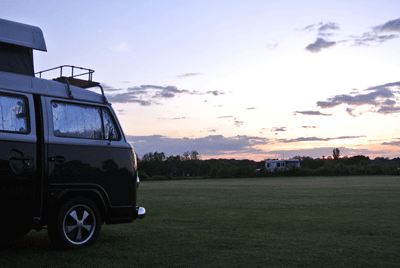 Up with the larks the next morning, we got the bacon on the go – some of us more refreshed than others – and luxuriated in the old-timey loveliness of stepping out into quiet, fresh country air, barefoot and trouserless, sarnie in hand and song in heart. I could get used to this, you know.
But, sadly, it's not the 1970s and I hadn't brought a guitar or any Jethro Tull LPs with me, so it was back to the reality of the metropolis for us.
Bertie felt friendly and amenable on the journey home, revelling in the afterglow of spending the night together. Free love, and all that.
When I returned him to Classic Campervans, he still smelled quite strongly of bacon. I think they rather liked that.
With great and cheery thanks to Simon and the team at Classic Campervans
Read more of our Guide to Britain series