Gio Compario, Gocompare.com's advertising hype man made a triumphant return to the telly this weekend.
Covered mag caught up with Wynne Evans, the man behind the voice (and what a voice!) to see what he's been up to since the last time we saw him…
Hi Wynne! So, you're back? How does it feel?
It's lovely to be back, especially after having a little bit of time off. I'm back, I'm refreshed, I'm bigger and brighter than ever! It's lovely to be back singing again – I haven't done it on the advert for nearly three years.
What have you been up to since we last saw Gio?
I've been focusing on stuff away from Gocompare.com. I've got my own radio shows on BBC Radio Wales and Classic FM. Then there's the television presenting. I've got one coming up on S4C where I go into workplaces and teach people how to sing. So you never know, I could end up turning up at Gocompare.com and forming a little choir…
And I've been doing the opera, too. I've got one starting in about three weeks' time actually at the Royal Opera House. Loads of variety…
You filmed the adverts in Prague. How was that?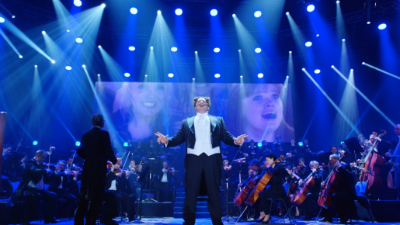 It was really good actually! To be involved with the original creative team was really special.
All of a sudden, we had this team which had worked really closely for three years all back working again. The old gang back together. Everyone slotted back into their jobs really quickly. That was great.
We had the Prague Philharmonic working with us for five days. We were really keen with the ad for people to not look at it and think "are those real musicians – are they fluffing it or are they actually doing it?"
Well, they're actually doing it, and I'm actually singing along in the stadium. It's spectacular.
Speaking of stadiums, what's the biggest gig you've ever played?
I've played Wembley, and I've done the O2. They're about 20,000 people each. I've also done the Millennium Stadium, which holds about 85,000. I've done a TV show in China that went out to six million people. But as far as live venues go, definitely the Millennium Stadium.
You mentioned that it's good to be working with the old gang. What particular 'x factor' do they bring to the table?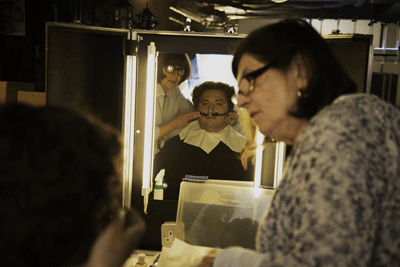 Masses and masses of experience. They know how to grab people's attention, which in the digital age is getting harder and harder.
To have a brand icon like Gio, who people immediately associate with Gocompare.com, is a really valuable thing to have.
It's still a catchy tune and it'll be interesting to see it coming back in a more gentle and tactile way.
So, what's your favourite advert – from now or the mists of time?
I like adverts from the past with opera tunes on them, like Cornetto. Operatic arias lend themselves very well to adverts. They're the ones I remember.
So, we've established that you're very much back. If you could bring one thing back from history, what would it be?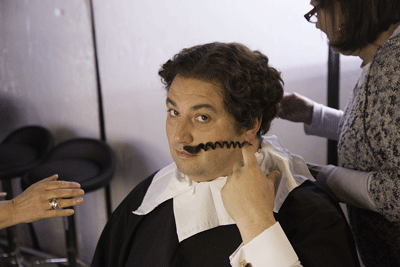 Anything in the world? I've done a couple of operas where the composers have been present and it's really good because you can say to them that you can't sing the songs a certain way. Then they let you change it, and that's brilliant.
So, I'd bring Giovanni Pacini (the 19th-century composer) back because he would let me change his songs when I can't sing them!
Anything else? Well, how about Space Dust? I would love to bring that back. And time! I'd like to have time and be a student again. That was a good time. But life's good now!
What's the most embarrassing thing that's happened to you while performing?
It was at the Albert Hall. I had a sickness bug – both ends. I was singing Nessun Dorma and at the last note, everything 'went wrong', shall we say…
Last time we spoke, you were waxing lyrical about cucumbers in gin and tonics. Have you had any other drink-related revelations?
Yep. And I'm going to have one tonight – an espresso Martini. It's lush. Like a sweet. I love 'em.
I hear you were recently at the Royal Welsh Show. Did you see any particularly impressive livestock?
Well, I discovered that while I love animals, I don't necessarily want to be around animals… but I enjoyed meeting all the people there.
Who was the best person you met?
A massive, massive crush of mine… Kate Humble. She was there. I've been obsessing about her for years.
Did you get tongue-tied?
No. But I did say live on air that I'd leave my wife for her. And she just went: "NO! NO! NO! NO! NO!" And I thought, well, that's a bit of an overreaction – it's just an offer.
You must meet a lot of celebs doing the radio show. Who are the best people you've spoken to?
Barry Manilow – what a legend. Joan Collins was lush, and so was Shirley Bassey. Last week I met Burt Bacharach. This guy's written hit after hit.
The person I've interviewed I've most liked who I didn't think I would is Eddie Izzard – so clever, so bright. And do you know who I went out for drinks with last night?
Go on, who?
Terry Waite (the humanitarian and author). Talk about my life being weird. What's that all about?
Indeed. If you were a dinosaur, what would you be?
A pterodactyl – I just want to fly.
What's your favourite meat for a roast dinner?
I don't like roast dinners.
Really? What do you have on a Sunday?
Anything really. It's just another day in my house. Although my family love a roast dinner. If I had to choose one, it would be turkey. I love Christmas dinner.
At Christmas, I plan it down to a minutiae. Everything's got to be perfect. People still talk about my chipolatas.
What do you like to do to unwind?
Well, I've recently bought a hot tub.
What's it like?
Fabulous. I bought it on eBay because somebody told me I'd save loads of money. So you know you can only make three offers? I'd used mine up.
My wife had told me in no uncertain terms that I was not to buy a hot tub. But I really wanted this particular one. So I logged into her account and made an offer… which was accepted. But it was a month before delivery. So, I thought "that's fine. I've got a month to break it to her. It's going to be all right".
I forgot that when you win something eBay sends you an email saying "Congratulations! You've won a hot tub."
So, I'm on the train to London when I get a call. It was my wife asking "Have you bought anything?" to which I said, "No, of course not. What would I have bought?" She said: "Well, a hot tub for a start."
She's still not been in it and we've had it a year.
Ok, so by this point, we've seen the new advert. What can we expect from the rest of the campaign?
Gio's going to be popping up in a lot of different places, shouting about the benefits of buying from Gocompare.com.
I'm hoping people will be pleased to see Gio back. Love him or loathe him, he's got a job to do. He's Gocompare.com's biggest fan – he doesn't even work for them. He just loves what they do.
Lovely stuff. Thanks Wynne!
Cheers!