This time tomorrow I'll be dancing in a muddy field and listening to live music set against the breathtaking Brecon Beacons.
I'll be at Green Man for four days and by the time I return on Monday I'll be tired, cold and poor – a few hundred quid poorer, all told.

The Mountain Stage, Green Man
The next few weeks will see several of the UK's most high-profile festivals take place – notably the two twin-headed beasts of Reading and Leeds and V Festival in Staffordshire and Chelmsford, and Bestival on the Isle of Wight.
There's truly something for pretty much every taste in the innumerable and diverse host of festivals which take place in the UK every year.
But the rising cost of festivals has been a concern for a few years now, and they don't look as if they're getting any cheaper.
Rising cost
Festival tickets alone come in at around £200, and that's before you factor in the cost of transport, tents, food and all the alcohol you need to keep going for three or four days in a field.
Katie Hall, 25, from East Markham, Nottingham, has been going to music festivals since she was 16 and goes to both Glastonbury and small inner-city festivals.
"The overall cost going to a festival is much more than just the admission fee, especially if it's your first time and you need a rucksack and accessories," she said.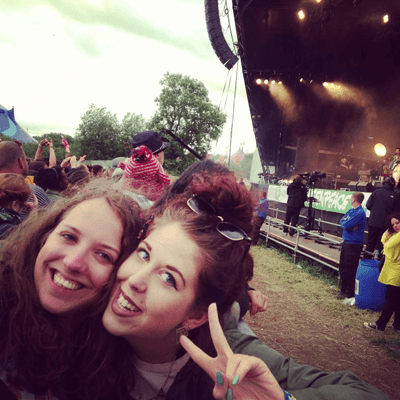 Katie (right) with her friend Helen at Glastonbury Festival in 2013
"There are food and travel costs to factor in which can be pricey if you live far away or rely on food at the festival. Fashionistas who treat festivals like a catwalk show must blow a small fortune," said long-time festival goer Katie.
"I speak as someone who has bought a whole new wardrobe for a festival (on more than one occasion), but I'm older, wiser and poorer now!"
According to research by the Guardian and travel money site No.1 Currency, Glastonbury is the second-most expensive festival in the world, with the total cost for a punter coming in at £565. The average meal at Glastonbury costs £8 while a pint will set you back £4.40. Only Coachella in California is more expensive at £9 for a meal and £5.70 a beer.
Lloyd Griffiths, a 27-year-old marketing manager from Cardiff, visits smaller festivals like Green Man and End of the Road in Wiltshire and usually sticks to a budget of around £120, much lower than the average.
"There are lot of average festivals that think they can get away with charging the same as good ones, because apparently the fact you're in a field for three days is something we should pay for regardless of what's on," says Lloyd.
"There are a lot of very expensive ones that are worth it though. I'm happy paying £200 for End of the Road because there are lots of acts I probably wouldn't get to see otherwise."
Economic impact
The money spent at music festivals helps not only the British music scene but the economy at large says James Murtagh-Hopkins, director of communications at UK Music, a campaigning body for the UK music industry.
"Not only are music festivals bringing unique cultural and social experiences to many parts of the country, but they are also helping bring vital money into local economies," said James.
UK Music claims that three-and-a-half million people attended music festivals in the UK last year, contributing in excess of £1bn to the UK economy.
"It's an area that has continued to grow while other leisure areas have declined," said James. "A week at Glastonbury is as attractive to many young people as a week in Ibiza because the depth of musical offering, comfort, food and experience for festival goers has evolved dramatically over the past decade."
"Life changing"
But what about the cost of putting on a festival? Starting a festival from the ground up is a risky – and very expensive – undertaking.
Earlier this year, the Guardian reported that just powering a relatively small 10,000 capacity festival will cost between £60,000 and £100,000. For larger events such as Isle of Wight, police and security alone costs the thick end of £1m, and that's before you take into account the cost of paying artists, the taxman and the Performing Rights Soceity and building effectively a compact, temporary town.
It's little wonder, then, that the cost of ticket is so pricey.
Swn Festival in Cardiff was founded in 2007 by local promoter John Rostron and Radio 1 DJ Huw Stevens. The festival is held in gig venues, bars and pubs across the city over a weekend – meaning that the infrastructure is already there. It attracts thousands of people to the city each year.
But starting a festival in a city presents its own set of problems, reckons John.
"I guess for Swn the biggest unique challenge we have is that we always have to consider what else is going on in the city. This year our event has moved to November, because the Rugby World Cup is on.
"Where we save money on infrastructure, like builidng sites, we do lose opportunities for income – such as bar revenue – which are a big part of greenfield site festivals revenue."
Nevertheless, Rostron believes that UK festivals are worth the money.
"I think music festivals represent incredible value," he says. "When you consider the calibre and variety of acts, as well as all the non-music entertainment, the camping, the infrastructure and support, you do wonder how it's possible to make it all happen for that price."
"Who judges a festival by 'value for money'? Do you, say, take the ticket price and divide by the number of bands, and then work out which one provides the best value? I know some people who buy toilet paper like that. The cost divided by the number of sheets. Job done! But a festival? Some festivals are life changing… you can't put a price on that."
Tell us about your festival experiences, and whether you think they represent good value for money, onTwitterandFacebook