Do you have a side hustle, an extra income or a hobby that makes you a bit of cash?
Most of us have tried making a bit of extra dosh at one time or another, whether it's by listing that nice dress you've never worn on eBay, selling your dusty exercise bike on Gumtree or monetising your skill for decoupage.
According to new research from Gocompare.com, a third of us make extra cash from the comfort of our sofas. We're good at it too, earning on average £85 a month.
But there may be even more ways to make money from home, from renting out your driveway to car sharing to taking in a lodger.
Hayley from personal finance blog Disease Called Debt used her home to start a child-minding business. "It was a great way to earn money from my home, using early years resources that were already in place from raising my own daughter," she says. ""The best part financially was not having to pay for childcare myself while I worked!"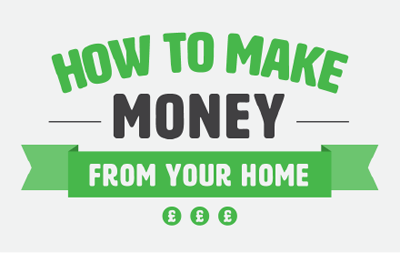 This infographic on how to earn money from home could show you a few ways to make money that you'd never even thought of.
Don't forget, you'll need to check your home and car insurance to make sure there are no rules that could put a spanner in the works before you chuck your spare room online and allow strangers in your car.
Gocompare.com's home insurance expert Ben Wilson said: "Whether you decide to rent out a room or try your luck as an eBay seller, it's important to take a bit of time to research the pros and cons of each scheme – looking at not only the potential returns, but the associated costs and other requirements. 
"For example, if you run a business from home or make money from your land or property you'll need to declare this income to the tax man.
"You should also find out what, if any, are the legal and insurance implications of your money making plans - in particular the requirement for a tenancy or other agreement if you're renting out a room or parking space."                  
Do you make extra money from your home? Tell us on Facebook or Twitter
Make sure your home insurance is up to the mark at Gocompare.com