There may be talk afoot of a rise in the base rate of interest, but the credit card market is currently awash with eye-popping 0% rates for marathon lengths of time.
Just this month, Virgin Money deployed a market-leading 40-month balance transfer credit card, which bestows the successful applicant with over three years of blissful zero-interest terms, for a 2.99% balance transfer fee.
However, if you want to take advantage of this deal, you'd best get your skates on – it's a 20-day limited offer, meaning that time is of the essence.
But it isn't the only card on the market with similar terms. Halifax, MBNA and Barclaycard currently all offer 36-month zero-interest deals, with lower balance transfer fees (2.45%, 2.48% and 2.39% respectively), which could make more sense, depending on how much debt you'd like to shift.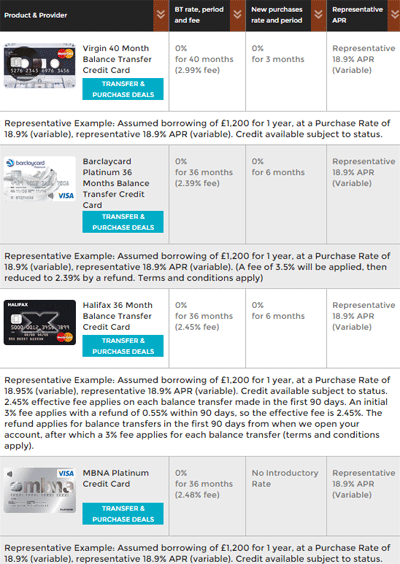 Matt Sanders, Gocompare.com's resident credit card expert said: "Virgin Money has really taken the fight to Barclaycard, which has dominated the long-term 0% balance transfer tables for some time now, with the launch of this card.
"Spreading the cost of paying off debts on a credit card interest free for three years and four months is unheard of, and will undoubtedly be tempting to many people. But anyone considering this card needs to bear in mind that there is a fairly hefty 2.99% balance transfer fee, so if they don't have a lot of debt to transfer, or are confident that they can repay their debts over a shorter period, then a card with a shorter 0% term but a lower, or no, balance transfer fee may be a wiser choice."
However, if you've got a larger debt to wrestle with, then a long term with a larger fee might be worth considering. "You could get a lot of breathing space when it comes to paying off these types of cards – as long as you make a repayment plan and stick to it so thatyour debts are cleared by the time the interest-free period comes to an end," reckons Matt.