Buying a used motorbike is stressful – much more stressful than buying a car.
That's because in general cars, no matter how roughly they're driven, for the most part remain shiny side up. But when you buy a used bike, chances are you'll find a little mark or scuff on it somewhere.
And there lies the attraction of a new bike – you won't always wonder if that scrape was the result of forgetting to kick the side stand down fully, or of the bike skating down the A38 on its side.
There are the other plus points – the warranty, the chance to get the exact colour and model you want, that new bike smell…
There's just one sticking point – the price. But just because a new bike costs more than a used one, it doesn't mean you can't have a haggle.
Luke Gregory, managing director at Motorcycles Direct in Watford, points us towards a few ways to sniff out a new bike bargain.
Search out a pre-registered bike
"Pre-reg vehicles are very common in the car market as the manufacturers have much bigger targets to meet," Luke explains. "Therefore they pre-reg at the end of every month when they are short. Pre-registering does happen in the motorcycle market, but not as much."
 
That doesn't mean there aren't deals for eagle-eyed bike shoppers though: "Certain manufacturers are more driven towards reaching market share than others and do it, others aren't worried!" says Luke. "Pre-regs are a good way of getting a new motorcycle for a better price so if you can find the deals then go for it."
And now's a pretty good time to go in search of a pre-reg – the new wave of 65-plated bikes will be filtering into dealers in September, meaning anything with a 15 plate left in the showroom might be cluttering the place up.
Just remember, if the bike's pre-reg, you'll be its second owner (the dealer will be the first) and the manufacturer's warranty will have started ticking down already.
Ask about ex-demo
If you can cope with the idea that other people have previously ridden your (sort-of) brand new bike, ask the dealer if they have any ex-demo stock coming in soon.
"Ex-demo bikes are common throughout all dealers and are a great way to get a new(ish) bike at a great price," says Luke.
Do be aware that the warranty may have expired on older ex-demos, but they'll have been meticulously maintained – after all, that ex-demo bike is what the salesperson's been using to impress potential buyers for the last year or so. As such, ex-demo bikes are often the highest standard spec available too.
There are some top bargains to be had from these virtually brand new bikes. "We always have ex-demos for sale," says Luke. "They're sold two months after they're first registered so will come at a discount and with 22 months left on the warranty with very low mileage. Most of them have under 100 miles on the clock."
Bargain over clothes and kit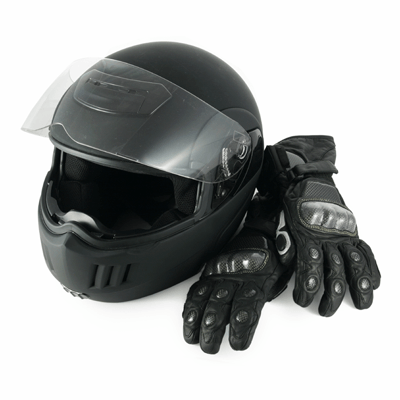 Whether you're new to biking or an old hand, it's likely you'll need a few items to dress up you and your bike. Shops often lose less by throwing in freebies than by discounting the headline price of the bike, and if the seller gets a better deal, you should too.
Think outside the box – if you need heated grips and an alarm, fair enough, but if you're a new biker buying your first 125, you might consider asking the dealer to include a CBT course at their attached training school.
When I bought my first learner bike, I decided to go brand new. I needed a helmet, gloves, boots and a CBT course, all of which the dealer chucked in gratis.
The manufacturer also included my first year of insurance free, fully comp – that was a serious sweetener as a learner rider with zero no claims and effectively knocked nearly £300 off the price of a £2,000 bike, clinching the deal for me.
With insurance offers on new bikes few and far between these days, make sure you instead compare bike insurance prices to get the best deal on your prospective purchase.
Shop seasonally
It's a truth universally acknowledged that bikers prefer summer. This means bike dealerships can go a bit dead in winter, making it a good time to snag a discount.
However, Luke reveals that a winter discount might not extend to the very latest models: "The new models are released in the winter months and so the old models come at a better price," he says.
Still, that makes the chilly months a good time to shop if you're happy to go for a bike in last year's colours and spec – just make sure that if you're not going to ride much until spring you've got somewhere to safely store the thing.
Buy online
One of the big advantages of buying new bikes over cars is that they're significantly more portable. This means you're not limited to your local dealers as most sellers can ship bikes nationwide with specialist motorbike moving companies.
Of course, the service and support of a local bike dealership isn't to be underestimated. "Your local dealer is always going to be round the corner and will help you with servicing, clothing, technical questions," says Luke. "It's also a place to visit! The internet is great if you want a deal but it does have its drawbacks. Without your local dealer, where are you expected to get your bike serviced?"
Be aware, too, that shipping a motorbike to you might come at an additional cost which can be in excess of £100. So if you do see a deal online, why not ask your local dealer if they can match the price? That way you get to build a valuable relationship with your local shop and they still get to sell you a bike – it's a win-win.
Don't forget the total cost
When you're confronted with a room of gleaming paintwork and chrome, it's really easy to lose your head and sign up for five years of repayments.
Just remember to tot up the total cost of any finance – unless you've scored a 0% deal you might find the interest eats up the cost of any discount you've negotiated.
If you think you've been crafty by taking out a 0% credit card to use as an interest free loan, bear in mind that many dealers will charge a few percent of the purchase cost in card fees. If you buy a £7,000 bike and the card fee's 2.5%, that's £175 – you could buy a pretty nice jacket for that.
Ask nicely if the dealer will waive the card fees… or throw in that jacket... you're probably getting the idea by now.
Have you saved on your new steed? Tell us about your experience onTwitterorFacebook