Think of all the people who inspired you as a child, and the chances are that one of them was a teacher.
They're with us for some of the most important moments of our lives; from learning our three Rs to figuring out our place in the world. The best teachers are able to support us through life and education and see us out at the other end. And Tracey Hill is officially one of the best.
Speaking in front of a class of taciturn 15-year-olds would make most people freeze but Tracey, who has taught personal development and financial education (FE) at William Howard School in Brampton, Cumbria, for over 10 years, flourishes.
Not many teachers could keep the attention of 16 teenagers when discussing debt, payday loans and the scary idea of investing in their futures, but Tracey's talent to do just that has seen her named as Britain's best financial education teacher by magazine Moneywise, winning her school £5,000 to invest in the subject.
"I've never had a class that isn't engaged with it," says Tracey. Seeing her in action, that's not hard to believe. Tracey is the teacher we all wish we'd had - how many people can say they understood complex financial principles like compound interest and APR when they were 15?
Tracey believes that students are eager to understand finance because they know how it's going to affect them. "I say we're going to look at personal finance and we look at a topic and all of a sudden they say 'Oh I know somebody like that, oh I've got that, how does that apply to me, what will happen in my future'?"
Start 'em young
Tracey's students build up their knowledge from year seven onward, so that by the time they're 18 she feels she's given them the foundation they need to be responsible with money.
"I met a student last night in Tesco who I taught 10 years ago and she was going on holiday and using the budgeting sheets that she made in class to work out how much it was going to be," says Tracey, who also believes that students today are much more financially aware than they were in the past. 
"The things I would teach a year seven student last year are the things I would have taught year 12 in a previous time. Several years ago a handful of students would have had their own bank accounts, now the majority have their own."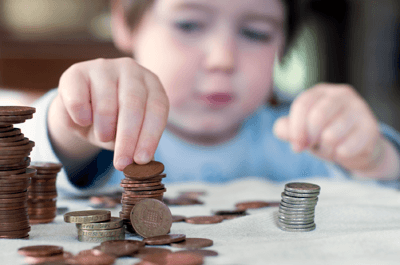 Similarly students are more aware of debt and its potential consequences - Tracey teaches debt to students as young as 12. "They engage with the subject at a really young age," she says.
Financial education became compulsory on the national curriculum in England in September 2014 and Tracey now works with other local comprehensives and primary schools to help them design their FE curriculum, ensuring that students who come to William Howard in the future are already prepared to learn about money. This year Tracey's students designed an app for primary school-age students to help them learn about the basics of money, working with FE charity pfeg to develop its contents.
As most schools don't have a budget for tablets, the students designed an interactive presentation for younger children. They included local landmarks like the town's building society and shops to get students' attention.
"It's better that they're learning at a younger age now," says Tracey.
Parental responsibility
One lesson Tracey is keen to impart to the students when we visit her class is how fraught our relationship with money can be, especially when debt is involved. The sometimes painful consequences of borrowing and payday loans may not be touched on in schools, but it's a lesson students are sometimes forced to confront at home.
"They'll have conversations with me about what happens in their own lives and they'll say 'Right, I'm going to tell my mum to look at doing this'. So by educating the kids we're educating the parents sometimes as well."
Being a parent herself taught Tracey some early lessons on how best to get children to take responsibility with money. While her children are now in their 20s with jobs, Tracey thinks that giving them financial independence at a young age served them well for the future.
"When my children were going into year seven they were always going to town and wanting money off me," says Tracey. "I realised that they didn't think of that as being their money. I opened them bank accounts in their own names with their own responsibility when they were quite young. 
"They say to me that at the time that made them feel quite grown up, they realised that it was their money and that independence was key to their level of understanding."
Confidence, not confusion
So what one lesson would Tracey like to impart to her charges when they leave her care?
"I think it's to have confidence with money, to have the confidence to know that it's their money and it's their decision and their choices, and they need to do as much research and to get as much information as they can before they make any financial decisions," she says.
"My generation didn't have confidence. They were confused, they didn't know what was going on. They just went for the first thing that was offered to them and they got into terrible debts because of it.
"If these students are confident with money and they understand all the things that they've learnt across the lessons and they're happy to make a decision, then that's the main thing I want them to get from it."
More in our Money Tales series...