Doing the weekly shop can be a nightmare – especially if you're hangry and want to eat everything you see.
We asked some of the UK's best money-saving bloggers to share their tips for better food shopping – ways to save lots of cash and reduce waste while you're at it – and they didn't let us down...
'Shop' your cupboards
"When writing your meal plan, shop your store cupboards and freezer first – you might be surprised to see what's tucked away at the back," said Michelle Ordever from lifestyle blog Purple Pumpkin.
Plan, plan, plan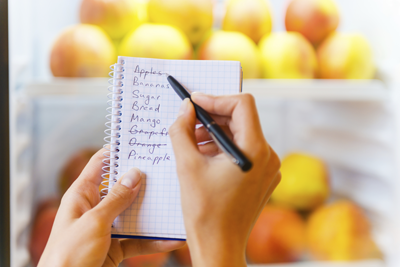 "Making a weekly meal plan helps you focus your shopping list, without the need to impulse buy at the supermarkets because you don't know what you have at home!" said Michelle.
Frugal Family's Cass agrees: "That way there are no mid-week 'top-up' shops which almost always lead to you buying more than just the one or two things you popped to the shop to buy," she said.
Go to your local high street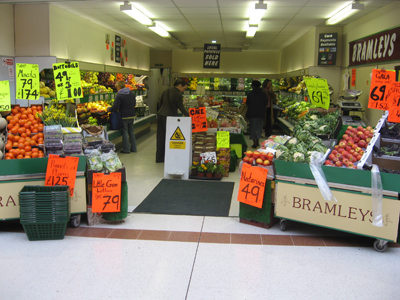 Image:Jongleur100
Fruit and vegetables are usually cheaper when bought from your local greengrocer, where you're able to buy more things loose. This means spending less and wasting less, as you're able to buy the exact amount you need. The same goes for butchers and fishmongers, who can give you cooking advice and help you pick the most reasonably priced and tastiest cuts.
If you're totally reliant on your local supermarket, pay attention to the price per 100g listed on labels – it could be cheaper to buy in bulk, but think about whether you really need a big bag of carrots or onions and decide accordingly.
Use vouchers
If anyone knows about getting the most out of vouchers it's Deepak Tailor, founder of the website LatestFreeStuff, whose favourite places to find vouchers are SuperSavvyMe, CaringEveryday, MyMail and Amazon Discount Vouchers.
"It's worth writing directly to brands to ask for vouchers," said Deepak. "Send them a message telling them what you love about their products. Ask for a money-off coupon so that you can sample something new from their range."
Deepak advises keeping vouchers organised to make sure you don't let them expire: "Hardcore couponers use a spare wallet for theirs, often arranging them by product category or validity date."
Don't let yourself be fooled into using vouchers for the sake of it, said Deepak. "Be price savvy. A product discounted with a coupon might still be more expensive than an identical product from another brand."
Don't be loyal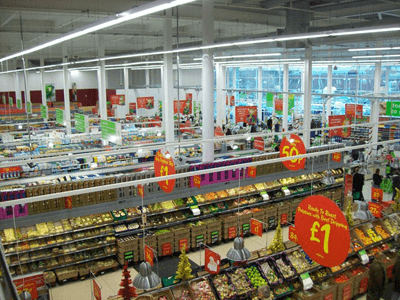 It doesn't pay to be loyal to many things these days, including your supermarket. More and more people are doing their shopping in several different places, and are willing to go the distance to make those all-important savings.
Shop online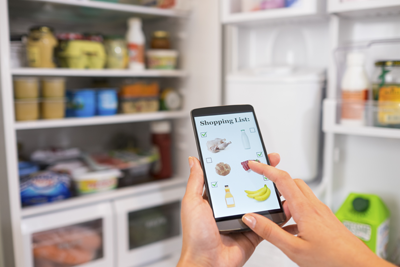 Shopping online has helped us cut back on our grocery bills," said Michelle. "You can take your time to decide if you really need to buy that item, and even go back through the shopping trolley to see where you may have overspent."
Avoiding the supermarket altogether also means never being tempted by end-of-aisle BOGOF offers to throw unnecessary biscuits or booze into your trolley.
Watch the clock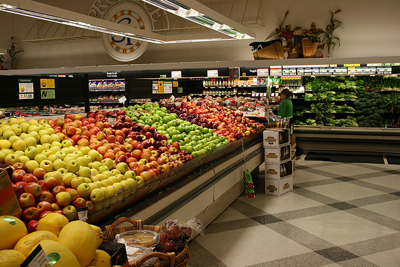 Image: David Boyle
Emma Russell-Bennett of money-saving blog, From Aldi to Harrods, advises shoppers to go 'yellow label' shopping – when supermarkets reduce food that has a short best before date. "Meat, bread and milk can all be frozen, and you can tell by looking whether the fruit and veg have a few more days or weeks of life left," said Emma.
Go wombling
You may have heard of 'wombling' – it's been around a while but is still considered something of a niche practice.
It takes advantage of supermarket price guarantees and loyalty schemes to make money in the form of shopping vouchers or coupons. Big supermarkets like Asda and Tesco offer price guarantees, meaning that, if your shop elsewhere is cheaper, they'll give you a voucher for the difference.
It takes advantage of price guarantee vouchers given out at supermarkets which are left behind on floors and in supermarket trollies. Womblers search these out and scoop them up, using the voucher for their own shopping. Deepak advises caution should you decide to do a bit of wombling:
"Supermarkets aren't keen on wombling and specify that vouchers must be used by the shopper themselves. As long as you don't shout about it in store, there's no reason you should be worried. On the flip-side you're doing the supermarket a favour by picking up their litter, so there's no need to be ashamed of picking up receipts."
It's not just supermarkets where there's potential for wombling, said Deepak. "Try picking up cinema stubs from the floor around the cinema. If that chain operates a loyalty scheme, get yourself a card and ask to have the points from the old ticket added on."
Cashback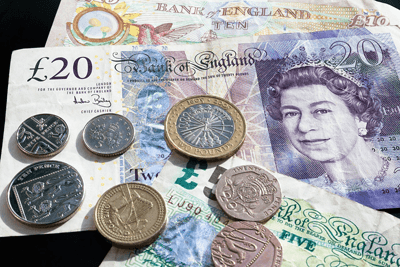 Cashback allows you to get even more out of your shopping than food in your cupboard.
"There are also cashback apps like CheckoutSmart and Shopitize, where you can earn cashback by purchasing particular items. You just upload your receipt and wait for the cashback," said Emma.
Batch cook
Spend a day over the weekend cooking up a storm and freeze delicious meals for the weeks ahead. That way, when you're frazzled after a long day and don't want to stand in front of the oven, you've got something ready to go – and you'll avoid any last minute, expensive trips to the supermarket.
And finally…
Never, ever shop when you're hungry.
Have you got any tips for saving money on your shopping? Tell us onFacebookorTwitter