October 21 marks the day Marty McFly lands in 2015 in Back to the Future 2, and 30 years since the films themselves made the DeLorean DMC-12 an icon, flying into the public's consciousness.
But the DeLorean's story began well before the films, and has enough intrigue, money and scandal to fill a Hollywood blockbuster itself…
1973-1981: A promising dawn
In 1973 maverick engineer John DeLorean left General Motors with the dream of producing the world's first 'ethical sports car' – his vision would become the DMC-12.
The prototype DeLorean first appeared in 1976. It was developed by British sports car manufacturer Lotus and styled by Italian designer Giorgetto Giugiaro. DeLorean had even managed to get celebrities like Sammy Davies Jr and Johnny Carson to invest in his venture.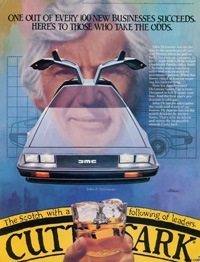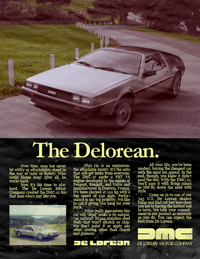 What could possibly go wrong? Well, quite a lot…
1981-1983: A stuttering start and untimely end
The DeLorean factory opened in Dunmarry, Belfast in 1981 with the help of a £100m grant from the Northern Irish Development Agency. But it didn't take long for problems to arise.
The DMC-12's distinctive stainless steel body was meant to last forever, but quality issues plagued it from the outset. Critics claimed the car's Renault-derived V6 engine was underpowered, and there were quite simply better options on the marketplace for its $26,000 list price.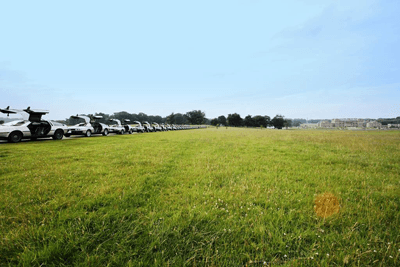 In 1983, an incredibly severe winter (along with a harsh recession) meant that the American car marketplace flat-lined and unsold DMC-12s began to stack up in Belfast. Production ceased, and the DeLorean Motor Company's funds ran dry.
The British government nearly came to the rescue, but then John DeLorean was caught with a large amount of cocaine by the FBI – he was allegedly selling it in an attempt to save his failing business.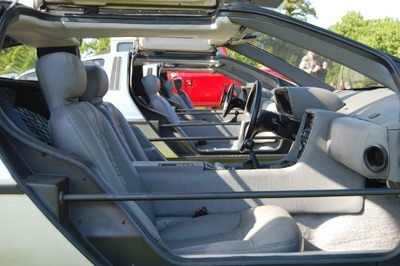 All help vanished, even after DeLorean was declared innocent on the grounds of entrapment.
He would never build another car, and died in 2005.
However, DeLorean expert and author Chris Parnham (who has owned 17 DeLoreans through the years) argues that were it not for that harsh winter, the company would have carried on in its original form to the present day: "Had that not occurred – and it could've easily not occurred – and they had gotten over that initial hump, they would be making cars still."
1985: Back to the Future
The DeLorean could have fallen into obscurity, resigned to the garages of collectors forever.
But in 1985 it would ingrain itself on the public's consciousness as the time machine in Back to the Future.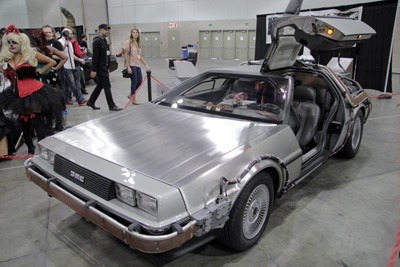 Image: ryc-behindthelens
It almost didn't happen.
The film's script was on its third draft when the concept of a time-travelling car was introduced. Originally it was going to be a fridge, but director Robert Zemeckis didn't want to encourage children to climb into them at home and hurt themselves.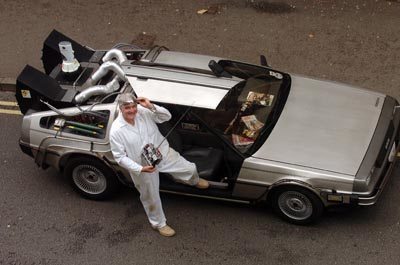 Chris Parnham with his Back to the Future replica DeLorean, the first working one in the UK
The DeLorean was chosen because of its famous gullwing doors and stainless-steel body.
After that it was just a question of adding a flux capacitor and a few well-placed tubes and lights.
1995-2011: DeLorean reborn
Amazingly, the DeLorean Motor Company lives on.
In 1997, Stephen Wynne, a Liverpudlian mechanic who worked in a DeLorean garage in Los Angeles in the 1980s, bought all the original parts from the Belfast facility and transported them to his home in Houston, Texas.
He's been building new cars to the original specification ever since, and acquired the rights to company name and images in 2007.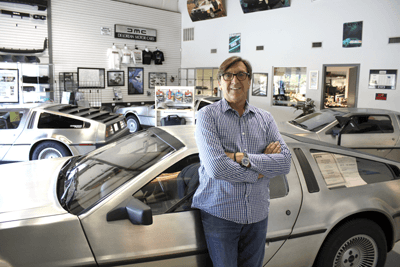 Each car takes around eight to 10 weeks to build, and the order book is full until summer 2016.
"It's amazing that interest continues to grow, not just in the car but the story behind it," says Wynne.
In 2011, Stephen revealed that the company would build an electric DeLorean prototype – could he finally realise John DeLorean's vision for an ethical sports car?
"It [the electric DeLorean] was incredibly well-received, but without a well-qualified and experienced technical partner for the electric side of things it's cost-prohibitive for a company of our size to take it on alone," he says.
But across the Atlantic, near the original DeLorean facility, some students from Queen's University Belfast might just beat Wynne to it.
Engineering students have been in the process of converting a DeLorean to run on electric power, with the goal of getting it to completion by 21 October 2015.
DeLorean today: the fans
There are thought to be between 300 and 400 DeLoreans left in the UK, which makes the car's dedicated following even more impressive.
Two DeLorean clubs operate in the UK: the DeLorean Owners Club UK and the DeLorean Club UK. The latter was founded by Alistair Vanstone and three friends in 2008.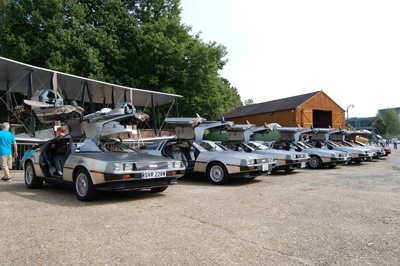 "I first saw a DeLorean in the flesh in 1990. My friend's father imported it around the same time as Back to the Future 3 was released. I remember looking at it and saying 'One day I'll own one of those'. From then I was hooked," says Alistair, who has since owned four DeLoreans.
But for some fans, the DeLorean is more than a car – it's a matchmaker.
Claire Wright has loved DeLoreans for over 15 years and even met her future husband Phill in the DeLorean Owners Club. "If it wasn't for John DeLorean our two kids wouldn't exist!" she says.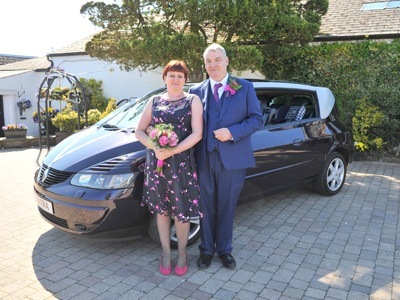 Claire and Phill Wright on their wedding day
Despite its shortcomings, it's hard to think of many cars which have had such a big impact from such a short production run as the DMC-12.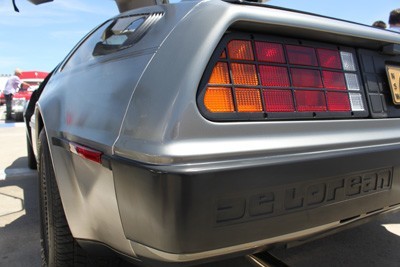 Image: jeremyg3030
With its status as a true cinematic icon secured, and a growing army of avid collectors, John DeLorean's dream lives on – even if it might not have worked out quite as he intended…
Read more of our short histories series...