Sure, it's easy enough to splash a bit of fake blood around or drop some dollar on a ready-to-wear costume (sexy Donald Trump, anyone?), but if Halloween isn't the time to embrace society's increasingly baffling cultural norms, when is?
These fancy dress ideas require minimal effort but yield maximum LOLs.
The Dress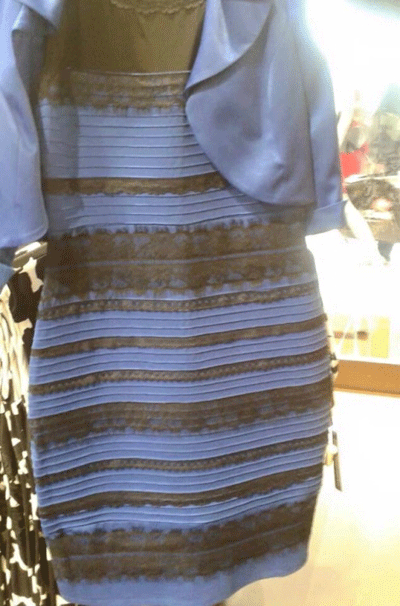 Is it white and gold or blue and black? 
The most talked-about dress of all time set the internet ablaze earlier this year with competing factions adamant everyone else's eyes were broken.
There are already several fancy dress versions available online (with some bookies predicting it to be this year's number one costume choice), but you can fashion your own with a white t-shirt and some fabric paint. Be prepared for heated debate.
Margarita Man
It's amazing what internet fandoms pick up on.
When Jurassic World was released earlier this year, it wasn't the film's many plot holes which were seized upon at large.
Rather, it was the two-second appearance of a tourist running for his life – margaritas precariously in hand – as a flock of blood-thirsty pterodactyls descend upon the park.
A pair of sunglasses, baseball cap, salmon-coloured shirt and of course the ubiquitous margarita glasses are all you need to recreate the character that probably doesn't have his priorities in order.
Left Shark
This meme gained global popularity after Katy Perry's performance during the Super Bowl XLIX halftime show back in February.
One of 'K-Pez's' backing dancers – dressed as a shark – screwed up the routine and attempted to style it out in such an awkward fashion even wedding uncles would cringe.
Simply fashion a shark fin out of cardboard and dance badly around the party. This is a good choice for those whose moves are lacking finesse – you can just say you're committed to your character.
Shame Bell Lady
Game of Throne's fans were treated to a good, long, gratuitous look at Cersei Lannister's privates this year (spoiler: it was a body double).
The character was made to do a very literal walk of shame through King's Landing, followed by a formidable bell-ringing nun who droned 'shame' repeatedly throughout the mortifying scene.
Be the most popular person at the party this year by swathing yourself in sheets and ringing a hand bell in the faces of guests who've had one too many.
Pizza Rat
People give subway rats a hard time but the internet has speculated wildly on the intentions of this little fella spotted in New York, dragging a slice of pizza down the stairs.
A gift for his girlfriend? Dinner for his gross rat babies? Maybe he just wanted to kick back after a gruelling commute.
In any case, pay homage to his extraordinary work ethic by donning a pair of rodent ears, scribbling some whiskers on your face and having a totally valid excuse to eat pizza all night long.
Gio Compario
Whatever your feelings about Gocompare's very own Welsh wonder, his triumphant return to the screen this year has had TV-watchers around the UK lunging for the remote for one reason or another.
Channel Gio's portly confidence with a couple of pipe cleaners on your face and an uncanny ability to be up in everyone's grill all the time.
The Twilight Saga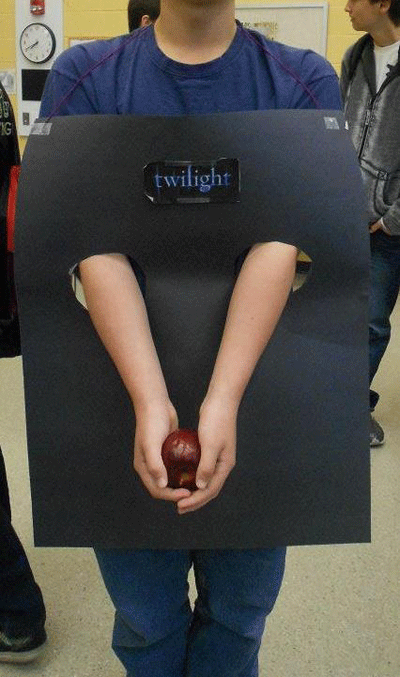 Some people just don't know when enough is enough, which is why Stephanie Meyer has released yet another Twilight novel – this time a 'reimagining' of the original.
If teen vampire fiction is your bag, pay your respects to the frighteningly unstoppable franchise by shoving your arms through a large sheet of black card and holding an apple.
One Direction
Not since the break-up of 1990s heartthrobs Take That has the world of boy band pop been so rocked as when One Direction announced their 'hiatus' this year.
Honour music's brave new dawn by painting a compass onto a t-shirt and highlighting a single direction – possibly south, since that's where the lads' careers are heading.
Netflix and chill
Already got my Halloween costume ordered for this year #netflixandchillpic.twitter.com/n33C7v8qgc

— Jeff Jarrett (@The_Iron_Jeff) October 22, 2015
Nothing means what you think it means anymore, right?
'Burns' don't mean skin injuries, 'making it rain' doesn't refer to meteorological omnipotence and 'Netflix and chill' definitely does not involve relaxing after a long day with a TV show marathon. Embrace youth speak and make your sexy intentions clear by donning a red t-shirt, scribbling 'Netflix' on it and wandering around with a bag of ice/polar bear toy/fridge shelf.
The Egg Master
The country gagged in collective horror this summer when a bizarre new kitchen gadget took social media by storm.
The 'Egg Master' claims to be the new trend in egg preparation – if by egg preparation you mean turning perfectly edible dairy produce into a slimy phallic nightmare.
Take a literal interpretation of this phenomenon by slapping a yellow circle onto a white t-shirt and carrying a whip, or for a more accurate portrayal, wrap yourself in cushion foam and roll around in a sewer.
Need more inspiration? Read our pop culture Halloween ideas from years past. Don't forget to send us your snaps onTwitterandFacebook