Although there were behemoth buses and monstrous motorcaravans aplenty at the 2015 Motorhome and Caravan Show in Birmingham's NEC, some of the most charming vehicles on display were pint-sized caravan and compact campers.
With many of us not having the drive space for any sort of large trailer, compact caravans are marching across Europe in droves.
The teardrop spacesaver was a popular design at the show and was even the model for the exhibition's centrepiece: a life-size Lego caravan.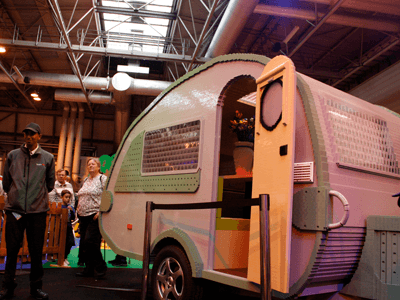 Adventure Leisure Vehicle's dinky T@B 320 Off Road was its teardrop offering, which slots into a nifty range of industrial silver-grey mini caravans.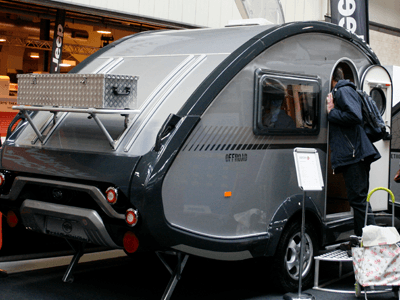 The Spartan-yet-practical pop-top Kip Shelter Plus even has the option of a motorcycle kit.
It comes complete with ramps, fixed to the wall, and  a wheel steadier, just visible under the fold-away table.
But the cutest caravan of all has to be these incredible mini-wagons from Teardrop Caravans, which are each individually hand-built in the UK.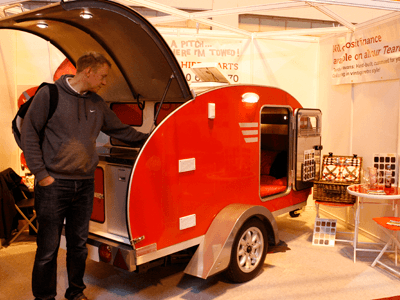 Ok, so they basically just squeeze in a bed and telly, with an al fresco kitchen at the rear, but with prices starting from £3,299 and your pick of colour, finishes and optional extras, the sky's the limit.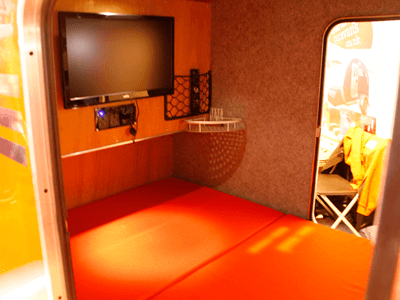 It's not just caravans that've gone compact either.
Campervans are shrinking in the wash too. Of course, there's always been an affection for the mini motorhome, as evinced by the enduring popularity of the classic VW T2 bus.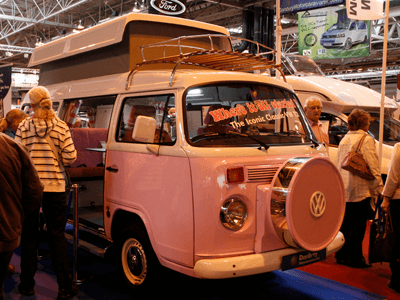 Danbury imports the base buses and converts them to high-spec campers in Bristol. The result? Whimsy in spades – at a price…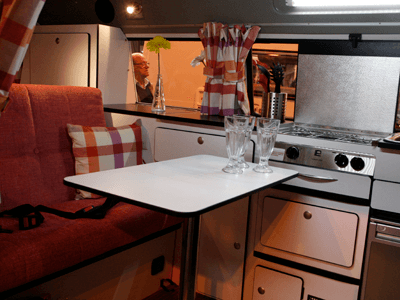 Going even smaller, German converter Reimo's Caddy Camp Maxi shows exactly what you can pack into essentially a car-sized vehicle.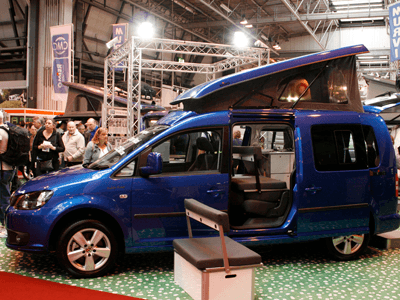 This baby sleeps four – we kid you not. Dedicated Covered mag investigators risked a telling off by clambering up to the nifty-pull-down roof bed to verify this claim.
Yet between the rows of VW conversions, there was nestled what might just be the most perfectly proportioned conversion for the space-restricted camper – this little beauty built on a Nissan NV200 van.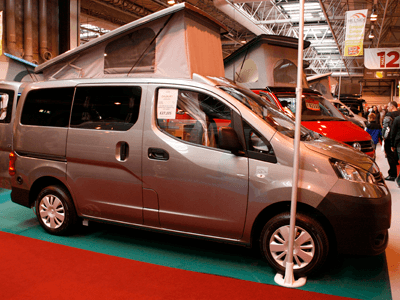 The Hillside Leisure Dalbury might look a bit like a shrunk-down VW T4 on the outside, but the use of space inside is nothing short of inspired. It's a full-facility camper in a vehicle no bigger than an estate car.
With prices starting at £23,995 brand new, it's also quite a cost saver on a VW conversion – we like.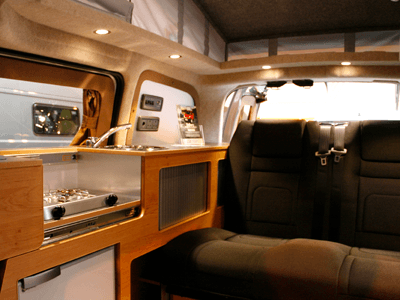 Are you tempted by a miniature motorhome or caravan? Tell us about it on Twitter or Facebook.