Christmas is traditionally the time when big spenders rack up bonuses galore on cashback and rewards cards.
But this could be the last Christmas for enjoying bumper reward card goodies, following an EU regulation which will cap the 'interchange fees' card firms charge retailers when credit and debit cards are used to pay for goods and services.
The money raised by these fees has allowed card providers to fund their reward and cashback schemes.
Now they're being capped, some banks and card providers – including RBS and Natwest, Capital One and Tesco Bank – have drastically scaled back their reward offers or in some cases, scrapped them altogether.
"Caps on charges are generally good news for consumers," said Gocompare.com's Matt Sanders.
"But what many people may not realise is that interchange fees have funded the majority of customer perks such as cashback schemes and points incentives. The charging caps could spell the end for those schemes."
However, all's not lost – there are still plenty of cards on the market that can allow you to rack up some impressive extras in the run-up to Christmas, providing you use them correctly.
So, what's still available?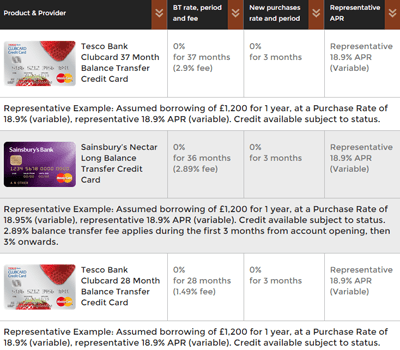 Tesco and Sainsbury's are currently ruling the roost with lengthy balance-transfer cards, which offer rewards in the form of Clubcard points and Nectar points.
Elsewhere, Santander's card tops the cashback card table, offering varying amounts of cashback depending on the types of purchases made, with a limit. 
Nationwide offers 0.5% cashback on UK purchases, while Asda Money offers unlimited 1% cashback on Asda shopping and fuel.
Rewards v cashback
Many banks and shops offer reward credit cards, which give you something back when you spend on them.
You can get loyalty points which translate into savings, vouchers and some cards even offer cashback.
A cashback credit card potentially offers more perks than a rewards credit card, as you can get cold hard pounds from your purchases or freebies like Avios points (previously known as Airmiles).
The trick to getting the most out of a rewards card is to use it a lot, then pay it off quickly and in full to avoid paying interest.
Some reward credit cards can have high interest rates, so make sure you can repay the bill each month. You may be better off taking out a 0% credit card to spread the cost of your Christmas shopping.
You also need to make sure that you're not spending more on your card than you have coming in on pay day.
Keep an eye out for annuals fees too, as these may negate the benefit of using the card in the first place.
Use it or lose it
No matter how much spending you do on a rewards card, don't forget to redeem the points or benefits.
According to April 2014 research by Gocompare.com, 14% of loyalty scheme members failed to redeem their points in the previous year.
Check you qualify
Before taking out a reward card, make sure you're eligible and have a good credit history. Look into your credit report before applying.