When you hear the phrase mobile banking, the first thing that comes to mind is the handy app on your smartphone.
But for those who live in remote villages, mobile banking means something very different.
Mobile banking vans have been driving around the UK for decades, but more bank closures means they've been experiencing a resurgence.
According to the Campaign for Community Banking Services (CCBS), a lobby group, 650 bank branches will close in the UK by the end of 2015.
But is a mobile bank a real replacement for a bricks and mortar branch? Or are they just a publicity stunt? We spent the day on one in the south Wales valleys to find out.
09:45 – Resolven
We start the day in Resolven, a village with 2,000 residents. Not many customers have braved the perishingly cold weather, but mobile branch manager Pat Bevan and customer assistant Helen Banfield give every customer a warm welcome.
Pat has been on the road since the van started nine years ago, and both she and Helen drive 'Herbie' on his routes across south Wales.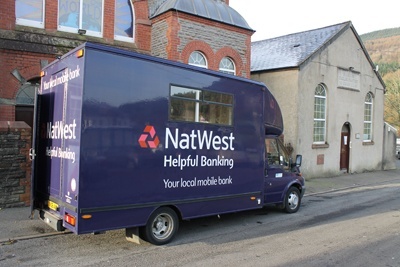 Peter Evans, 54, lives just up the street from where the bus is parked at the entrance to the village.
"It's nice to have real people. I know it's because of cost-cutting but it's nice to have someone to deal with face to face. Banking is becoming more impersonal," Peter says.
Cost-cutting is definitely on the agenda for Natwest and RBS. According to campaign group Move Your Money, the banking giant is responsible for a third of the UK's bank closures, with 385 of their branches closing in 2014 and 2015. Of these, 165 were the last bank in town.
Natwest recently closed 12 branches in west Wales, but Pat points out that a new van is on the road to replace them, and she has added new stops to her van's already packed route: "Banks can't afford to have branches that aren't busy," she says.  
11:00 – Coelbren
As we drive further into the valley towards our next stop we see the start of the Brecon Beacons National Park and drive past fields of sheep – a picture-perfect vision of the Welsh countryside, if a bit grey.
"The van is a great help to local people," say Chitralekha and Varinder Dutt, both in their 70s, who see it arrive in Coelbren from their window.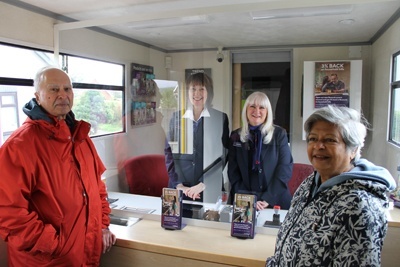 The village recently lost its Post Office, and with it the only way of withdrawing and depositing cash.
It's because of the Dutts the van stops here at all. Chitralekha started a petition to get the van to stop in the village three years ago and got 40 signatures from locals.
Jane White walks on to the van wearing muddy wellies with her Labrador dog, Poppy, in tow: "I do a lot of my banking online but if I have money to deposit I use the van," she says.
Jane is in the minority when it comes to online banking – most customers who use the van aren't computer literate and have no desire to do their banking online.
It isn't just the van's customers who are reluctant to change their ways. Pat knows that Herbie will need to be replaced by a new high-tech van soon. But like her customers she doesn't trust technology.
"I wouldn't want any computers on here – I know where I am with a pen and paper," she says.
"I don't have a computer in my house!"
Since 2014 Natwest and RBS have invested £600,000 in five new high-tech vans. They feature their own satellites, tablet computers and a new open-plan design. But these new vans haven't reached the Welsh valleys just yet.
Walk onto the van and it's like stepping back in time, complete with a glass partition and not a screen in sight.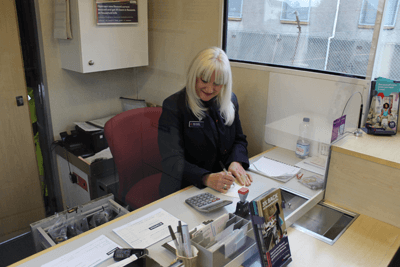 In an age where we can send money across the world and check our balance in seconds, the van's systems haven't changed since they were first seen in Scotland in the last century.
Pat's ledger, in which she details the day's activities, is well-thumbed and they have to make phone calls to check customer's balances. Notes are made of each customer's transactions and the van heads back to branch at the end of the day to update their accounts, which means things take longer. 
Does the van need to update to keep customers? "Well we've never had anyone come on here and ask to use a tablet," says Pat.
12:00 – Hirwaun
Our next stop is the biggest on the route, and there are even a few shops.
A chippie, off licence and pharmacy all serve the residents of Hirwaun, but the village doesn't have its own bank. Only a handful of places on the van's route have any bank branches. 
Cledwyn and Mary Lynne Morgan opened a savings account with Natwest because of the van. They also bank with Barclays but Cledwyn finds their in-branch service "impersonal".
"We could set up a standing order but then I wouldn't leave the house," he says.
Customers who have lost their local bank branch regularly come in and ask how they can switch to Natwest or open an account so they can use the van too.
"The van is an advert on wheels," says Helen.
Pat and Helen regularly go above and beyond, ringing customers personally when the van is delayed or can't reach them that week and bringing the van to them if they can't leave the house.
Today is no exception. Regular customer Anthony Poole is celebrating his 80th birthday over the weekend and Pat and Helen have a card and a bottle of wine ready for him.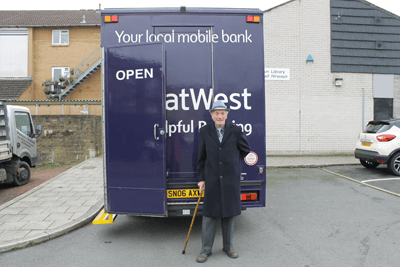 As the dapper gent boards the bus the ladies sing Happy Birthday, and the ex-RAF man and retired teacher is visibly touched.
He doesn't even need to use the bank that week, but pops in just to say hello. He calls the women who work on the van princesses: "I'm madly in love with all of them!" he gushes.
14:00 – Seven Sisters
After a ghoulish lunch break overlooking a cemetery, we head across the valley to Seven Sisters where local bowls club treasurer Dellith Jones makes her weekly stop with the members' subs.
"When the mines were open we had everything here – the banks, the Co-operatives. But everything here is closing – as long as the Post Office stays open," says Dellith.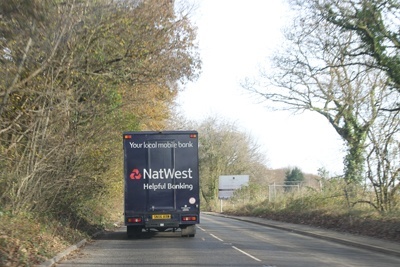 "It's okay for people who drive, but there are elderly people around here."
Pat believes that the van provides a much-needed source of company for its customers, especially during the winter months: "We might be the only people they speak to all day."
15:00 – Crynant
Our final stop of the day is a lay by on the side of the main road in Crynant, where just one customer stops by.
Each week Jim Delaney deposits the funds for his church, the Sacred Heart in the neighbouring town of Ystragynlais.
This week he's brought his grandson Ben, who deposits the church's money in return for a bag of sweets.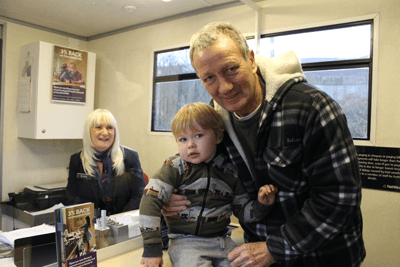 "I only come for the company," jokes Jim, who like most of the customers we meet during the day is over 60.
Helen believes that Natwest are looking after its older customers by continuing to run the van: "I think we're still providing the service that those customers want," Helen says.
It's hard to argue that vans can really replace the hundreds of branches closing every year, but to the people they serve it means so much more than a place to bank.
At a time when personal banking has almost been entirely replaced with screens – and some banks have no physical presence at all – the van takes customers back to a bygone era when a bank was the centre of a community, offering a service that puts people first.
Ben waves goodbye and the bus makes the long journey back to the branch, to cash in for the day: "Perhaps technology would be nice," laughs Pat.
Read more Money Tales features – interviews, experiences and insights from the world of finance and business