Pop-ups were once a testing ground for new businesses and start-ups which otherwise wouldn't be able to afford to get their ventures off the ground.
Now the market is worth £2.3m to the UK economy according to a report by the Centre for Economics and Business Research (Cebr) – and in a post-recession economy, that can account for a lot.
The report – which was commissioned by EE in August 2015 – found that not only is the sector bigger than ever, but its growing fast with a £200m increase in sales compared to 2014.
"A lot of people are realising that giving customers the opportunity to experience their brand in real life is more valuable than ever before," said a spokesperson for Appear Here, a website which brings together start-ups and landlords, allowing the latter to rent out their spaces on a short-term basis.
"A physical space allows a brand to go that bit further with their customers and offers a quick way to test products and ideas. Going to the customer instead of waiting for them to come to you is a quick way of working out who your customers are and what they want more of."
Retail growth
Britain is now host to more than an estimated 10,000 pop-ups, according to the report, and one of those is London Terrarium.
The brand, started by Emma Sibley and Tom Murphy as a hobby in 2014, makes and sells terrariums and runs pop-up workshops showing others how to create miniature ecosystems.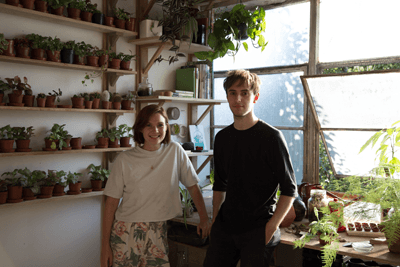 "Because we get a lot of requests to hold workshops in spaces such as stores, restaurants and pop-ups, we have had to start narrowing down and honing in on where we want to be situated," says Emma.
According to We Are Pop Up, a network of retailers, brands and store owners, holding workshops in a visible area of pop-up shops can increase sales instore by 800%.
Creative spaces
But not only are pop-ups launching start-ups, they can also help existing retailers to grow their business.
Susannah Jones and Katie Knox own Butchers Salon on Hackney Road in Shoreditch, where they have a designated area to host and collaborate with likeminded brands.
"We didn't want to just be a hair-based salon, but a whole creative space," says Susannah.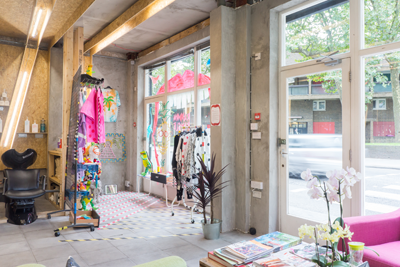 "We wanted it to be more of a centre for housing creatives and showcasing different talent, especially in the local area."
The salon hosts east London brands, including clothing and make up from Facebar London.
Susannah says that they get just as much from the pop-ups as the pop-ups get from them: "We've actually learned skills as well which is exciting. With Facebar we've all learned how to do our makeup."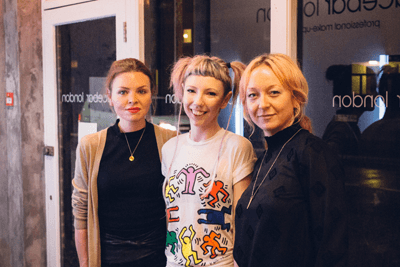 Nicola Fiveash from Facebar London with Katie Knox and Susannah Jones
Established brand Made.com began 2016 with a month-long pop-up showroom in Brighton.
Head of showrooms at Made, Rebecca Ruddle, believes that pop-ups are a great opportunity to expand – 20% of the 800 visitors they've had so far are new customers.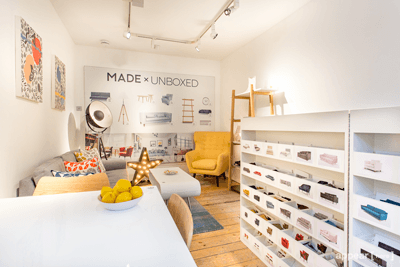 Image: Appear Here
"Pop-up showrooms fit perfectly with our business model; they give us an opportunity to showcase a selection of our products in a desirable location, without the expense of a long lease and costly renovation.
"Each pop-up teaches us something new and gives us greater insight into what makes our customers tick; this influences our showrooming strategy going forward," says Rebecca, who is already looking to bring more pop-up showrooms to other UK cities.
Losing its edge
But established brands don't always work in such harmony with the pop-up ethos.
With the British high street still struggling to get back on its feet and the popularity of pop-ups growing, it's no surprise that the format is enduring and expanding beyond its initial audience. 
In recent years more established brands have co-opted the format as a way to promote their products, and some argue that pop-ups have become simply a marketing exercise for many companies.
Glasses brand  Bailey Nelson, who have branches across London, called their pop-up in Old St station "the cheapest billboard they'd ever had", while TV shows such as Homeland and musician Jamie XX have all used pop-ups to promote their DVDs or albums.
Appear Here believes that this blend of small and big gives pop-ups the stability to stick around for years to come, but start-ups who see pop-up as a viable way into an economically tough market aren't convinced.
Alexandra Heywood from online clothing retailer Teastained Lil believes that big brands have spoiled the scene for others: "It's bastardised the term pop-up," she says.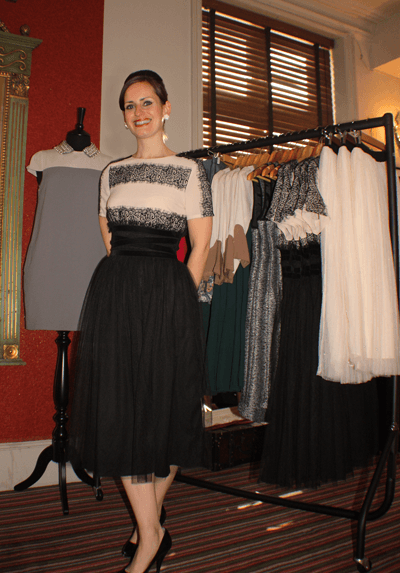 After setting up her business three years ago Alexandra quickly realized that she needed to do more to stand out. Since then she has run pop-ups across London, from the King's Road to Piccadilly Circus and Camden Lock Market.
After winning an opportunity to set up a pop-up shop in Victoria through  Pop Up Britain, Alexandra got the chance to use a space in Boxpark in Shoreditch.
But with brands like Nike and Penguin occupying space in Boxpark, competing in pop-up spaces is becoming increasingly difficult and expensive for smaller brands. 
With the pop-up arena being taken over by bigger players, Alexandra dreams of owning a permanent space: "The opportunities we had three years ago aren't around anymore."